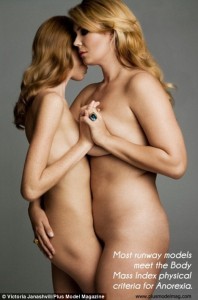 How is your body image? I have to say that reading that a size 6-12 model is a 'plus size' model I am a bit shocked. Are they really serious that size 12 is plus size and size 6, you have got to be kidding me! Although it really doesn't come as much of a surprise after finding that most of the adult costumes at Halloween stopped at size 14. Yes, obesity is on the rise but what is wrong with having some curves or being at a healthy BMI (body mass index) for that matter.
Did you know that most runway models meet the BMI criteria for anorexia? Plus Model Magazine has made a powerful comment on body image in the fashion industry by shooting size 12 model Katya Zharkova, 28 nude alongside a 'straight-size' model to demonstrate the differences between them. There are several images depicting Katya in various poses with comments about the modeling industry, including:
"Twenty years ago the average fashion model weighed 8% less than the average woman. Today, she weighs 23% less."
"Ten years ago plus-size models averaged between size 12 and 18. Today the need for size diversity within the plus-size modeling industry continues to be questioned. The majority of plus-size models on agency boards are between a size 6 and 14, while the customers continue to express their dissatisfaction."
"Changing society's view will not happen overnight, we are all responsible for helping to make this change. Embrace the uniqueness of you and appreciate your body."
All of this begs the question, how do we teach our children to maintain a healthy weight and have a good body image when they are at a normal weight?