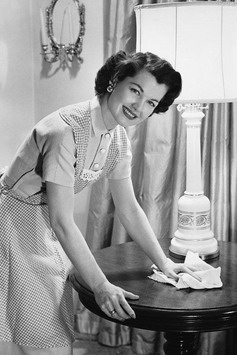 To me, spring cleaning means more than just seeking and destroying dust bunnies, it means letting go of "stuff." I was raised by a "collector" so I sometimes tend to keep things for sentimental reasons or because I might use it one day. But "stuff" collects dust, and takes up space not only in your house but also in your mind. My husband helps me since he is a "throw it away" type of person. We usually come to a middle ground of throwing stuff out and donating other things. The end result is a clean house, a clear mind, and an organized and more functional home.
Are you are feeling overwhelmed by your surroundings? Do you feel your house needs a change? Instead of buying something to give your house a fresh new look, try clearing the clutter instead. I know it can be a daunting task, especially when you have kids to tend to, meals to make, a job to work and all your other responsibilities. But I promise it is worth the effort!
Some designate a couple of days and just hit it hard and get it done; maybe while the kids are at school or away for an over-night with friends or Grandparents. If you have small children consider hiring a mothers-helper to care for the children at the house. This way you can work with fewer interruptions but still be around if you are needed. Another option that might work for you is to plan to do it over the course of a few weeks, having smaller projects to accomplish each day or week. If your kids are old enough get them involved by giving them tasks to complete. For some ideas on what they can help with check out this post: "Twiniversity Tips: What chores can your kids help with sorted by age."
Make Goals- Make a "to do" list for each room and focus on ONE task and ONE room at a time! If you just do a little bit here and a little bit there and get to many projects going at a time, you won't be able to see a big difference and you may end up with more of a mess. You get a sense of accomplishment when each room is completed and you can see the results of your hard work. This will in turn motivate you to move on to the next area.
Be realistic- I know when my twins were little all I did for a few years was clean what HAD to be clean. There just wasn't any time or energy with feedings every few hours, lack of sleep and the constant attention that they needed. Only you know what you can take on with your circumstances. Focus on the priorities and you can get to the rest when the kids are older and are more self-sufficient.
Start small– For me spring cleaning usually starts in our closets and dressers when I am ready to get all of our summer clothes out and start putting away our winter coats and sweaters. I start off by designating a "donate" box and anything I did not wear this past year or clothes the kids have grown out of get tossed in that box. Then I end up cleaning my whole closet from there, purses, shoes and whatever else I find in there. Ahh… It's so nice to be able to find that shirt I was looking for.
Have a deadline- A deadline will help you finish what you started. Some cities have an annual city wide clean up where they will pick up extra trash at no extra charge. Call your local city hall to find out when your city clean-up is and make that date your deadline. Make sure you take all boxes of items to donate to their respective places by your deadline as well.
Avoid distractions– It is easy to get distracted looking through your babies' photo album when all you wanted to do was dust the bookshelf and get rid of books that won't be read again. Keep your goal in mind so you will get in accomplished!
If you need more help getting motivated, just watch an episode of Hoarders! Then open up your windows to let the warming spring time air in, drink your morning coffee, and turn on your favorite tunes and get started!
In the following weeks we will have cleaning tips for each area of your house. Stay tuned!
—Read other articles in this series:
Spring Cleaning: Make Your Kitchen Shine!
Spring Cleaning: Bedroom Bliss
-By Jill Marcum