Twiniversity's July 2012 Super Mom has an incredible story!
Meet Jennifer Lehmann. Single mother to 2 sets of twins ages 7 and 3.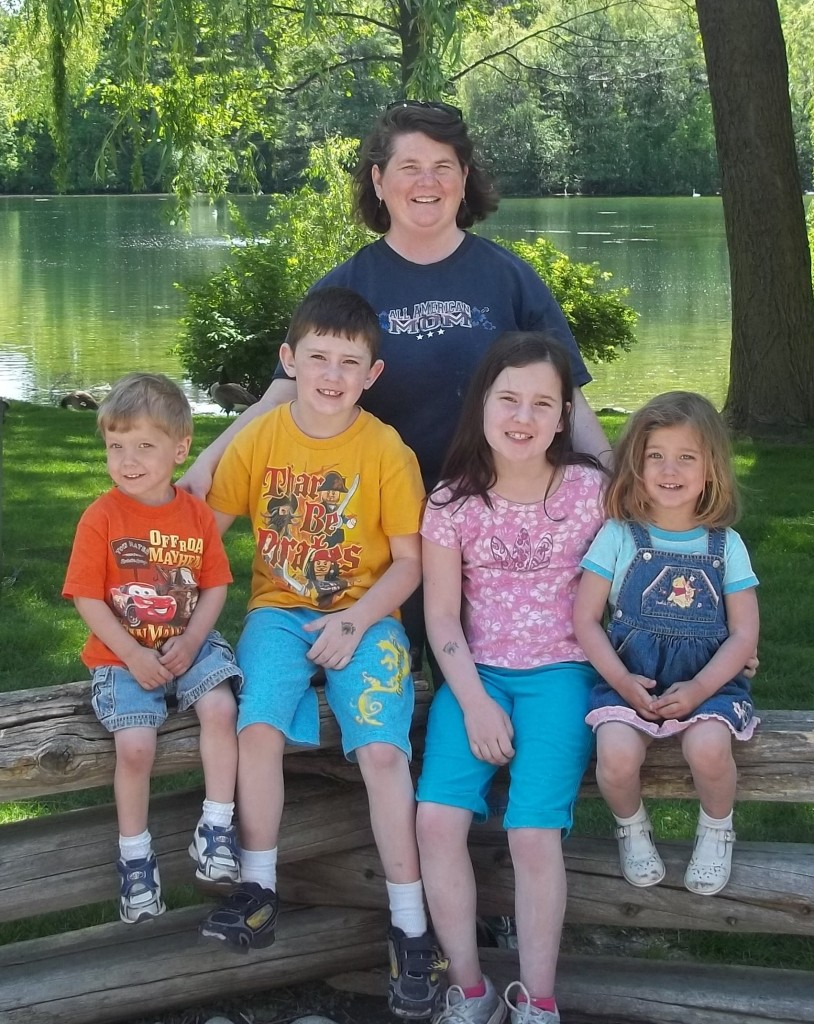 Jennifer and her husband Trevor had been married four years when they decided to start a family. With difficulty conceiving they started infertility testing. Shortly after that they got the sad news that her husband had Amyotrophic Lateral Sclerosis (ALS), often referred to as "Lou Gehrig's Disease." He was given a 3 year prognosis so they decided to go ahead and start a family so that he would be able to meet his child before his untimely death.
A short time later they were ecstatic to learn that they were expecting a child! Then came the news they were expecting twins! Jennifer relates "After coming down from cloud nine I started to panic. How was I going to take care of an ailing husband and two babies? Once again my husband assured me that we could do this."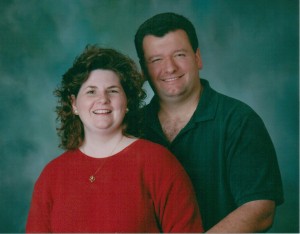 Many efforts were made to slow the progression of the disease but instead it's pace accelerated. As the pregnancy progressed Jennifer cared for her husband as his health rapidly declined to the point he was unable to move or talk. After fighting the disease for only one year, Trevor passed away. Jennifer was 27 weeks pregnant.
At 31 weeks Jennifer went into preterm labor and delivered boy/girl twins. The babies stayed in the NICU for a month before she got to bring them home. Jennifer remembers, "It wasn't easy being a single parent and caring for two babies. I was fortunate that they would sleep for six hours at night from the very first night home. I survived with help from my family. I nursed them so that made it difficult for others to help out until I came up with a list of household chores. Having someone do a load of laundry for me was heaven. As time progressed we settled into a routine and life went on. I won't say things were easy but I honestly didn't know any different. It would have been nice to have an extra pair of hands, take turns getting up, or just talking through the joys of raising twins."
By the time the twins were celebrating their first birthday Jennifer started thinking about having another child. "I wasn't ready to start dating but we had saved my husband's sperm for the very reason to have more children." After two failed attempts Jennifer became pregnant with boy/girl twins once again. She carried them to 32 weeks and they also had to stay in the NICU to grow stronger. "I had help from my family and my older twins became great helpers. I kept telling them that we could do anything as a team."
"I feel so blessed that I have the family I always wanted. It is bittersweet that my husband is not here to share it with me. There is not a day that goes by that I don't think of him and wonder how different our lives would be. The kids love hearing stories about their daddy. Because of our situation, I have four very independent children that understand running our household requires everyone to pitch in. When others ask me how I do it – my reply is always the same – I don't know any other way. We just make do."
We asked Jennifer some questions about single parenting. Read on to see what she had to say:
What is the biggest challenge of being a single mom of multiples?
"The biggest challenge of being a single mom is being both the mother and the father. I am the sole decision maker. For the most part I enjoy this – no one to argue with. But I must admit there are times when it would be nice to talk things over or pass the baton. Being the only parent in the house provides some challenges. When I need to take one of the children to the emergency room or stay at the hospital, I have to rely on family and friends to watch the other children. My daughter Kaitlyn was hospitalized twice within a two month period for RSV and bronchitis. The hospital didn't want the other children in the room with us. This was quite a fight on my part. I was not about to leave my daughter who at the time was 10 months old. I was breastfeeding her twin and had no one to watch the older two during the day. All five of us stayed in the room for three days until she was released. After doing this twice I figured that I could handle anything thrown my way."
How do you balance your time?
"I must admit it is starting to get easier as the kids get older. I spend individual time with each child as much as I can. This may be a trip to the store or something special that the child wants to do. We do group activities; going to the zoo, amusement park, and ball games. The older two participate in scouts (I am the Girl Scout leader for my daughter's troop) as well as sports. In between all this we foster for the local animal shelter. We take in pregnant dogs and help them whelp their litters. Now added to this is a new adventure for me – working from home as the Manager, OnBoarding Services for Zooza. This by far is my biggest time management issue that I have faced so far. I am always reminding myself that one day I will look back and miss all the chaos."
What is the best advice you ever received?
"Take time for yourself – don't just say it… do it! This advice has been very hard to follow. I feel guilty relying on others to take care of my children. In my mind I choose to have them knowing that I would be single. I help organize a monthly Bunco get together for my subdivision. This gets me out of the house at least once a month. During the summer I try to get a couple of pedicures to treat myself. I always joke that the yearly trip to the doctor and dentist are my time to myself. I know that I need to work more on my "me time."
What tips do you have for single moms?
"For me personally I created a great network of women that I can rely on. Whether it is an ear to bend, seeking advice or trading babysitting services. The women in my life are super heroes to me for always being there. One of the best things I did with my first set of twins was join a multiple's club. The women in my club held my hand and let me know that I was not alone. Being able to talk to other Moms of multiples was a huge help!"
–Thank you Jennifer for sharing your inspiring story and helpful tips with us! Thanks to our friends at Bebe au Lait this Super Mom will receive a special gift. They are the ones who make it possible for us to provide gifts to our Super Moms.

If you aren't familiar with them, Bebe au Lait, has been supporting Super Moms since 2004! This family-owned, Los Gatos, California based company develops superior quality products that pair beautiful prints with luxurious fabrics to meet the needs of modern, active families of multiples. Bébé au Lait distributes internationally in more than 60 countries and is available at independent and national retailers.
Do you know a Super M.O.M? Email us today at Community@ Twiniversity.com and tell us what makes the mom you are nominating super! All entries will be considered.