Written by: Kerrie Hansler
As a little girl I remember gymnastics class fondly. I remember that first time I did a somersault on the balance beam, hanging from the uneven bars and jumping on the vault and trampoline. I wanted to do gymnastics forever. I watched the Olympics and dreamed of competing there but, for many reasons, an Olympic career was definitely not in the cards for me!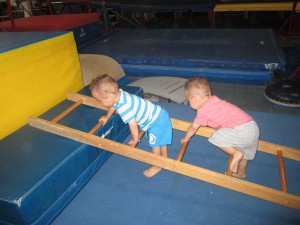 Last winter, a friend told me about a Parent and Tot Gymnastics class offered by a local Gymnastics club. I thought "What a great idea!", then pictured myself juggling my very energetic twin boys through a gymnastic workout and panic instantly set it. While my boys have a healthy level of fear I could see them on the second or third week getting way too comfortable and running all over the place. So the idea got pushed out of my mind for a few months.
Then one day out of the blue I pictured my beautiful boys running, laughing and loving gymnastics. So, I visited the gym, and signed them up on the spot. I enlisted the help of a friend and a paid babysitter to help me at the classes (my husband works during that time). Taking twins to such a high energy class full of movement requires at least two sets of eyes.
The payoff has been remarkable. The boys balance has improved, they are starting to learn to wait their turn for the trampoline and they are excited to go every week. I really feel that this experience has not only helped with their social development but it has definitely improved their body awareness. One of the many benefits is that the gymnastics club provides obstacles courses that I could never recreate in my home or yard. The boys crawl and climb up, over, through hula hoops, hang from bars and rings, walk a balance beam and are working on their somersaults. I am in awe of their flexibility, strength and cognitive awareness.
My advice if you have a Parent and Tot class in your area, check out the facilities and enroll. You will need one adult per child and you should definitely wear comfortable clothing because you will be running as much or perhaps more than they are!
While I am not sure if gymnastics will be the sport of choice for my boys, I am thrilled that they have had this experience. I dream of my boys playing sports their whole lives having the opportunity to fully engage in physical fitness and sportsmanship. While we have been watching the gymnastics during the London 2012 Olympics I have tried to explain to the boys that this is what they are doing on Tuesdays. Maybe, just maybe the Carbajal-Hansler twins will proudly represent their country in 2028. I can say it all started when they were two!
You can read more from Kerri on her Blog: http://familyfoodtravel.blogspot.ca