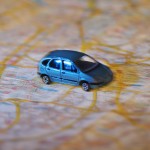 So we've had some great vacation tips this week from 5 different families! I hope that is has given you the courage to plan your next family vacation in the coming months. Weather it's to the Grandparent's house, the beach, the woods or a boat- we could all use a change of scenery every once in a while.
A very important thing to think about when you are going somewhere new is child safety. At home, you have child safety measures in place and your children learn their boundaries…. Eventually! But it is especially hard when you have multiples who have a knack for thinking of every way under the sun to get into mischief. I know the rare moments when I have only one child, I can tell them no and they listen whole lot faster. When I have both of them, I tell one child "no," then the other child has to do it too to see if they will get the same reaction. The outlets, the cabinets, the toilet, the door knob! This can be frustrating, but it's the stage we're at and I know they will grow out of it- (I hope. Please tell me they will grow out of it!!)
So what can you do to make your life a little easier when you go visit different places with little ones? Well one smart mom came up with an answer. She realized that temporary childproofing was a must when traveling with small children so she came up with Travel Tot.
The Travel-Tot Childproofing Kit is an affordable, temporary all-in-one childproofing kit that is easy to apply and completely reusable. What makes this product different than anything else on the market is that it is truly temporary and completely non-damaging to furniture yet provides the necessary items for childproofing on the go. Childproofing your home only protects your children when you're at home. It can be stressful enough to travel with small children, take along some portable peace of mind! Travel-Tot keeps your family as "safe as home, wherever you roam". – Wendy Bergstrand – Creator of Travel-Tot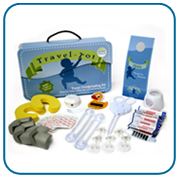 The components of the portable child proofing kit require no tools and can be installed in about 5 minutes; they go on strong, and come off clean! Items included are: finger pinch guard, electrical outlet plug covers, foam corner guards, door knob cover, cord wind-up, sliding door lock, cabinet lock, multi-purpose straps, water thermometer, bandages, forehead thermometer, and "shhh, Travel-Tot sleeping" door hanger.
Travel-Tot also has a great check list and tips here for preparing to take your babies on their first vacation! Print it out!
This weekend Twiniversity is giving away 2 Travel-Tot Kits!! One to a Twiniversity member and one to a Twiniversity Gold member. Winners will be chosen Monday morning. Enter below and have happy travels!
GIVEAWAY HAS ENDED