What is Upcycling? Upcycling is taking an item that is no longer needed or wanted and giving it new life as something that is either useful or creative. Today we will explore creative uses for upcycling baby items that are no longer needed for their original purpose or have been grown out of (given the assumption that you won't need the items again for another baby or two or three).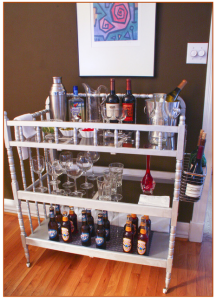 Furniture:
Changing Table into mini bar awesomeness! Who would have thought you could convert a changing table into a mini bar and it would look so awesome! I think this is the best use

for

an old changing table. The full tutorial is available in one of Curbly's eBooks – Make It! Secondhand Chic for $9.99.
Blankets: These can have cute prints to be reused in many ways! Sew cotton swaddle blanket to make pillow cases for travel pillows, or other sewing projects. Jill M. sewed hers to "make chair harnesses for learning to sit at the table." Others have made quilts for their children's new big kid beds. Or simply use as rags to continue to clean up all the messes your kids continue to make.
Bedding: Did you buy a crib set then decide not to use the bumper for various reasons or the child has outgrown the bumper? What can you do with it? Here are a couple great ideas.
Make a valance for the babies' room to match the rest of the bedding! Laura says: "I came up with the idea to turn the bumper into a window valance. I simply folded it in half, put a few hand stitches in it to keep it flat, and fastened it to a curtain rod using the existing ties. It was a very easy solution and looks cute in the room."
Baby proof your fireplace hearth by making a "slipcover" with a crib bumper. What a great idea! I always worry about my kids falling and hitting their head on those things!! Find the how-to here. (Make sure to remove the slipcover when the fireplace is in use to avoid a fire hazard)
Don't throw out that crib mattress! Use it as a cushion for a daybed couch. You can even use the toddler bed itself for the couch or build a platform. This would be great for any room in the house or even on the front porch. (You may have to reinforce the toddler bed to withstand the weight of an adult.)
Wipes Containers: These make GREAT storage boxes for any kinds of small items! From batteries, toys, crayons, art supplies, sidewalk chalk, you name it! They even keep plastic bags from the grocery store from going all over the place; just pull the bags out the top when you need one.
Diaper boxes: Any parent of multiples who uses disposable diapers buys in bulk. Then you are left with a huge amount of cardboard boxes. Don't let those go to waste! You can add fabric to make them into functional and fashionable storage containers to use anywhere in your house or even your car! Check out the detailed tutorial here.
Food Containers:
Oatmeal and formula containers can be recovered with cloth or paper to give them a fresh look and then can be used for utensils, pencils, markers, hair bows and headbands (the headband slip on the outside around the container!)
Formula and snack containers can make great storage containers for spices.
Baby food jars are a great way to store craft items, buttons, safety pins, and much much more. Jennifer used them to organize her kids crayons. See the tutorial here.
Clothing: Sometimes there are pieces of clothing that are hard to let go of because they have to much sentimental value. Instead of keeping those items in a box in the attic why not re-purpose them. Jill M. says she "made bean and rice bags out of baby clothes and swaddle blankets that had cute prints on them. Now the kids play bean bag toss with the little ones and the bigger ones can be heated in the microwave for sore muscles." Debora M. says that "tiny baby clothes are now being worn by my six year old twin daughters build a bears."
Have you found a new use for an old baby item? Please share with us below.
Thanks to all the websites and bloggers who gave us permission to use your photos.– Twiniversity Team.