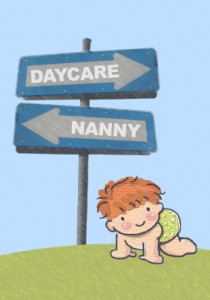 By: Notoya Green
If you're a working mom [or dad], chances are you've had to figure out which child care option is best for your child – a nanny or day care facility. Recently, I talked to some working moms on the subject and have complied a list of some of their best arguments for each option. Let us know if you agree!
Pros of Having A Nanny
– When you have a nanny your child gets to remain in the comfort of his or her own home. Also, not having to get your child ready in the morning is another benefit. This is especially true for families with more than one child.
– Nannies are more flexible in terms of hours. Day cares have set pick up and drop off times which can be difficult for some parents' work schedules.
– Parents don't have to make alternate child care arrangements if their child is sick. Most day cares have a sick policy and will not allow you to drop off your child if your child is sick.
– Nannies not only provide care for your child, but do chores that are related to the care of your child like laundry, meal preparation and grocery shopping. No day care facility will do that!
Pros of Day Care
– Your child automatically has opportunities for socialization. With a nanny you would need to arrange playdates and/or playgroups for socialization.
– Your child may also learn more at a day care. Most day cares will have activities for your child like storytime, art and play. While there are many nannies that will do this, many will not. Ensuring that your nanny is providing your child with proper stimulation can also be hard to monitor.
– Day care may also be more affordable for families with up to two kids. For families with three kids or more, a nanny is probably cheaper depending on the region.
– Day care facilities don't call in sick, nannies do.
– Last but not least – no nanny drama!
Notoya is a NYC mama of 22-month-old triplets! She is a dedicated stay-at-home mom who spends much of time at local libraries, neighborhood parks and of course chasing her kids around who are ALWAYS going in three different directions. She also blogs about her life as a NYC wife and mom at www.tripletsintribeca.com.
Thank you Notoya for sharing this information with us!