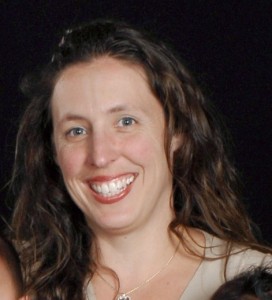 This month we have chosen Tracy Regusci to be out Super MoM of the month. Why? First of all she is mom who has such a big heart to take on big challenges for the love of family and children. She is mother to six children- 3 biological and 3 adopted. Her husband Matthew tells us what makes her such a great mom!
"I met my wife, Tracy, in high school 14 years ago and I knew then she would be a super mom. I knew she wanted a big family and specialized as a nanny for multiples in high school and college. She would always joke that she wanted 5 kids (at least I thought at the time it was a joke) and wanted to stay home with them. I recently told Tracy she was a liar because we have 6 kids, not 5. Now she tells me, "I did not lie honey, I want 5 biological kids." So, it looks like we are not done. 🙂
We adopted our oldest son when our biological daughter was just 6 months old. He was a family member that needed a home and we had an open heart. We went on to have 2 more biological kids, both boys. Tracy ALWAYS prayed for twins or triplets at every pregnancy. I thought, "I must be a better Christian, because God answered my prayers of only one baby at a time."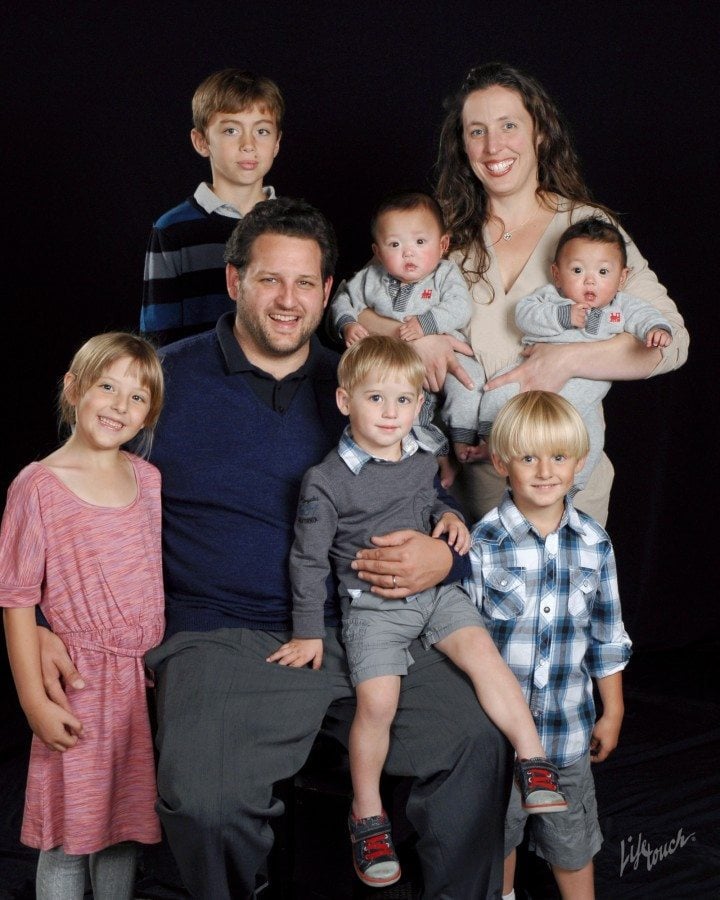 But God works in mysterious ways . . . Tracy and I had been discussing adopting multiples for a couple years, or more like Tracy talked about it and I listened. Tracy has a huge heart and when she found out from our church that the twins Jonathan and David who were in the NICU, born at 25 weeks and they needed a home she felt a natural desire to provide it. I initially had a lot of doubts. It is one thing to have babies naturally with special needs and a complete other thing to adopt children with special needs. I peppered Tracy, the nurses, the doctors and the adoption agency with a million questions trying to get to a definitive mental: NO WAY . . . and then Tracy asks the nurse, "Can Matt hold one of the babies?" Jonathan was so tiny, so fragile, and so beautiful. Check, Check, done – and were adopting these babies.
The uniqueness of the Regusci family doesn't stop there! Tracy's Grandfather and Parents have also joined the household to make a unique family with eleven personalties and four generations under one roof. Here are a few tips they have for living with extended family: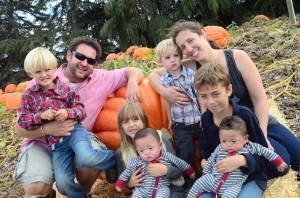 Routine: is important so the kids know what to expect and the adults know what is expected of the kids.
Organization: is necessary so that when things are used or bought others can find them and put them away so they can then be found. With so many people things can be lost quickly.
Privacy: One major challenge is privacy – in order to make multi-generational living work everyone needs to redefine the definition of privacy and then respect it. We all have our own living areas and we try to respect those areas as sanctuary.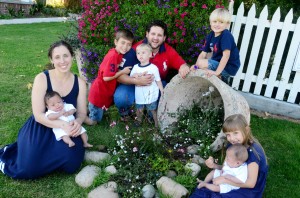 Not Taking Sides – A real issue could happen when there is a disagreement for members in the household to choose sides, dig trenches and start to battle. Realizing how destructive this can be we all work very hard to be objective and look at all sides to an issue. It is okay to have an opinion and even better to be open to changing it. We strive to live by consensus not compromise.
Tracy says: "A Multi-generational living is a blessing beyond words. My children have such a wide range of adult to interact with on a daily bases that they get different ideas and perspectives on the world they might not otherwise. They also have learned such a compassion for their elders, it simply amazes me."
This is just a tip of the iceberg from the Regusci Family. I am sure we will be hearing from them again about what the unique family arrangements have taught them to help all of us get along with our large and/or extended families. You can read more about their family on their blog: www.compoundliving.com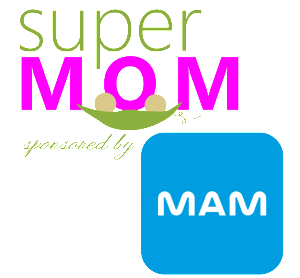 Twiniversity, along with MAM is sending Tracy to a Spa with a $50 gift certificate so she can get some R&R.
MAM is a small Austrian company with big ideas! They got their start in 1976 with a mission to combine outstanding design, optimal functionality and medical know- how to a line of smart baby products. Starting with one unique pacifier, today MAM's range includes a variety of intelligent baby design in four key areas- pacifiers, bottles, teethers and oral care.

Do you know a super Mother of Multiples? Do you know a Super MoM (Mother of Multiples)? Nominate her here for a chance to send her to the spa!