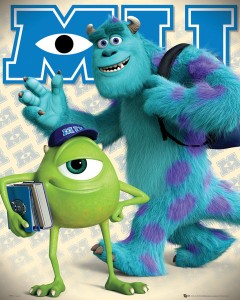 Headed to the movies this weekend to see Monsters University? We saw it early to make sure it was worthwhile for you.
It's a tale of  inspiration, striving to meet your goals, being yourself, and friendship, and it made my friend and I get really emotionally attached to the hopes and dreams of Mike Wazowski. This time we're introduced to the Monsters, Inc. cast as budding freshmen at Monsters University, the top school for scarers and engineers alike in the monster world.
Mike is studying hard to be the top scarer of the class (complete with retainer and his friendly roommate Randall) when he meets Jimmy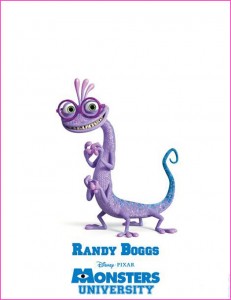 Sullivan, of the Sullivan scarer family, who is a Roar Omega Roar-in-training with the levels of confidence he exudes. His one problem? He's scary, but he has none of Mike's finesse. Events lead our favorite monstrous duo to needing to train up the least-scary fraternity on campus, Oozma Kappa (literally OK), to be the fiercest scaring students on campus. They butt heads, but as we know from their future in Monsters, Inc., they eventually become friends.
The movie is beautifully animated and the voice actors were spot-on. Most amusingly, they really, dead-on portrayed a monster's college life.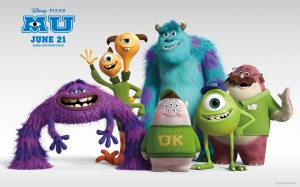 Studying, intimidating deans, campus littered with fraternities and sororities doing insane things, that one guy in class you wouldn't mind knocking down a peg or two, teachers that you work hard to make them see your value, everything! They even had some great side characters in passing, most memorably the hippie monster singing in the grass with his guitar.
Most of the movie revolves around interactions between the fraternities and sororities,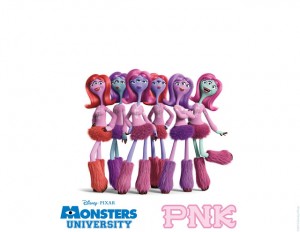 and they were spectacularly done. Roar Omega Roar is the fraternity open to only the best scarers on campus, with President Johnny voiced by Nathan Fillion. There's Python Nu Kappa (PNK), a sisterhood of seemingly-sweet pink cheerleaders, until you make them angry and their eyes glow red. Their depictions of Greek Life are dead accurate and made my friend, a sorority sister herself, absolutely howl with laughter.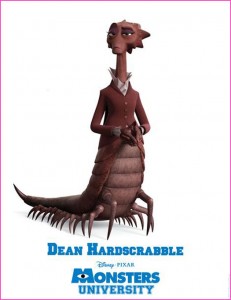 Favorite new character? Dean Abigail Hardscrabble, the one character your children may be afraid of in this entire movie. She, Mike, and Sully butt heads throughout the entire movie, and she makes them work hard to impress her. She's voiced by Helen Mirren, and is incredibly intimidating, being one of the top scarers in the world.
In short: See this movie with your kids, or, if you were a fan of Monsters, Inc., see it alone or with some friends. It's really, really great, definitely worth the price of admission, and the theme is something I really appreciate: No matter who you are, how old you are, or how many people put you down, if you make what you have work for you and you strive for your dreams, you'll be a happier person.
(And yes. Roz does show up.)