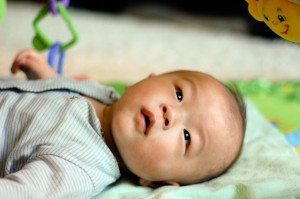 Baby names are always a hot topic in the parenting world. What you name your child will follow them for the rest of their lives so it's not a decision to be made lightly. Will you go with a hot trend or stick with a more traditional route? Or perhaps start your own trend? Belly Ballot shared with us the top 2014 baby name trends.
Belly Ballot predicts that the trend for 2014 is distinction. Parents want their kids to have special names and are looking to put a new twist on traditional names. You will see "normal" names be pushed to their limits with new spellings. Teachers can look forward to differentiating names like Michael, Mykhal, Mikyl, and Mycal! That's not confusing at all! Other twists you can look forward to mispronouncing soon include Izak, Karder, Riyan, Kooper, Emhily, BrookeLynn, and Meeya.
Other trends for 2014 include:
Pop Culture
– Names found in popular TV shows and movies. 2014 favorites will be Hayley and Camille from vampire craze The Originals, Piper from Orange Is the New Black, Ichabod and Katrina from the new TV series Sleepy Hollow.
– Celebrity baby trendsetters include Milan (Shakira's baby boy), Lincoln (Kristen Bell's son), Everly (daughter of Channing Tatum) or Autumn (Jennifer Love Hewitt's newborn).
Hispanic Names
Within the next decade you can expect to see families of all nationalities look to the Hispanic culture for baby name inspiration. Names such as Lola, Maria, Carmen, Sierra, Ernesto, Diego, Santos, Miguel, or Luis are likely to soar.
Bible Names

Biblical names have always seen popularity throughout the decades (Sarah, Adam, Noah, etc.), but a surge of less frequent Biblical names is about to hit in 2014: Caleb, Levi, Luke, Isaiah, Naomi, Shiloh, and Judith.
Mythological Names
Parents will go even further back in history, choosing names from Ancient Mythology. Names such as Luna, Camilla, Gaia, Tristan, Damon, and Thor will finally get their comeback! Hey, it only took 2,500 years!
What are your favorite baby names? Did they make the "hot for 2014" list? What names are popular in your circles and should have made the list? Comment below to sound off!
Related Posts-