So you have the news — Twins! You are about to have twice the blessing and twice the stuff! The baby shower is now over and you doubt you will ever be able to get it all in the nursery. Take a deep breath and let's get organized.
First things first: divide, organize and conquer. You will need areas throughout the house for the newborns as you make attempts to perform other daily tasks. All the swings, bouncy seats and exersaucers do not need to be in the nursery. Try the seats in your room, the swings in the living room and so on. Diaper boxes need to be stacked largest sizes on the bottom and the ones you have receipts for next in case you need to return for an exchange. That leaves us with the small items.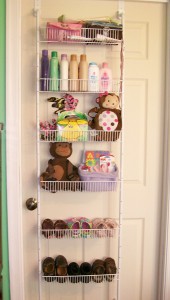 Consider getting a shelf system that hangs on the back of the bathroom or nursery door. This is an excellent place to store the baby soaps, baby oil, boxes of gas drops, unopened diaper cream which should be stored on the top two shelves. As you work down it is amazing how many things it will hold. Keep in mind by toddler stage they can reach the lower shelves so try to limit those to items you will use up or are safe for little hands.
Babies go through supplies quickly, but twins use two to three times more, so it is easier to have a dresser or a dresser style changing table. The top drawer can be divided using dollar store plastic bins. This is where color coding is a blessing. Use a different color bin for each twin, for example for boy/girl twins use pink and blue containers. You will need one of each for the diaper creams, as sometimes twins have different ones that work better for each of them. Then a set for any medications they may need, such as Tylenol and gas drops, here as well. Then a last set of baskets or bins for the fingernail clippers, nose aspirator, thermometer, hair brush, etc. If you still have room, you can put two packages of diaper wipes in the top drawer. Otherwise, start the second drawer.
Fill the remainder of the drawer with diapers. In the next drawer down, place newborn clothes, sleepers or onesies whichever you prefer or a mix of the two, just enough for a day or two. This drawer is for ease of access so do not expect everything to fit in here. Make one side of the drawer for twin A and the other side for twin B. If you have one more drawer left empty this would be a great place for a few receiving blankets and swaddlers. Now you have everything needed for a diaper change in a convenient changing station.
There are two great ways to organize clothing which does not include the pile on the floor, occasionally called, "Mount Clothesmore". The first is by using a dresser. The dresser can be divided in half for each child and the drawers marked with fun labels or even hair bows and ribbons to identify which drawer is for each child. Also putting labels inside the drawers like "Sleepers", "Pants", "Shirts", etc. will help you, hubby or anyone else helping with the laundry will be able to put the items where they belong. The second way to organize laundry is in the closet. Here you can purchase closet clothes dividers in two colors to divide the clothes by size and gender or again use two different color hangers for each child and put in order smallest to largest on the hanger.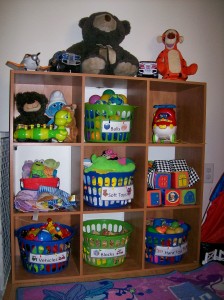 Newborn toys can be easily stored in a basket or container but then we go into the first birthday and holidays and within a blink of the eye we're at toddlerhood and much more stuff!! So how do you survive and organize the toddler and little kid years?
Clothes you organize the same way. However if you have space try to keep one or two storage containers on or near your laundry dryer to place outgrown clothes for storage or donation. This prevents them from taking up valuable space in the dressers and closets. Remember those labels we put in the dresser. When your child is old enough you can start having them "help" by reading the word and helping put the clothes away and hopefully in the correct places. They will eventually get the hang of it.
In the bathroom we have bath toys and hygiene. Bath toys can be put into lingerie or mesh bags to dry while hanging from a Command hook in your tub. Once they are dry they can be stored easily in the linen closet or under the sink if you want them put away for company. Just make sure any hooks are high enough that a showering child can't fall into them and get hurt. You can reuse those color bins no longer needed in the changing table to help the twins separate hygiene items they prefer not to share like hairbrushes, the special soap Grandma bought, etc.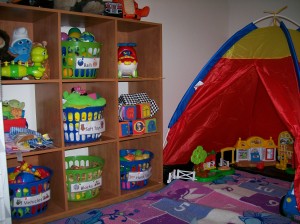 Toys storage can be an ongoing battle that you can minimize. Cube or cubby storage can be the best method to store small toys. You can purchase the fabric bins or go to the dollar store and buy plastic bins and baskets. Label the baskets with the contents words and a picture. For example, if the basket is for the blocks, write "Blocks" and have a picture of a block beside it. This will help your toddlers know where things go as they start helping clean up. You can laminate the labels and use ribbon or tape to mount them. Many times kids don't get organized simply because they were not sure where things go. This makes it easier for you and them. Then once you label your baskets they can be placed in the cube storage. Also, play houses and tents make perfect places to store smaller play sets for your toddlers to enjoy.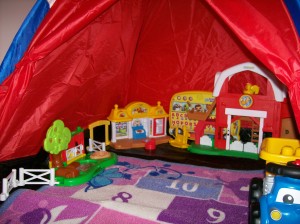 Lastly and most importantly, they do not need all the toys out all the time. Pack some toys up out of sight and bring them back in a few weeks and store different toys. This will keep them from getting bored with their toys and minimize the chaos.
You will still feel there are days you become overwhelmed just simply make a list, divide, organize & conquer!
* * *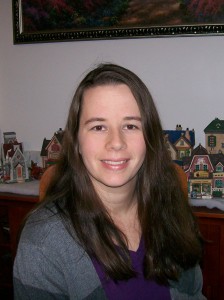 Carolyn Christensen is a working mom of toddler twins and a dedicated wife of 12 years. After serving eight years in the Army Reserve she became the office manager to a small construction firm where she is blessed to work with her husband and bring her twins each day. She loves writing, cooking, organizing, building things, supporting other MoMs through social media and most of all being frugal. She hopes to continue to write and one day publish a book. Check out Carolyn's blog at http://ourbunch2011.wordpress.com.