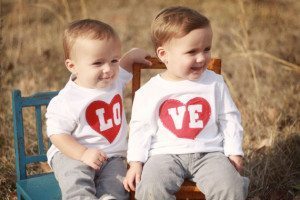 When one thinks of Valentine's Day, visions of flowers and candle-lit dinners usually come to mind. Candies and jewelry, along with heartfelt cards, accompany these thoughts. But when children are in the picture it's not always easy to have the fancy candlelit dinner and the candies…well, those are normally fair game to sticky fingers.
I think every parenting couple has a hard time balancing romance with children but add twins to that and those special occasions are probably few and far between. Not everyone is lucky enough to have a handy dandy babysitter waiting on the sidelines and so this calls for some tricky maneuvering to plan a little alone time with your honey.
Dinner is usually the staple of Valentine's Day. But what if you can't swing a night out with your spouse? You still have to feed the kids so maybe you can make a meal that the kids will enjoy too. Working moms and dads may not be able to do a fun craft at home with the kids but it's not too hard to throw together a fun dinner and let the kids help.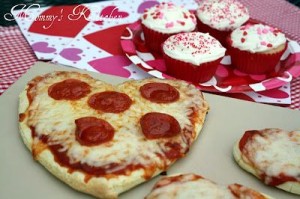 One idea is to make heart-shaped pizzas. This is a great activity for kids and it will help pass the afternoon, not to mention make for a fun and delicious dinner! If you're going to be pressed for time on the night of Valentine's Day you can make the pizzas with the kids in advance, freeze or refrigerate them, and pop them in the oven when you're ready. Throw in some wine for mom and dad and voila! A great Valentine's Day dinner.
I am a big fan of Red Box and Pay-Per-View movies. Once the kiddies have gone down for the night, pop some popcorn (if that's your thing), throw a blanket on the floor in front of the TV and hit play on a romantic movie. It's not always WHERE you are with your honey so much as it is the quality time you spend with them.
If you were able to book a babysitter…
GUYS
Reserve a table at your lady's favorite restaurant. Buy her flowers and have them waiting for her at the door (it doesn't have to be a dozen, a few will do…remember it's the thought that counts!)
Dress nice. I know it seems cheesy but us women are suckers for a nice dressed man. Yes, we adore you in your worn out jeans and favorite sports team t-shirt but…we REALLY adore it when you take the time to clean up for us. It doesn't have to be a suit and tie but a polo shirt won't kill you.
Be attentive. All eyes on us…not your phone, not the game playing on the TV in the background, ON US. Trust me…this will score you big brownie points. There is NOTHING more annoying than a lady taking the time to snazz up for you only to see that you are not appreciating it.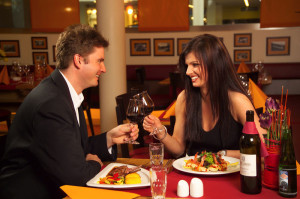 LADIES
Snazz up. I'm not talking cocktail dresses and platform heels (though I am sure your honey wouldn't mind) but take time with your appearance. Make him do a double take. Spritz on the "come hither" perfume. Pluck your brows…and dare I say…shave your legs! If your fellow is forking out the money for a nice dinner the least you can do is make his view enticing.
Be prompt. I don't know about you but my honey is NOT one for sitting around and waiting for me as I dither to and fro trying to decide what I want to do with my hair and makeup. And it certainly doesn't make for a pleasant evening out if he's aggravated at you for making him sit around while you decide which shirt to wear.
I mentioned it for the guys but it bears repeating…be attentive. He doesn't want to see you updating your Facebook status or checking your email. He wants to TALK to you. Reminisce about your dating days, about how you first met and the most embarrassing moment you can remember with him. Make him laugh and shake the work off of his shoulders. Trust me…he needs it just as much as you do.
Date nights are a hit or miss in my household. So I HIGHLY covet them and I plan like mad to make sure they happen. Valentine's Day is just a day to some but to most it's a day to shower extra attention on your other half. Take the time (even if it's on the couch) to let them know just how much they mean to you.
Top photo provided by Twinzzshop! Check out all their multiples merchandise at http://www.etsy.com/shop/twinzzshop