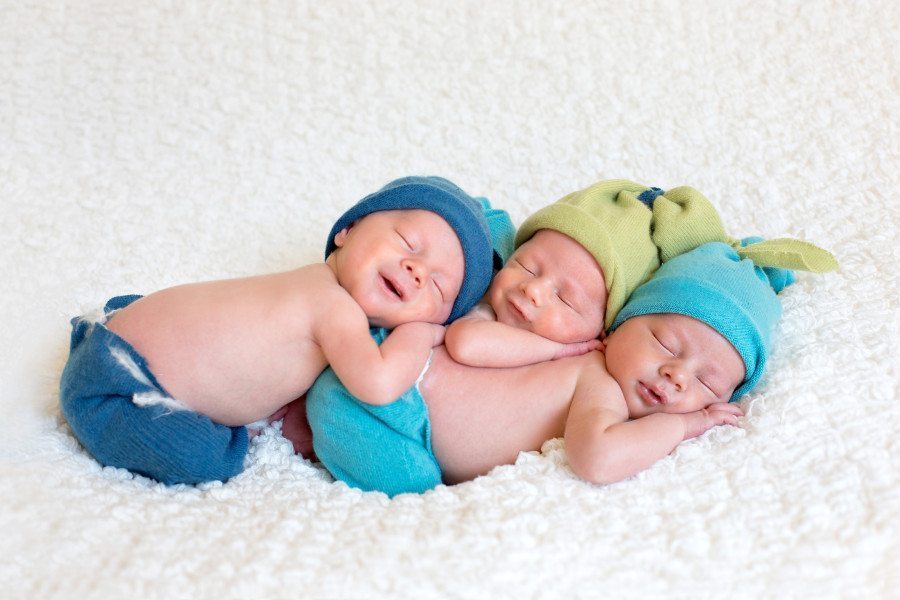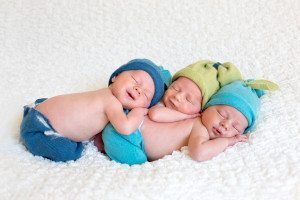 As I sit here at the computer, it is 10:45am. The 5 "Vikings" are off to school, the twins just left for preschool, and the triplets are all asleep. How much time I have to myself, I am not sure of. This is a RARE occasion! So, I will try to compose a list of a few tips that I would love to pass on to expecting mothers of triplets.
Accept Help
Accept help!! Accept help!! Accept help!!! I put this first because it is so important for MOM'S (mothers of multiples) to realize that you need the help. Yes, it is true that you may be "she-woman" every other day of the week, but once you are put on bed rest from your lack of care for yourself, you are stuck. Give yourself time to warm up to people and allow others to help when they offer. Whether it be a meal, or free babysitting, or a smoothie accept the help. It makes others feel good as well.
Plan Ahead
Make freezer meals, set up nursery, get LOADS of diapers when they're on sale, pack hospital bags, SLEEP, have a couple of baby showers, visit the labor ward and NICU at your hospital if these are your first children. If you have other children make a plan of where they'll go in case of preterm labor, get a baby book if you know the genders and start filling in what you can, talk to you other kids about what to expect, read books written by parents of multiples, have an exit strategy for going to the hospital, etc. Just plan ahead!!
On Breastfeeding
Don't stress! If you can do it and want to, go for it. It is wonderful for you and your babies. If you don't want to try it and aren't ready for feeding three, don't let people make you feel bad. You are the decision maker and you decide what you can handle. I personally couldn't nurse my babies, so I just pumped and continue to do so and that's just fine.
Take all the advice you can get
Take all the advice you can get, but in reality, no amount of coaching will really help you prepare for triplets. Sorry, but it's true. You are just not made with three arms. If there is a group of MOM'S in your community that meets together, talk with them and take some of their advice to heart. They may even have items they are not using anymore that you can have for cheap or free.
The Questions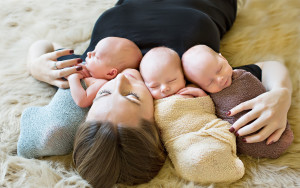 Plan on everyone asking, "are they natural?" And wanting to take a picture of your children whether you know them or not. Just practice your polite smile in the mirror and prepare yourself for what you are going to say. Some of their comments may not be timed well. Especially if you are exhausted and they approach you, stating "Boy, you have your hands full!" Just prepare your smile and walk away if you can.
Take a Moment
Take a moment or 5, even 10 everyday for yourself. You MUST find the time to get out of the chaos and into the calm. Avoid the baby blues by allowing yourself to walk out of the room and outside, if you have to, in order to breathe. Enjoy a second away from your babies because you deserve it.
Family Planning
After having your multiples, carefully discuss your options of having more children with your significant other. Once you have multiples, your chance of having another set are greatly increased. Look at me for instance — we decided to try again to "see what it's like having just one more baby girl" and I ended up having triplet boys! I love them all, but they are the hardest thing I've done in my life.
After having my twins, 3 years later I had my triplets and honestly the difference is…that there is just one more baby. One more diaper, one more crib, one more car seat, bath, bottle, binkie, bed time story, etc. It is simple enough to say, but complicated to live with. Twins are easier because you have two hands and arms and legs. With triplets you have to get creative and realize that one baby may just have to wait a minute while you attend to the other two. Understand that if you are holding two and the third is crying there is only so much you can do. Tend to the ones who need you right then and take care of the third as soon as you can. If I can survive it, anyone can.
I could write a book about all of the advice I would give you, but every one has to find their own rhythm to life and experience is the best teacher. There is a time and a season for everything and the good days will eventually out-weigh the bad, I promise. Hang in there. Remember, you are amazing!! No one else could do what you do day in and day out. Focus on being the best you can for your family, and when you can't be your best it's OK, too. Tomorrow is another day.
By Jennifer Houser-Beck
I am a full-time mom who is busy with her 10 "Vikings." Most days I am successful at getting all of the errands done, ensuring the kids are all fed and bathed (as well as myself), allowing myself a SHORT moment to get some fresh air, and exchanging a sweet, brief kiss with my hubby. On my off days, none of these get done and I tell myself, "tomorrow is another day." As there are some days like these, I still find myself truly blessed to call myself a stay at home mom.
In January 2011, I lost my husband suddenly in the middle of the night. Seven months later I re-married a wonderful man who also lost his spouse suddenly in March 2011, shortly after my husband passed away. We found each other and fell in love, despite our grief, and found our bond grew even stronger as we openly expressed our feelings of loss. I am anxiously engaged in raising 10 kids — 5 step-children and 5 biological children. Our household consists of: 3 boys ages 13, 11, 9; 2 girls ages 7, 6; fraternal twins boys ages 4; and the caboose of the clan are the identical triplet boys ages 7 months. While most days I am exhausted before the kids even get home from school, I still find myself loving life and am grateful for the opportunity I have been given to raise such precious souls.
* * *