My basement is an underground dungeon overflowing with lots of baby gear. I am thankful daily that I have the storage space to rotate gear in and out and use what I need for my twins. When I had my singleton, who is almost 7 now, we lived in a tiny 2 bedroom apartment and had a walk up attic for storage space. Groan, that was awful. I'm having flashbacks of a mountain of bouncy seats and an overstuffed closet like Monica Geller's on "Friends". As I type this, I have tons of gear to part with, including four pack and plays, a full sized highchair, an infant bathtub, a single stroller and a partridge in a pear tree. After this long northeastern winter is nearing it's end, it's time to take my own advice. So, how to get rid of all this stuff?
Here are some things I have done to keep from appearing on the TV show, "Hoarders":
Be generous
If you can afford to give things away to others, do it. I believe good karma does come around. I've given away many things, only to have friends and acquaintances return the favor when I found out I was pregnant with my twins. Ask your family, friends and co-workers if anyone is expecting and if they would be interested in taking some things off your hands. Post a private message to your friends on Facebook that you are looking to clean house. I've found by the time people are expecting their second child, they are more willing to take used items because they have figured out what they like and what works for them. If no one takes you up on your offer, contact local charities. Some, such as Big Brothers and Sisters, will pick up items from you directly, so you don't even have to leave the house! Local churches and synagogues often have programs to help families and children in need, and sometimes donations are even tax-deductible.
Take out the trash
We are fortunate enough to live in a suburban neighborhood that has its' own sanitation department. On designated days, we are allowed to put furniture or other large items on the curb for pick-up. So, a drive around the neighborhood on this day, is like viewing a flea market from the car. I've put out baby items for others to just pick-up with a note saying "Free, in great condition, please take me!" I've also found pricey items such as a Little Tikes Playground swing set and a toddler sand/water table a few blocks away with a similar sign. You'd be surprised how fast your good stuff will disappear if you plaster a sign that says, "FREE!" on it. Usually, the sanitation department doesn't have anything to pick up, because people take it before they have a chance to. Just check your town's laws to make sure that you can legally leave things on the curb and if there are certain days to do so.
Children's hospital donations
When my twins were born at 34 weeks, they were so teeny. I didn't even know that PS was the diaper size smaller than newborn size. So, we raced out to buy handfuls of preemie sized clothes because everything was too large. Thankfully, they grew so quickly but I was left with a huge box of outgrown diapers and preemie clothes, some new with tags. I returned what I could to stores for credit, but for the remainder I called the NICU at the Children's Hospital where their Neonatologist practiced. We were able to drop off those items to her office for her to distribute to new parents of multiples in need. It was great because these specialty items went exactly where they were needed. If someone would've handed me a care package like that, I would've been overjoyed!
Online consignment
I've found several online consignment websites that I just love, and there are tons of Facebook garage sale groups to do this. Money is tight, especially with twins, so I am not able to buy new clothes for them as freely as I did with my oldest son. Using online consignment is enjoyable because I get rid of things that I don't need, and I get to buy what I do need, without any money out of pocket (not counting any shipping charge). Virtually free new clothes? Yes, please. The most important caveat is to read through the website's guidelines of what they will and will not accept and if they have a flat rate for shipping. The ones that I like best have given me on-average about $40 for a large mailer bag of clothing and their flat rate shipping is $5.95. I then use that money as store credit to buy the twins clothing for the upcoming seasons, they even have new with tags clothing for purchase. This approach is really easy to organize. I keep a large basket at the bottom of the twins closet. Whenever they outgrow a piece of clothing, I toss it in the basket. When the basket is full, I wash everything, fold and mail. It has really been great for us thus far and I can get my shopping fix in, whereas otherwise I couldn't afford to.
Clothing/Gear Swap
This approach takes a little more effort, but it is a great way to get family and friends together and help each other at the same time. You need to have ample space to do this, so if your home isn't large enough, using a backyard during fair weather or a school gymnasium would work. Everyone brings infant or children's clothing that they would like to get rid of, divided by gender and size. Then you can organize it and label the clothes using clothing racks, tables or bins. Gather a large amount of plastic or paper bags. This can double as a fundraiser if each person pays a flat rate to the house — such as $5 or $10 per bag — to then fill it with as much clothing as they can fit in the bag. People can also bring their outdated gear, such as strollers, swings, exersaucers, etc. to trade. The money raised can be donated to a charity of your choice and everyone walks away with the clothing they need in the right sizes and needed gear. Again, shopping with little money — my dream come true!
Unfortunately, my mountain keeps growing, but coming up with different ways to keep a handle on it has worked for us, with a little shopping added in! The more we have to buy, the more there is to let go of and that is a great feeling.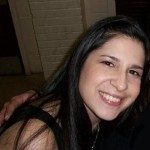 Daniele Parris is a work-from-home mom to an upbeat six-year-old boy and almost one-year-old boy-girl twins. She lives in the suburbs of New York City and has degrees in Fine Arts and Philosophy from New York University. She makes her living in the Healthcare industry and spends most of her time with her boisterous Italian family, trying to get a word in edgewise. Her hobbies include cooking and baking, an unholy knowledge of 80's hair-metal bands and trying, albeit almost always in vain, to guess the monetary value of the items on Antiques Roadshow.
* * *
The rate of twin births has risen 79 percent over the last three decades, and continues to increase. A mom of fraternal twins and a national guru on having two, Natalie Diaz launched Twiniversity, a supportive website with advice from the twin-trenches.
What to Do When You're Having Two is the definitive how-to guide to parenting twins, covering how to make a Birth Plan checklist, sticking to one sleep schedule, managing double-duty breastfeeding, stocking up on all the necessary gear, building one-on-one relationships with each child, and more.
Accessible and informative, What to Do When You're Having Two is the must-have manual for all parents of twins.