So there was a funny posted the other day about a melt down with twins and not being able to talk on the phone. I thought about it and realized…this was nearly every day in my household. I thought I would share so that other MoMs out there would realize and see…you are not alone. Twin life can be hectic and chaotic and there is rarely a time when I get to have a peaceful phone call with another adult but you know what…I wouldn't trade it for anything in the entire world!
:::ring ring::
Me: Hello?
Friend: Hey chick, what's up?
Me: Nothing much…watching Mickey Mouse Clubhouse…again. (this is no surprise as we watch this ALL.DAY.LONG)
Friend: So I was thinking…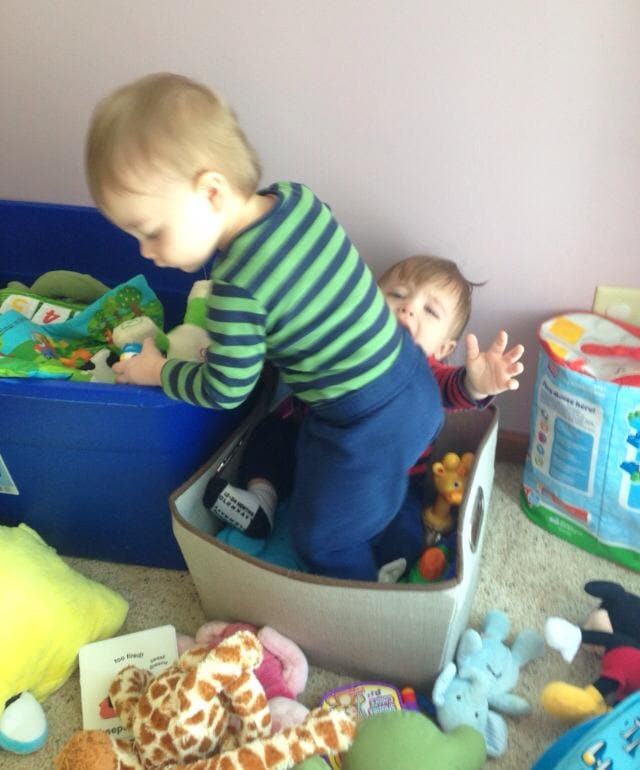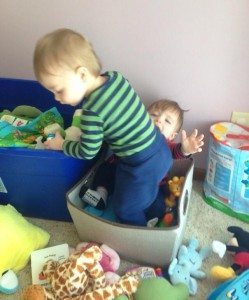 Me: Wait… Liam don't hit your sister! Okay go ahead…
Friend: Okay so I was thinking that this weekend we could…
Me: Chick hold on, Liah Natalie no no, don't push your brother! Sorry about that…you were saying?
Friend: Right…this weekend? Maybe we could get together and have a…
Me: Just a sec, Liam what did we say about biting? No no! Okay, hi, I'm listening I promise…this weekend…ladies night…hmmmm…
Friend: Well, we haven't been able to hang out in forever so I thought we could…
Me: Liam Nathaniel. No. Biting! Ummmm…right…let me find my phone (I need to find my phone because it has my calender and I am LOST without it.)
Friend: ::::Sigh::::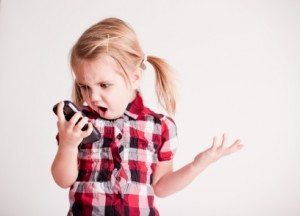 Me: I know it's around here somewhere…I just had it…wait…there it is! Okay…this weekend…ummm…can't do Friday, got a thing already on that…Liah Natalie get OFF OF THAT TABLE!
Friend: :::sigh:::
Me: Yeah…Friday is no good…maybe Saturday? I'll have to verify with hubby but I think we're clear.
Friend: Great! Dinner and drinks?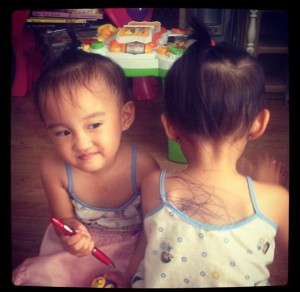 Me: Sounds goo…grrrrr…Liam…what did mommy say about the crayons and the walls?!! Yeah…okay…I'm back…dinner and drinks sounds awesome.
Friend: So what time should we…
Me: Oh good GRIEF! Liah OFF. THE. TABLE.
Friend: :::sigh:::
Me: Chick…I'ma hafta call you back.
Friend: Yeah girl…call me back later.
Me: Okay I'll try to call you back…LIAM NATHANIEL BURKETT you get down off that counter RIGHT NOW!
Friend: :::sigh:::
So this is a day in the life of a MoM of twins. Does it sound familiar to you? 🙂
* * *
The rate of twin births has risen 79 percent over the last three decades, and continues to increase. A mom of fraternal twins and a national guru on having two, Natalie Diaz launched Twiniversity, a supportive website with advice from the twin-trenches.
What to Do When You're Having Two is the definitive how-to guide to parenting twins, covering how to make a Birth Plan checklist, sticking to one sleep schedule, managing double-duty breastfeeding, stocking up on all the necessary gear, building one-on-one relationships with each child, and more.
Accessible and informative, What to Do When You're Having Two is the must-have manual for all parents of twins.
* * *
Whether you're a twin parent in the big city surrounded by scores of resources, or a triplet parent out in the country with no one around for miles — our multiples parenting forums are for YOU! Sign up for FREE and connect with people who are just like you — parents of multiples looking for advice, parenting tips, or even just people to chat with who will understand what you're going through. Our forums are open to people all over the world and we offer scads of specialty rooms to find others who are going through the exact same thing as you. Check it out today!
* * *
Twiniversity is the #1 source for parents of multiples and we are growing faster every day!
Find us all over the web: