Thanks to

MAM

, we at Twiniversity are giving another amazing mother of multiples a gift certificate to Starbucks, so she can re-fuel herself. This month we want to recognize Colleen Reed as the

MAM

Super MoM. Colleen was nominated by her friend Heidi.
Here is what Heidi had to say about Colleen:
"Everyone who knows her would describe Colleen Reed as a 'super mom'… probably from the moment we all heard she was having twins. First of all, she has a slight phobia of identical twins from working in Twinsburg, Ohio – the world capitol of twins. Secondly, those two buggers were comfy and all twelve pounds of them wanted to stay in utero through almost 40 weeks. Those are just the anecdotes, of course life became truly tough when Colleen's husband and the twin's dad, Eric, was diagnosed with a rare cancer when they were just 6 months old. For the next 3 years, Colleen was not only super mom, she was super wife, super employee at her full time job, and had started her own wedding photography business. Those four things could be full time jobs in of themselves and she did all four, and all four well. She was the rock her family relied on throughout her husband's entire cancer battle."
"When her twins were only three and a half, their dad passed away. So Colleen, super mom, became Colleen, single super mom. Months later, she continues to amaze friends and family with her strength in general, and her ability to keep the twins' lives as 'normal' as possible. They attend every friend's birthday party, they have been through two years of preschool, and they are both in their chosen extra-curriculars after school! Colleen is the epitome of a Super Mom and is a super human considering she averages less than 5 hours of sleep at night. (Anyone who has twins knows how little sleep you really get…) Did I mention Colleen is a super friend too? She probably doesn't sleep at all. You're awesome Colleen!"
WOW! Colleen is an amazing woman who works for a large forestry company in the corporate office and is a wedding photographer on the weekends. Her twins, Olivia and Ethan, are 5 years old and are in Pre-K. We spoke to Colleen and here is what she had to say about the best parts of being a mother of multiples: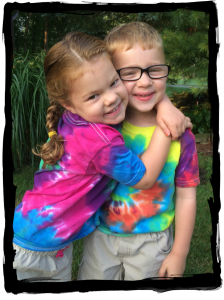 Knowing that they have each other. I call them my old married couple because they bicker and pick on each other, but always end the day with a hug. Since I do not have any other children, it was nice to watch their milestones come right after each other. Diapers were gone at the same time; I could have torched my Diaper Genie in celebration! Lastly, the best part of being a Mom of Multiples, or a parent in general, is the laughter.
We know having multiples can be difficult for the typical family, but dealing with other extreme challenges while being a new parent of multiples can be almost impossible. Colleen was faced with uncertainty of her husband's future due to being diagnosed with cancer. This is her story and how she dealt with the difficulties she faced:
When the twins were five months old, my 32 year old husband, Eric, was diagnosed with Cholangiocarcinoma (bile duct cancer), an extremely rare cancer, even more so for a person of his age. Thankfully, they caught it early, but it was quickly moved to panic mode. A mere two hours after his diagnosis, Eric was already undergoing the first of three procedures to prepare him for a liver resection.
In one week, the team he and I had formed taking on these two helpless babies was gone. Friends and family members quickly stepped in to help me get the kids fed, bathed, and to bed all while our world was falling apart. But it was survival mode time, we couldn't feel sorry for ourselves. We just had to push through because these two innocent children needed their parents.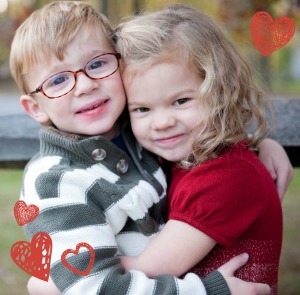 A month after his diagnosis, Eric underwent an eight hour surgery to resect 80% of his liver. It was a successful surgery! The tumor was removed and due to his age and his liver would be able to regenerate quickly. Eric refused all pain medication in the hospital to ensure a healthy liver. This was the point where I knew he was there to fight and he was doing this to watch his children grow. I have never been prouder to say that he was my husband than I was at this time.
Because Eric wouldn't be able to hold or lift the babies for eight weeks, we temporarily moved into his parents' house. This way he could recuperate, the children could be cared for, and I was able to go to work. We quickly formed a new team and their help was overly amazing. I truly think we would not have made it through this time without their help. The ten weeks we stayed there really changed my relationship with Eric's parents. Taking us from just in-laws to true family.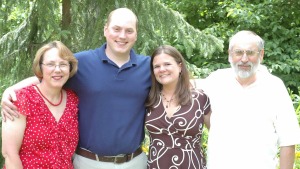 After eight weeks, it was time for Eric to go back to work. The next day, he started preventative chemotherapy. Cholangiocarcinoma is an aggressive cancer with only a 15% or less survival rate, so the doctors were ready to take all the precautions! So my husband and I went to work four days a week and spent one day a week in treatment. We joked that treatment days were our alone time with each other. The nurses would sometimes bring me a reclining chair so I could nap as well. With his comedic charm, Eric often put others at ease if they looked uncomfortable talking about his illness.
Once Eric was done with his round of chemo, he was still cancer free. But for fun, his doctor decided throw another six weeks of daily radiation at him. Again, the troops showed up with meals and ready to play with the babies. Ten months after that fateful diagnosis, Eric was again, deemed cancer free and we were told to go on with our lives. What a funny statement really. Twins and cancer in one year? The initial celebration was brief, because he then had to go back every three months for checkups. We often said we lived our lives two and a half months at a time, because the anxiety and fear of each appointment often loomed over our heads.
When the twins were about 18 months old and taking on so much personality, it was so hard to wrap our heads around what had happened to us. We couldn't be Super Parents and we were both diagnosed with Post Traumatic Stress Disorder, but it wasn't like we needed a name for it. We pushed through, for Ethan and Olivia, doing the best we could. We had each other and two extreme senses of humor and a small glimmer of those 23 and 25 year olds we were when we first met, which we both clung to.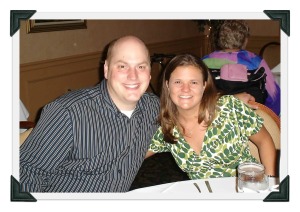 Shortly after the twin's second birthday, we received the call that no one wants to get. A routine scan had shown new lesions on Eric's liver. A biopsy the next day showed that the cancer had spread to the liver. Eric's oncologist recommended an even stronger type of chemotherapy (Cisplatin and 5FU for those in the field). Less than a year after the completion of his last round of chemo, we were there again. But this time, we weren't afraid and were prepared for what was coming and we knew with the support of his parents and our friends, we'd be ok….
Until his dad was diagnosed with pancreatic and liver cancer two weeks later. Eric once told me that he finally understood why he had to go through what he did and that was to help his dad battle his own cancer. There sat my husband, with a chemo pump attached to his med port, waiting for his dad in the hospital. All of a sudden, he wasn't worried about himself. Eric then was able to coach his dad through treatments and emotions. Eric and his dad, Gerald, continued with treatments as his mom, Linda, and I continued to pick up the pieces. We lost his dad, the twin's beloved Papa, after a six month battle on March 30, 2012. Eric once put it simply, "Dad had all the answers."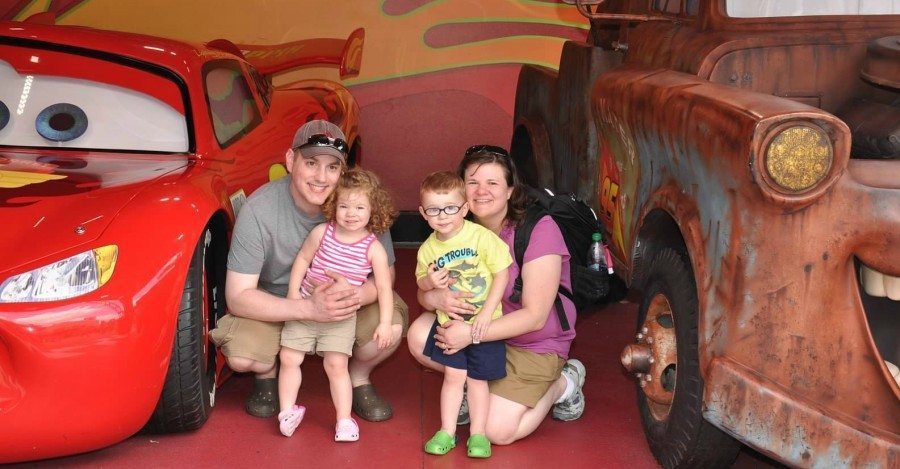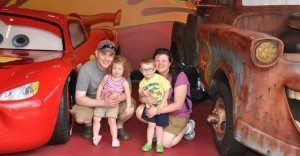 At this point, Eric's doctors felt comfortable putting him on maintenance oral chemo since his lesions were getting smaller. This is the time Eric decided we should brave a Disney trip with two and half year old twins. Which should grant any parent the Super Award for a day. Eric remained somewhat healthy and active during the summer of 2012 and remained supportive of my photography career, which was in full swing. It was a great summer!
In November 2012, Eric was experiencing some back pain while we were on his dream Foodie Trip in NYC (yes, we just went from restaurant to restaurant all weekend). The cancer had spread to his spine.
After undergoing two more procedures in January 2013, Eric had planned a surprise Vow Renewal for us. This was his love letter to me and he wanted to see everyone happy again. Our son walked me down the aisle and our daughter served as the flower girl.
Shortly after the renewal, Eric's health declined rapidly and he had a week-long hospital stay after his body started to reject his first round of chemotherapy. Ultimately, we decided he should stop working for good and we moved back in with his mom so that she could care for him during the day while I worked to support our family. Eric continued to try for chemo again until March 13, 2013 where he finally decided to accept in-home hospice care. He passed away in his sleep on March 27, 2013 at the age of 35. Just three days short of the 1st anniversary of his dad's passing. My children lost their father at the age of three and a half.
I could go on about how none of this is fair, but that is evident. Instead, I will tell you how I describe Eric to Ethan and Olivia. He had a brilliant mind, a quick wit and never let cancer define him. Taking his lead, I will not let this define me. I do the best that I can with what I have available. Getting a new life after the death of a spouse has been an entirely new challenge. However, with the dynamic duo at my side, I feel like I can conquer any challenge at this point.
Some helpful advice Colleen has for other mothers of multiples:
Some days you will win, some days you will lose so badly. As long as I end my day with two great hugs, it makes the thought of the next day so much better. Whether it happens or not, is another story.
And most importantly:
Have a sense of humor about it. No one gets a medal for parenthood!! If people say they are the perfect parent, good for them. Ask them if unicorns are real in their world too.
When asked what she does for herself and if she gets any alone time she responded:
Alone time? You mean the 25 minute drive from daycare to work? I jam out in my car. Sometimes I leave the radio off to enjoy the silence. Other times I am extremely lucky to have such wonderful friends and it doesn't take much to say, "Moms night out!" and fill up a minivan and head out to dinner or to the wineries one night. I recently just did a two night stay in Vegas with some friends and it was a perfect refresher weekend for the mom in all of us. It's ok to let yourself get away! My support system is amazing!!!

MAM
and Twiniversity are happy to honor Colleen with a gift certificate to Starbucks! Check out
MAM
for all of your baby/child oral health needs.