A MoM asked us this:
"This year we will be celebrating our first Christmas with our twin boys! They will be 7 1/2 months old. What did you do for your multiples first Christmas? How did you do it affordably? I'm sure they will like the boxes more than any gifts they get!"
We asked our Twiniversity fans what they thought and here are their answers!
– My boys will be 4 months old and we're just giving them things we'd be purchasing because they need it anyway such as a high chair and play yard as well as one small toy each.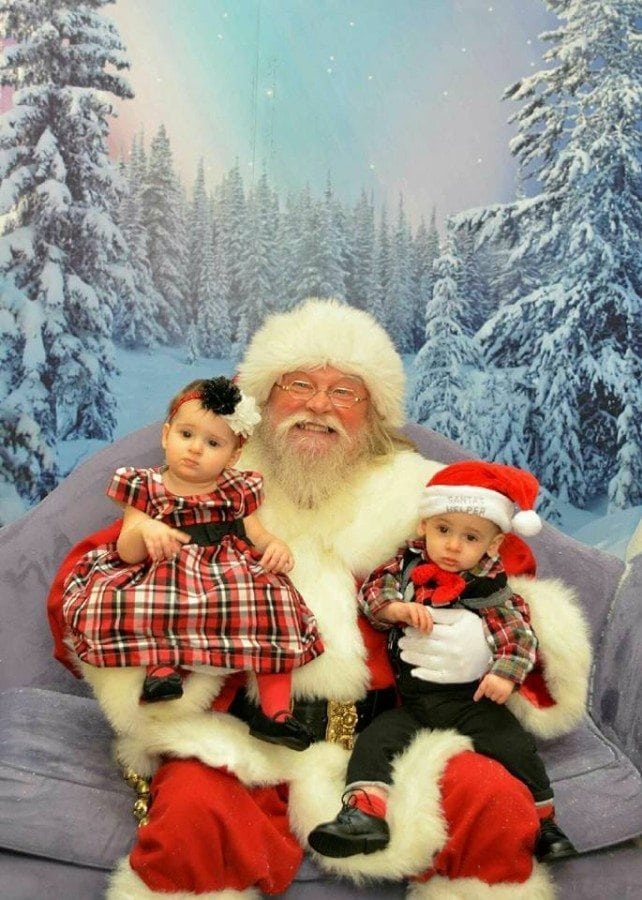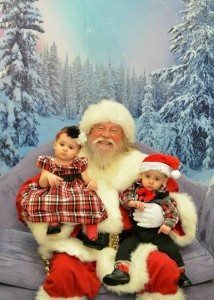 – We are starting to do 3 gifts for each of our bigger kids and we will carry this on with our twins. They will be just over 3 months at Christmas and we may do a small toy for each of them, maybe. I thank God for my children every day so I plan on teaching them the true purpose of Christmas is to celebrate Christ.
– For toys, you might want to un-box items and put the batteries in before hand. That way they can open the paper and be excited right away.
– We taught our kids right from the beginning that Christmas was about love and family, so we gave them lots of love and had lots of family over, that bought them gifts, and we just had a great holiday as a family. They don't remember "things" and you can never have enough love.
– No twin experience here, but my son was 6 months old for his first Christmas, and in hindsight I wish I had only given him one item from us. He enjoyed playing with the wrapping paper and looking at all the lights instead of playing with the brain-stimulating toys we gave him. Plus, family and friends spoiled him and he got tons of other stuff! Focus on taking sweet pictures.
– My twins will probably only be 4 to 6 weeks old for their first Christmas. I haven't purchased any toys for them, so I think we may give each a rattle, just so everything they have isn't a hand-me-down. But that is it.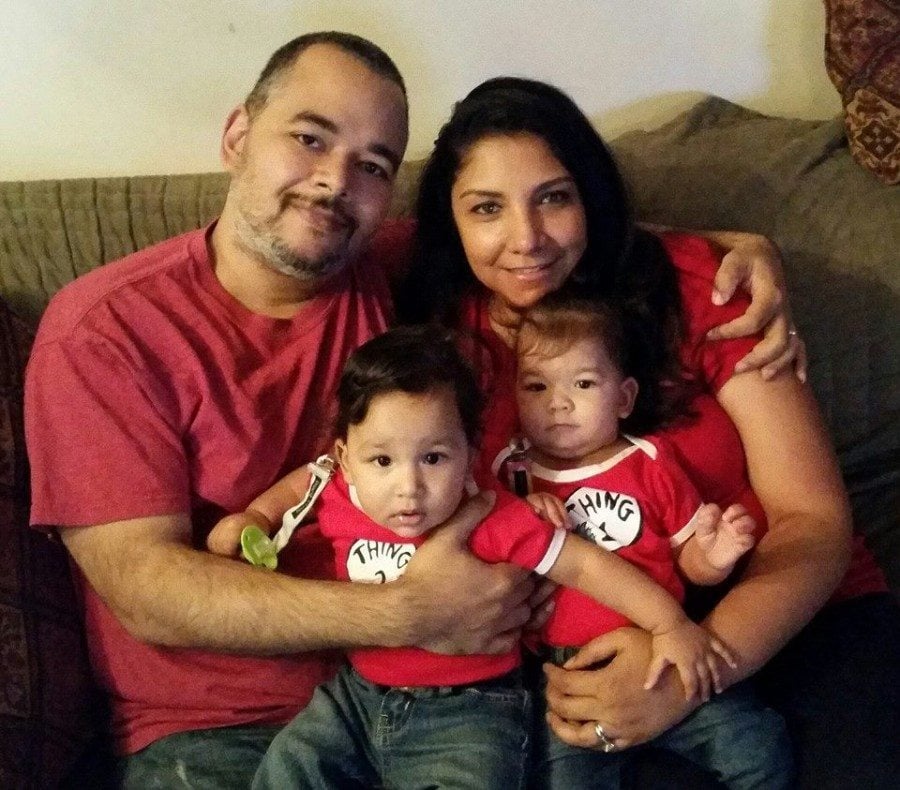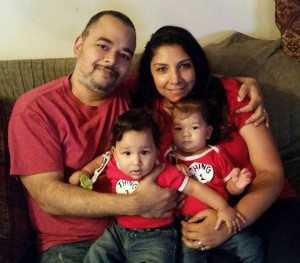 – We did a couple small toys, jammies, and a blanket.
– My twinks were 12 days old for their first Christmas. They got clothes, LOL. But for their second Christmas, we did basic things like shoes, socks, a new blanket, and a few toys.
– Don't go crazy. They have no idea and you have to do the wrapping and opening. Get one or two items. They will be fine and get a ton from family.
– We didn't buy any gifts. Our grandparents got gifts and we spend Christmas morning there. It was great.
– Our boys were 6 months old their first Christmas. We got them their first pair of shoes – Robeez – and maybe two toys each. I think we also got them clothes and I made them each a sweater. And it was still too much! Because the extended family also got them gifts. The simpler, the better, in my opinion.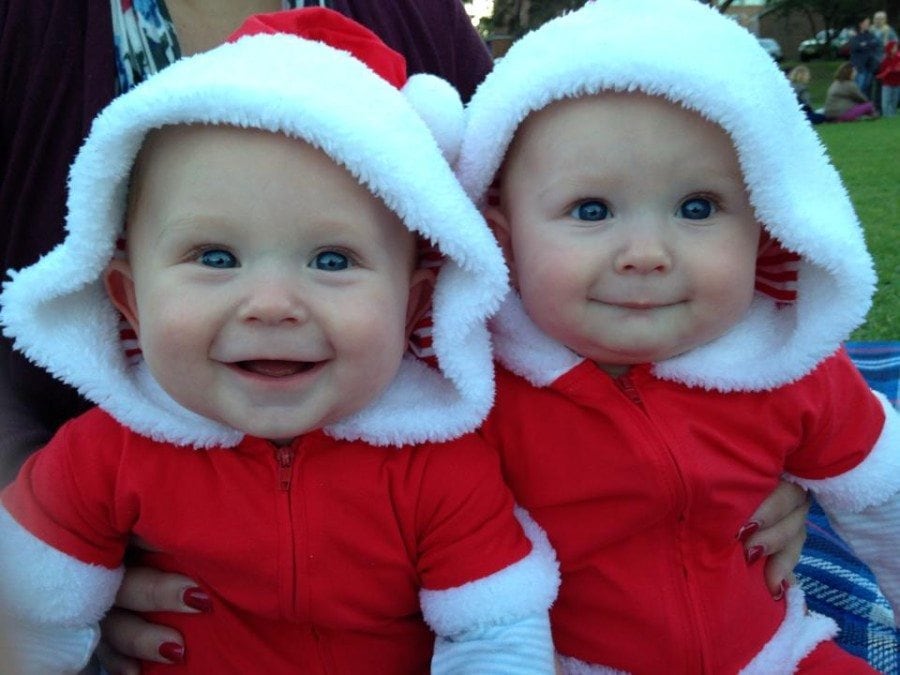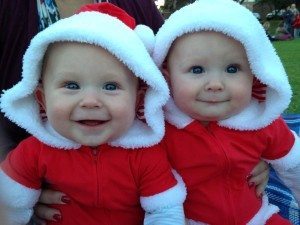 – Buy as little as possible! My girls were 4 1/2 months old and slept through most of Christmas. They will not be able to even open the paper on these presents, so this is really more for you than them. If you feel you have to buy them something, stick to things you would be getting them anyway. Family and friends will buy them plenty of toys that make noise, don't do that to yourself!!!!
– All my kids got one or two things their first Christmas – Leap Frog music table and blow up duck tub. They don't know anything!
– You're right, they will like the boxes/wrapping the best. You don't have to go overboard. Remember they are likely to get gifts from family and stuff starts piling up quickly with two. For our first Christmas we did one big gift for them to share, one smaller gift a piece, and new PJs. (They were also 9 months adjusted) They had fun and it was easy.
What did you do for your twins' first Christmas? Share your story in the comments!
Related Articles
* * *
The rate of twin births has risen 79 percent over the last three decades, and continues to increase. A mom of fraternal twins and a national guru on having two, Natalie Diaz launched Twiniversity, a supportive website with advice from the twin-trenches.
What to Do When You're Having Two is the definitive how-to guide to parenting twins, covering how to make a Birth Plan checklist, sticking to one sleep schedule, managing double-duty breastfeeding, stocking up on all the necessary gear, building one-on-one relationships with each child, and more.
Accessible and informative, What to Do When You're Having Two is the must-have manual for all parents of twins.
* * *
Check out the latest issue of Multiplicity Magazine! Twiniversity's quarterly online magazine is FREE and features all the hot topics and new trends for parents of multiples, as well as great coupons and product reviews!
* * *
Whether you're a twin parent in the big city surrounded by scores of resources, or a triplet parent out in the country with no one around for miles — our multiples parenting forums are for YOU! Sign up for FREE and connect with people who are just like you — parents of multiples looking for advice, parenting tips, or even just people to chat with who will understand what you're going through. Our forums are open to people all over the world and we offer scads of specialty rooms to find others who are going through the exact same thing as you. Check it out today!
* * *
Twiniversity is the #1 source for parents of multiples and we are growing faster every day!
Find us all over the web: