I was the epitome of "that" new twin mom.  When my girls were born, I took to ALL social media outlets to shamelessly share every waking moment of their lives.  I was addicted to showing the world how beautiful and amazing my husband and I knew our twins were.  We were in love.  It was as if we thought everyone we had ever come across in our lives cared (and thought it was cute) that they pooped on us for the first time.  In our eyes, they were more A list than Beyoncé herself.
It turns out we were right and wrong.  There were people who couldn't have cared less and deleted us as "friends" — which was fine; we weren't in the same stage of life.  And there were people who commented and liked every picture and asked for more.  We loved every single comment until one day. That day our whole world changed.
My husband and I both had public profiles for picture viewing on a specific photo sharing site.  When I had checked that site for notifications after I finally got the twins to bed, I saw all of these strange comments. They were comments renaming our twins, describing certain fictional disturbing situations.  They were creating a whole fictional life for them until age 12; they're just babies so obviously it was impossible.  We had no idea what was going on until we looked into it further.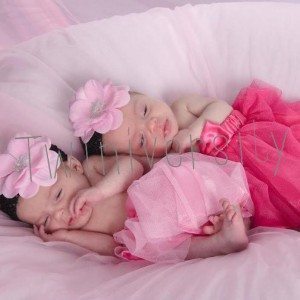 Apparently there's a sick game out there for youths (and some adults portraying themselves as youths) that's named "Baby Role Play" (aka "Kid Role Play").  Youths prey on public photo profiles and assign a friend to "adopt" the baby/babies in the photo. The friend's job is now to create an entire storyline for these babies in the picture as well as a complete dialogue for the baby.  In the process, they steal the photos you have posted and claim them as their own for this sick game.  While some of these "role play" story lines are harmless – others are NOT. They set up situations that involve rape, child assault, sexual assault, bondage of a child, etc.  Some include hashtags like #kidrp and #babyrp to include outsiders who wish to join in on their sick "fun."
Needless to say, my husband and I changed our photo sharing site to private immediately.  I even deleted all social media sites for a period of time.  I ultimately decided to come back because I wanted long distance relatives to also take part in the joy of seeing our twins grow up.  None of this was their fault.
Unfortunately, this isn't where the story ends.  Through my research and reaching out to other moms, I discovered that people also steal baby photos from social media sites for other reasons.  They set up fake online charity donation sites, set up fake social media profiles pretending to have children that they don't for their own pathological lying reasons, or worse — they sell photos to illegal child pornography sites if they have any kind of nudity in them at all.
There is not a whole lot that can be done for photos already stolen, except to keep reporting them to any social media site and government agency you can.  I haven't seen our children's photos posted again, but it doesn't mean we never will.  I can't tell you how violated, hurt, and sick we feel.  Those feelings may never go away.
There are, however, ways to protect yourself from this happening.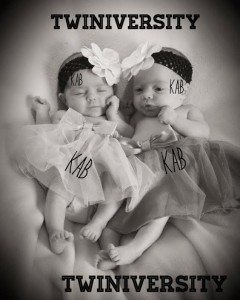 1. Make ALL and ANY social media profiles private. This doesn't protect you 100%, but it sure helps greatly.
2. Don't add anyone you don't know personally to any of your social media accounts.
3. Watermark any photo you share on the web with your initials, nickname, screen name, username, etc. You can make the watermark as obvious as you want or as discreet as you want.  Just make sure you place it somewhere that it cannot be cropped out without ruining the photo. There are many apps available to assist in this such as iwatermark, Phonto, Diptic, and PhotoMarkR. (See examples above.)
If this should happen to you or someone you know, please visit http://www.missingkids.com/cybertipline to report it immediately. Every tip counts. 
Here are some links to help you make your social media profiles more private (and please know anything you put on the Internet will never be truly private):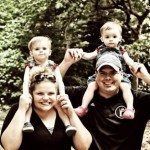 Kimmy Brogan, Twiniversity's Twitter Manager, is an avid user of social media and has a college degree in Communications.  She is currently a stay at home mommy to her fraternal twin girls who will soon be three. She was born and raised in New England and has no plans to leave. She is also a fire wife as her husband is a full time Firefighter in Massachusetts. Her family and her husband's family were neighbors when they were kids; they've known each other their whole lives.

Kimmy

 has been extreme couponing for the last three years and very much loves a good bargain! She taught herself after realizing how expensive twins were. She's never paid full price for a pack of diapers since.

Kimmy

 has been interested in the twin community since the day she found out she was unexpectedly expecting two.  Her main goal is to make sure no twin mom feels alone on her journey.  There's always someone who has gone through what you're going through.
The rate of twin births has risen 79 percent over the last three decades, and continues to increase. A mom of fraternal twins and a national guru on having two, Natalie Diaz launched Twiniversity, a supportive website with advice from the twin-trenches.
What to Do When You're Having Two is the definitive how-to guide to parenting twins, covering how to make a Birth Plan checklist, sticking to one sleep schedule, managing double-duty breastfeeding, stocking up on all the necessary gear, building one-on-one relationships with each child, and more.
Accessible and informative, What to Do When You're Having Two is the must-have manual for all parents of twins.
*          *          *
Whether you're a twin parent in the big city surrounded by scores of resources, or a triplet parent out in the country with no one around for miles — our multiples parenting forums are for YOU! Sign up for FREE and connect with people who are just like you — parents of multiples looking for advice, parenting tips, or even just people to chat with who will understand what you're going through. Our forums are open to people all over the world and we offer scads of specialty rooms to find others who are going through the exact same thing as you. Check it out today!
*          *          *
Twiniversity is the #1 source for parents of multiples and we are growing faster every day!
Find us all over the web: