Wondering what Premama is? You know how everyone HATES to choke down those HUGE prenatal vitamin pills and most times…they come right back up? Well…NO MORE! We've got a prenatal vitamin that you blend in your drink or food AND…it helps to soothe morning sickness!
Doctor-recommended PREMAMA® Complete is the easiest way for women to ensure they provide their babies with essential nutrients for healthy growth. This formula, designed by doctors and product specialists at Target, gives moms the added and very welcome benefits of soothing morning sickness and preventing iron-induced constipation.
PREMAMA® Complete is a multivitamin powder containing prescription-grade nutrients doctors recommend for fetal and infant health and development. The orange-flavored powder is taken once a day that mixes directly into water, making it extremely convenient for busy, on-the-go women. Each single dose of PREMAMA® Complete contains everything found in prenatal pills, as well as the following:
Fortified with Omega-3s, CoQ10 and Choline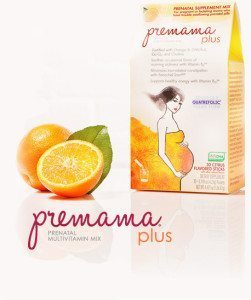 Soothes occasional bouts of morning sickness with 30 mg of Vitamin B6
Minimizes iron-induced constipation with Ferrochel® Gentle Iron®
May reduce the risk of your child developing neural tube defects with 800-1000mg of Folic Acid
Helps control fatigue with Vitamin B12
Zero Calories. Zero Discomfort.
Citrus flavor with other natural flavors.

Our most common complaint from expectant multiple mamas EVERYWHERE is the extreme discomfort of having to swallow those huge "horse pills" (aka prenatal vitamins). On top of that twin moms have constant morning sickness due to such high levels of the pregnancy hormones. With a daily does of Premama those two main complaints can go be eased (if not gone!) and make your multiple pregnancy experience much more pleasant!
Enter below for your chance to win!!
*          *          *
The rate of twin births has risen 79 percent over the last three decades, and continues to increase. A mom of fraternal twins and a national guru on having two, Natalie Diaz launched Twiniversity, a supportive website with advice from the twin-trenches.
What to Do When You're Having Two is the definitive how-to guide to parenting twins, covering how to make a Birth Plan checklist, sticking to one sleep schedule, managing double-duty breastfeeding, stocking up on all the necessary gear, building one-on-one relationships with each child, and more.
Accessible and informative, What to Do When You're Having Two is the must-have manual for all parents of twins.