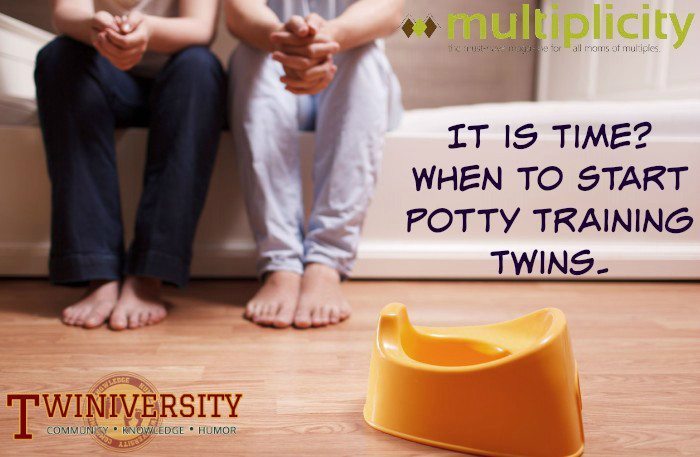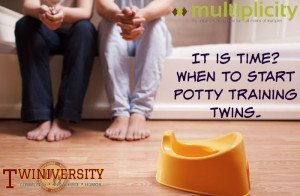 "Do you know that potty training revolves around a timetable? Age is not the major factor to distinguish the right time for potty training, as many believe. Majority of parents try to follow a rubric of milestones as to when a child's next developmental stage will begin. However, the truth is that a child can be successful at potty training at any age. It all depends on the individual child's behavioral signs of readiness. In order to know if you and your child are ready for the task of potty training, you need to be able to recognize a few key signs." ~Natasha You can read more about these signs HERE!
"…as the months rolled by, I was getting scarily closer to that becoming reality. I mean, I tried. Somewhat. I would ask the twins if they needed to potty, sometimes. I implemented a rewardsystem using stickers. I would sit them on the potty. However, Iwill admit, I wasn't consistent. It tried training them when we were home and when I remembered. Raising twins is always a bit chaotic, even for a control freak like me. My family has a pretty active social life and we are rarely home, so it was difficult to implement. Plus, my kids were in preschool. And although they would assist with potty training, it was difficult to be as consistent as I was at home because they have several other kids in the classroom." ~Rashain Make sure you read Rashain's tips for a successful go at potty training HERE!
A rule of thumb for potty training is to make it easy for kids. The BABYBJÖRN kids bathroom sets help your kid to progress from using a diaper to a potty to a toilet seat. With our kids bathroom products – potties, toilet trainers and step stools – potty training will be safe and comfortable.
The potty chair is ideal for times when your child wants to sit on the potty for longer thanks to its sturdy and ergonomic design with smooth edges providing your child with maximum comfort. It has a high backrest and the comfortable armrests mean that your child can just sit back and relax.
The step stool has an anti-slip upper surface to prevent your child from falling, even with wet feet. The rubber edging underneath will keep the step stool resting firmly on the floor when your child is moving about. The design makes the step stool stable and prevents it from tipping over!
When it's time to start using the toilet, it's important that your child is sitting comfortably. The ergonomic design of the toilet trainer ensures that your child will sit comfortably and correctly. The rubber edging and the adjustable dial underneath will ensure that the seat is firmly attached and safe for your child to use.
CONTEST CLOSED