"I have exciting news!! Our family has once again grown by 4 more feet!!"
So I posted this on Facebook and almost instantly I got comments, texts, and messages asking me if I was expecting twins again. I had to tell people to look at the picture; we welcomed a baby girl puppy to our family, so everyone meet our new puppy Bradie! My husband and I felt that our family was ready for a dog and the next steps fell into our laps: The one breed that we had both agreed upon, that fit our lifestyle, and we were ready to take care of was a Labrador.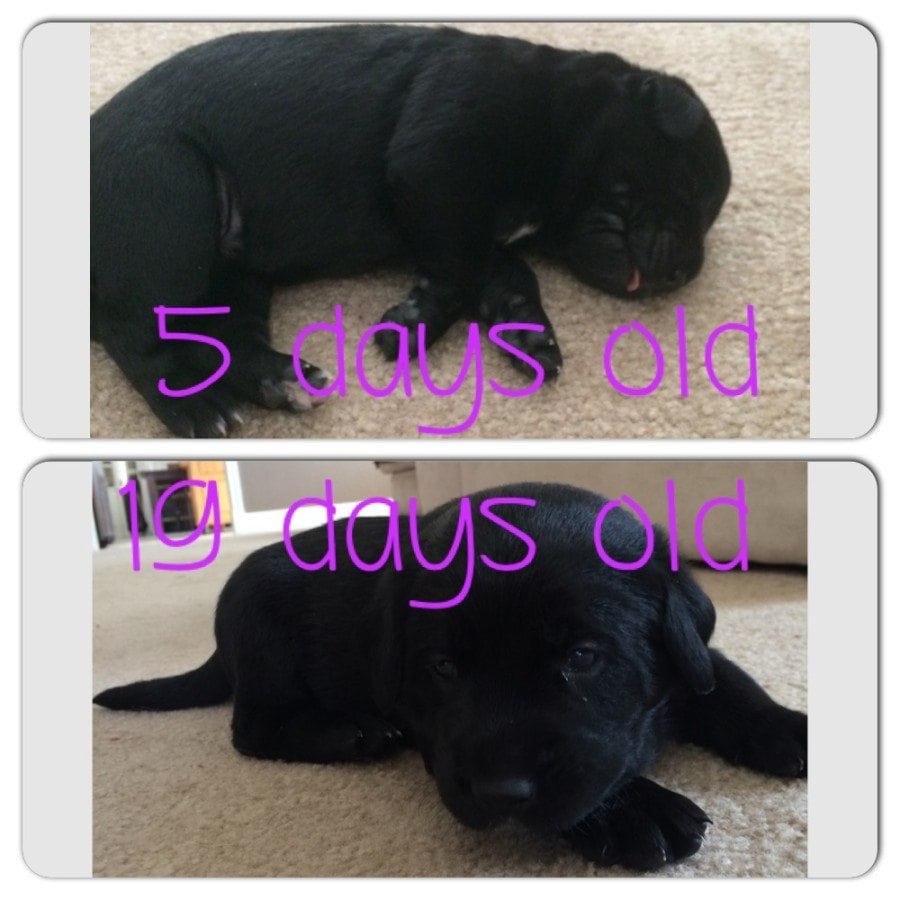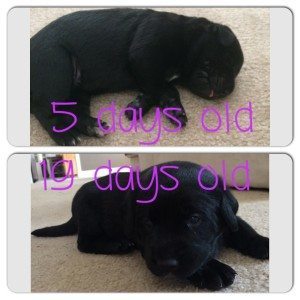 I learned that my friend's dog was expecting puppies and I told her that we were interested in taking one home. Once the puppies were born my friend texted me saying if we wanted a female, we could come take a look at her. This was all a secret to our girls so when we all showed up to my friend's house I looked at the girls and said, "How do you feel about adding a puppy to our family?" They both lit up with excitement! I sent pictures to my husband, who was working, and said, "Yep, you will be living with four girls now. We love her already". Over the next nine weeks we went over to see how big the puppies were growing, making sure our girl knew who we were, and of course to play with the puppies. My girls were so excited for the puppy, asking, "When does she come live with us?" all day, every day, until I made a countdown calendar where we crossed off the days so they knew how much longer they had to wait.
I try my hardest to plan everything. I spent countless hours reading about what to do with a puppy. How could I make this transition easy for everyone? What was the best crate, bed, leash, collar, toys for the puppy? How was I going to spend my time potty training a puppy? I had just not too long ago gotten my girls out of diapers (over a year accident-free). I had flashbacks to my pregnancy and looking up every question and "what if" scenario. I knew I just needed to take the plunge to buy stuff and adjust accordingly once she came home.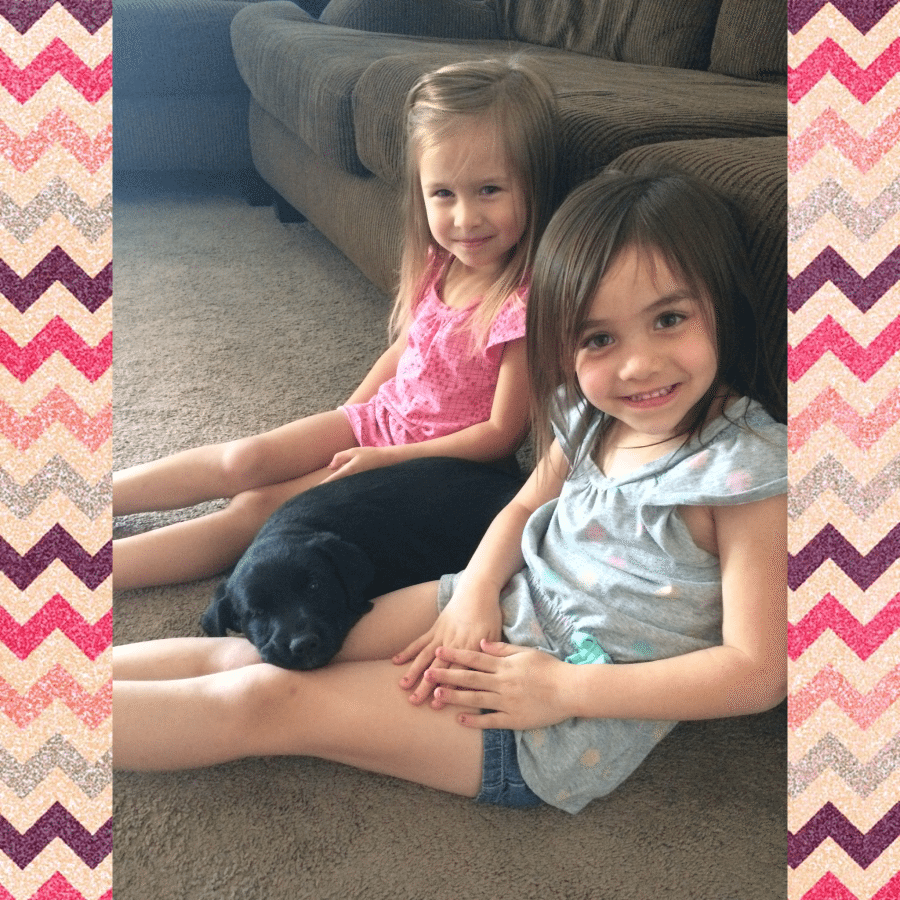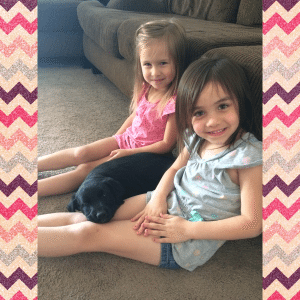 Slowly, we made a collection of gear for her. My girls loved picking out the new stuff we were buying. They were so proud of the different toys. I knew I wanted a toy bin for the puppy's toys, so I allowed the girls to pick one out and then they picked out some ribbon to line the basket so "the dog knew it was hers". I've never seen my girls so invested in something.
The day finally had come, our little girl was coming home with us!! My husband was working and I was nervous beyond words. I tried my hardest to remember what my parents had done when we adopted a dog when I was 11 years old. After our puppy's first ever car ride, which felt as if it was the first time I had driven the girls as newborns, we were finally home. The first day we spent outside to make sure we avoided accidents as much as possible. Living in California has its small perks – we spend a lot of time outside. The girls said their favorite thing about the puppy was giving her treats after she went potty outside.
I'm going to be honest; about the time my girls got fully potty trained was when they started sleeping through the night. They just hated sleeping. I had become very used to a full night's rest. I very quickly learned that puppies are like a newborn baby. Coffee and I became very close best friends again, but looking back to her first weeks here, it has been all worth it.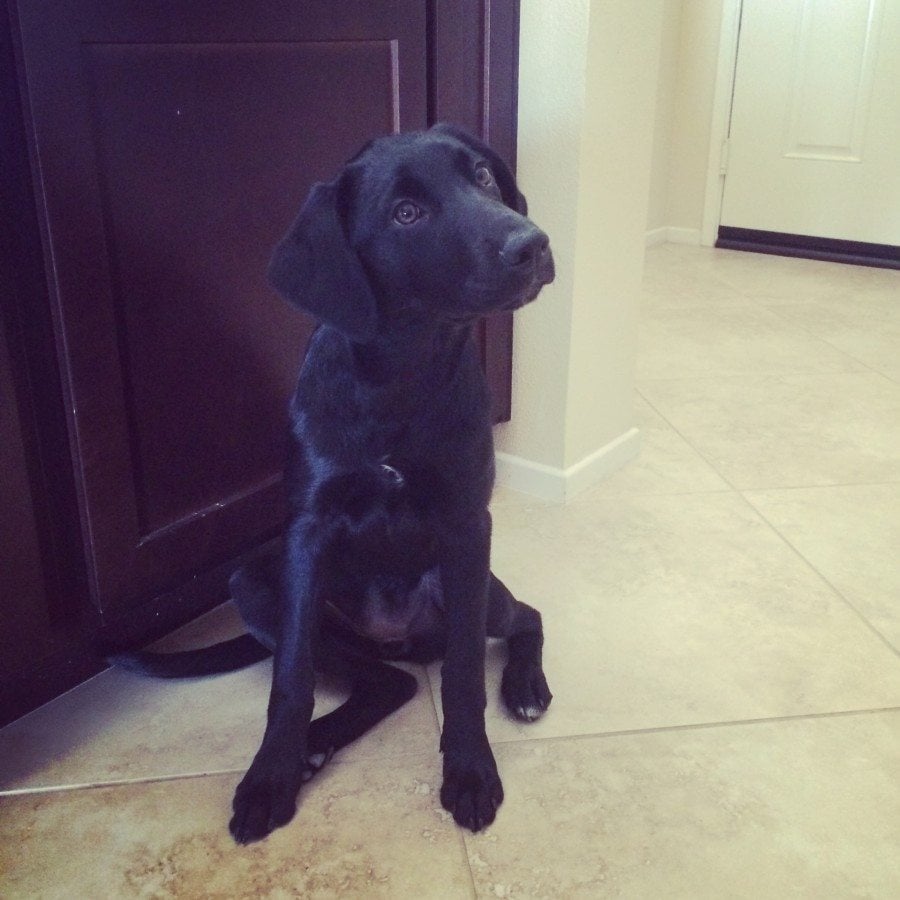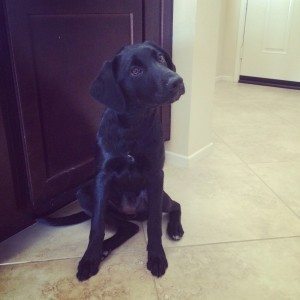 My husband and I agreed that this would be a family dog and we would all take responsibility of the dog, keeping in mind our twins are 4.5 years old. The first thing that our girls were responsible for was to keep their room clean. They understood if the puppy went in their room and any toys were left out, that she probably would chew it. This alone is the best thing about adding the puppy to our family!! Their room is always clean now. Their closet is a different story, but I'll take the small victories. They have also learned that Bradie will pick up any toys or sandals that are left out. Thankfully it's only been cheapie sandals that have been destroyed.
The girls are also in charge of letting Bradie out of her crate whenever we return home from running errands. Growing up, my sister and I had a couple weekly chores we had to do – one of them was picking up the dogs poop. I automatically was doing it when the puppy came home out of habit. One day the twins asked to do it and it stayed with them. There was no intention of them doing it until they were older but they love doing it. Yes, they also know to wash their hands afterwards!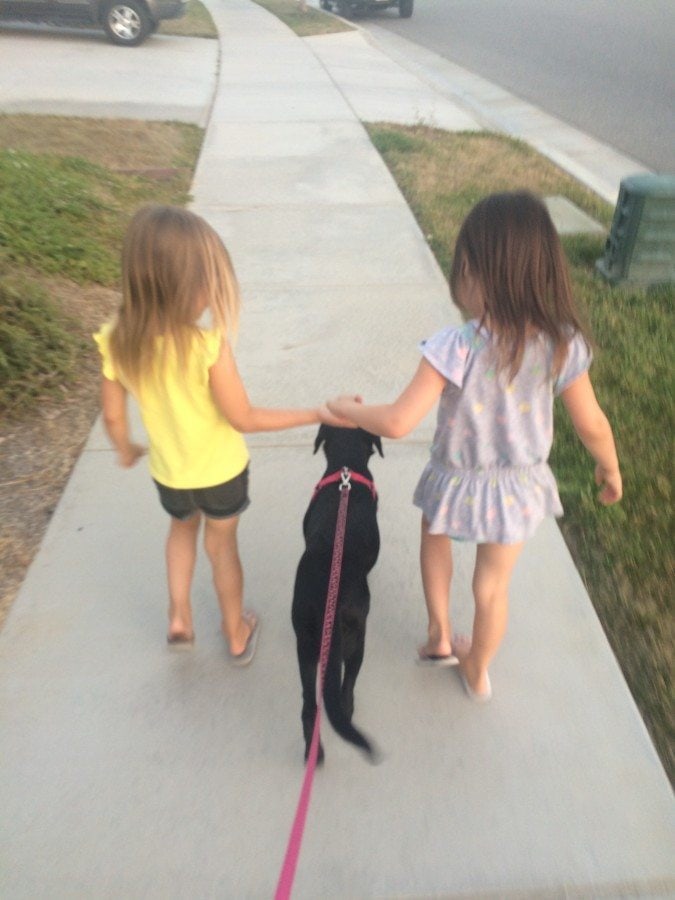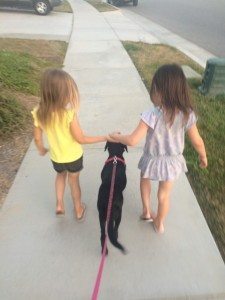 Another huge thing that Bradie has helped our family with is taking her out for exercise. We try to do nightly walks, as it's too hot in the daytime for us. We started with small walks and now all five of us will go walk almost 2 miles each night. Our nightly walks have become the perfect wind-down for the girls and the puppy. The girls have also improved on their throwing skills. In our backyard, or at the dog park, the twins will play fetch with Bradie for hours if I let them. I never knew the parent side of dog owning until Bradie came into our life.
As a parent, I love watching my daughters interact with our dog. I love how they say good morning and good night to her every day. It's a great confirmation that adding her to our family was a great idea. My twins now understand the importance of cleaning, the responsibility of having a dog, and they get to have another best friend growing up. Bradie has also been a great thing for me. She loves to alert us when people come up to our house. Granted she eventually runs up to them and excited pees on them, but it's a start. When my husband is at work, I have someone who likes to stay out in the living room with me until I go to bed so I don't feel alone. My husband also gets his share of cuddles, play time, and puppy bonding with Bradie as well. He loves taking her on little trips and soon one day she will be his hiking buddy on our local trails. I cannot wait for what the future brings for our newly expanded family.
Robyn is currently a stay at home mom to her 4 year old fraternal twin daughters, Kayden and Kaylee, and wife to her husband, Roy. She is currently pursuing her career in the medical field. Click here to read more of Robyn's articles on Twiniversity.
Related Articles