I don't have "help" with the girls, so we go everywhere on our own. Grocery shopping, errands, baby classes, play dates, the park… we love to be on the go! The one thing I hadn't yet tried on my own was eating out. I thought for sure that kind of thing would be over my head, and would be testing my limits. I imagined being outnumbered, causing a scene with melting-down babies, food flying everywhere.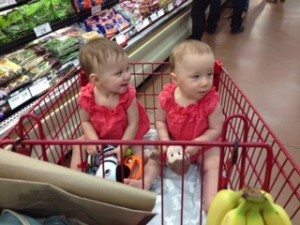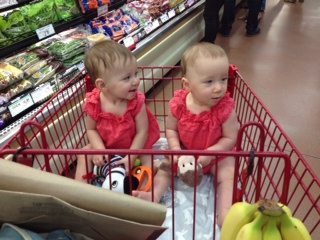 Today I took the twins out to lunch by myself. Just me and two 11-month-old girls enjoying a lunch out on the town. It wasn't planned, but I suddenly found myself without enough time to go home and feed the girls before a baby class. It was a bold move, but I didn't really think about it too much. We needed to eat and there wasn't time to go home.
For the first time, I ordered the girls their own meal to share from the kid's menu. They sat in highchairs and were kept busy (yay for quesadillas!) just long enough for me to eat a decent amount of food.
To parents of singletons, this might not sound like a big deal at all. Eating at a restaurant with your kid? Big deal, right? With twins, things are different. Successfully making it through a meal in a public place – without any choking, gagging, flying food/utensils, crying in stereo, or total meltdowns – is a huge achievement.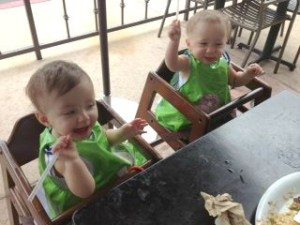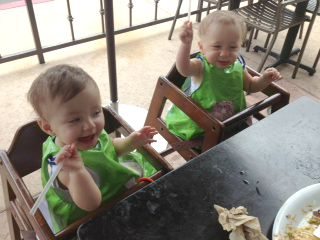 I understand that this outing could have gone in any direction. We were teetering dangerously close to naptime, and the odds were stacked against me. But for some reason, everything went smoothly.
My point of sharing this small victory with you is this: you are capable of much more than you think! You will never know your limits caring for twins on your own unless you get out there and go for it. There more you do, the more confident and efficient you will become in juggling two babies at once. And that, my friends, is an incredibly empowering feeling.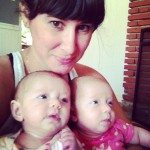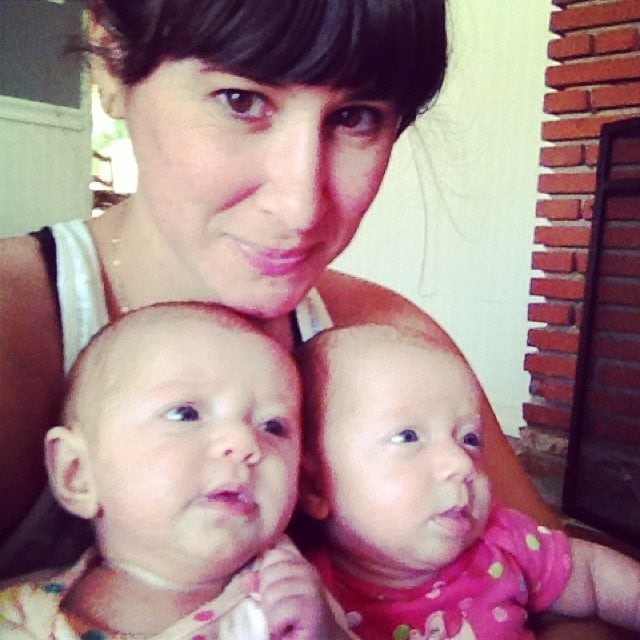 Rachel Brehm, mother to fraternal twin girls, blogs regularly on eating disorder awareness and insurance denials for eating disorder treatment. Brehm writes for an Insurance Law Blog as well as an Eating Disorder Law Blog (rated as one of Top 25 Eating Disorder Blogs of 2012) focusing her writing on insurance advocacy, insurance coverage, body image, eating disorder recovery, and weight stigma. As a new contributor to Twiniversity.com, Brehm plans to shift her writing on body image issues in the insurance world to include body image issues in the mommy world. Brehm's writing will address navigating pregnancy and postpartum with eating/body image issues as well as her experiences raising twin girls-and all the "twin moments" that go along with it. For more Twiniversity posts by Rachel, click here.
Related Articles
* * *
The rate of twin births has risen 79 percent over the last three decades, and continues to increase. A mom of fraternal twins and a national guru on having two, Natalie Diaz launched Twiniversity, a supportive website with advice from the twin-trenches.
What to Do When You're Having Two is the definitive how-to guide to parenting twins, covering how to make a Birth Plan checklist, sticking to one sleep schedule, managing double-duty breastfeeding, stocking up on all the necessary gear, building one-on-one relationships with each child, and more.
Accessible and informative, What to Do When You're Having Two is the must-have manual for all parents of twins.
* * *
Check out the latest issue of Multiplicity Magazine! Twiniversity's quarterly online magazine is FREE and features all the hot topics and new trends for parents of multiples, as well as great coupons and product reviews!
* * *
Whether you're a twin parent in the big city surrounded by scores of resources, or a triplet parent out in the country with no one around for miles — our multiples parenting forums are for YOU! Sign up for FREE and connect with people who are just like you — parents of multiples looking for advice, parenting tips, or even just people to chat with who will understand what you're going through. Our forums are open to people all over the world and we offer scads of specialty rooms to find others who are going through the exact same thing as you. Check it out today!
* * *
Twiniversity is the #1 source for parents of multiples and we are growing faster every day!
Find us all over the web: