If your life is anything like ours date nights are few and far between. Our twinnies are 3 and half and we've rarely been able to get away. Money is tight and it's not exactly easy to nail down a grandparent to watch them last minute when we do have the spare change to slip out for a kid free dinner and drink. That can take a toll on a marriage in a big way.
It dawned on me one day; if we can't go out, why can't I make a date night at home? And so it began! I grabbed the twins and headed to our local dollar store to browse the selection. I decided on a "Luau" theme. I grabbed a couple of plastic tiki drink cups, 2 leis, 1 can of pineapples and 2 festive strands of tiki decorations to hang in our living room. I spent a grand total of $7. Next I froze a pineapple chunk in each cube of the ice cube tray to use in our adult beverages to go along with my theme. I happened to notice my husbands Hawaiian shirt on a shelf in the laundry room – perfect touch!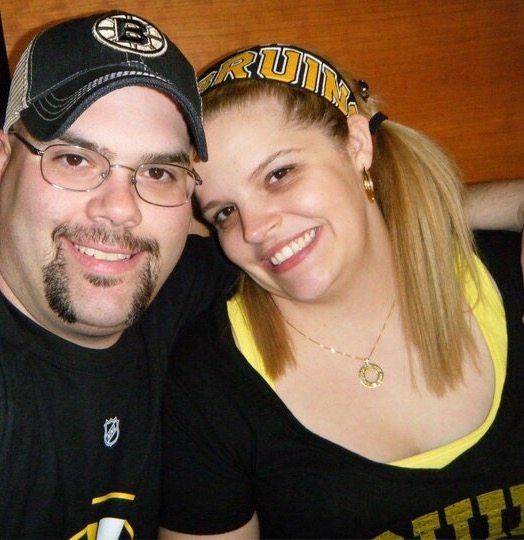 Here's the fun part! I put the kiddos to bed and surprised my husband with our at-home date night. It was exactly what we needed! It was cheesy, fun, and gave us a lot to talk and laugh about. It was a welcomed break in our nightly routine of watching TV together and then going to bed because we're both exhausted from the days events. Don't get me wrong, I've grown to love our nights on the couch together more than anything, but sometimes you need something special and spur of the moment to breathe new life into your relationship and refresh it.
That night was a complete success and since then we've gone on to have more nights like those; hockey themed nights where we dress up in our favorite Bruins team garb like we're going to the game again and have beers and yell at the TV. But most importantly we laugh. We laugh together like we don't have a care in the world. The $7 spent at the dollar store, was the best $7 I've spent in a long time.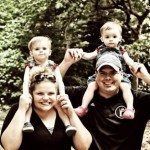 Kimmy Brogan is an avid user of social media and has a college degree in Communications. She is currently a stay at home mommy to her fraternal twin girls who will soon be three, and Twiniversity's Twitter and Facebook Manager. She was born and raised in New England and has no plans to leave. She is also a fire wife as her husband is a full time Firefighter in Massachusetts. Her family and her husbands family were neighbors when they were kids; they've known each other their whole lives. Kimmy has been extreme couponing for the last three years and very much loves a good bargain! She taught herself after realizing how expensive twins were. She's never paid full price for a pack of diapers since. Follow her on Instagram to find great discounts and deals! Kimmy has been interested in the twin community since the day she found out she was unexpectedly expecting two. Her main goal is to make sure no twin mom feels alone on her journey. There's always someone who has gone through what you're going through. Follow Kimmy's
Related Articles
* * *
The rate of twin births has risen 79 percent over the last three decades, and continues to increase. A mom of fraternal twins and a national guru on having two, Natalie Diaz launched Twiniversity, a supportive website with advice from the twin-trenches.
What to Do When You're Having Two is the definitive how-to guide to parenting twins, covering how to make a Birth Plan checklist, sticking to one sleep schedule, managing double-duty breastfeeding, stocking up on all the necessary gear, building one-on-one relationships with each child, and more.
Accessible and informative, What to Do When You're Having Two is the must-have manual for all parents of twins.
* * *
Check out the latest issue of Multiplicity Magazine! Twiniversity's quarterly online magazine is FREE and features all the hot topics and new trends for parents of multiples, as well as great coupons and product reviews!
* * *
Whether you're a twin parent in the big city surrounded by scores of resources, or a triplet parent out in the country with no one around for miles — our multiples parenting forums are for YOU! Sign up for FREE and connect with people who are just like you — parents of multiples looking for advice, parenting tips, or even just people to chat with who will understand what you're going through. Our forums are open to people all over the world and we offer scads of specialty rooms to find others who are going through the exact same thing as you. Check it out today!
* * *
Twiniversity is the #1 source for parents of multiples and we are growing faster every day!
Find us all over the web: