It started out of boredom. I was a stay-at-home mom for my twins' first year of life, and though I was grateful to be with them all the time, I was lonely. That year we had a long, cold winter, and I didn't have it in me to drag them (unable to crawl or walk) outside. However, they quickly grew bored and antsy with their same old toys. I mean, how many times can you push a button and watch a toy light up? I started reading about stimulating babies through various types of activities, and that's how I got the idea for my first homemade toys – sensory baskets and bottles.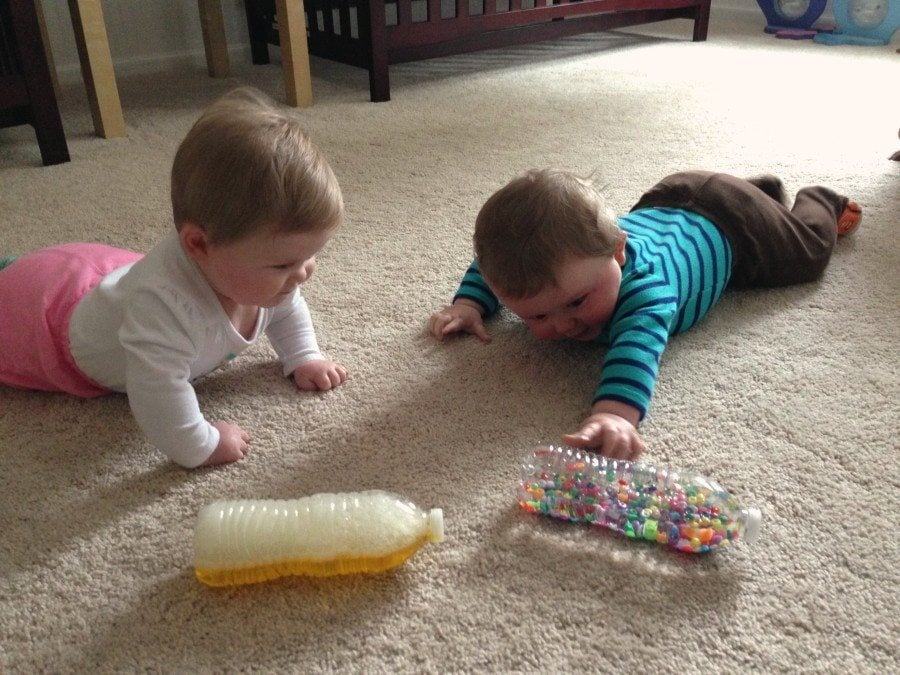 While those bottles are still holding up just fine almost two years later, they weren't anything to write home about. Over the next year, I dove head-first into the world of cheap and easy sensory play, from playdough to beans, wet and slimy to dry and scratchy. I went through a sensory bin phase and we all had such a blast digging into our weekly rotated wet and dry bins! I became fixated on the idea of textures, and begged my husband to make our very first real homemade toys, our wooden sensory boards. Other than the wood (which my husband chose to buy high quality), we bought super cheap supplies for these boards from Home Depot. The twins enjoyed playing with the locks, door stoppers, and various carpet textures. I enjoyed the feeling of creating a toy with multiple purposes that would last many years. And with that, I found myself a new hobby.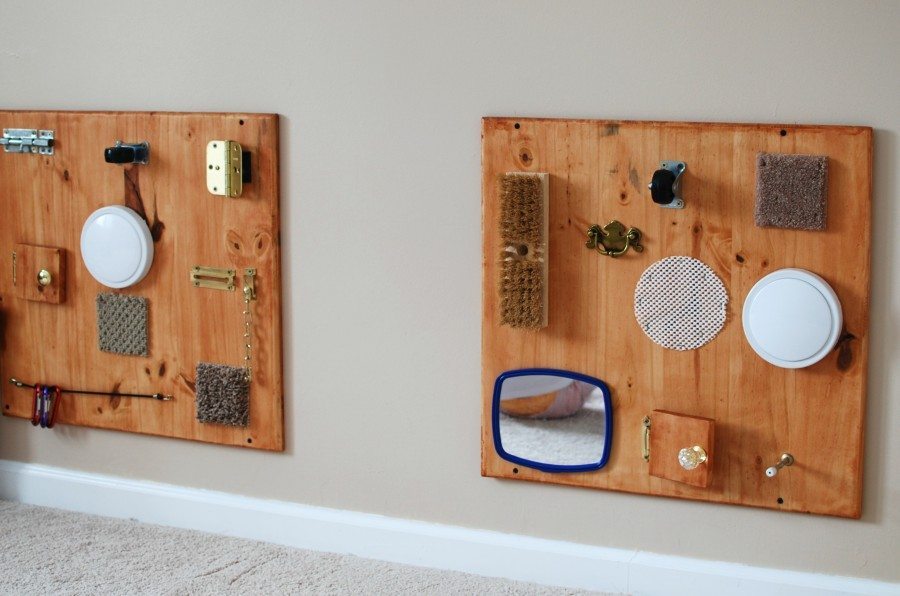 When my daughter turned a year and a half old, she suddenly became obsessed with buckles. She wanted to do every buckle she could find, multiple times in a row, but she couldn't open them. At first, even shutting the buckles were tough. I decided to purchase a buckle pillow for her, but couldn't believe the price for one that was, in my opinion, dull and boring.
It was around the same time that I received a sewing machine for a gift. I was excited; hand sewing is way too time consuming, but I had NO idea how to use a machine. I figured it had to be tough – these projects I had in mind weren't for me. Let me tell you, basic sewing is not tough at all, and after I figured out how to thread the thing, I pondered the problem: I was too cheap to buy a buckle pillow.
Luckily, there's crafty people out there who've thought of everything, and with some guidance from Pinterest, I used the sewing machine for the first time and made my daughter a buckle pillow.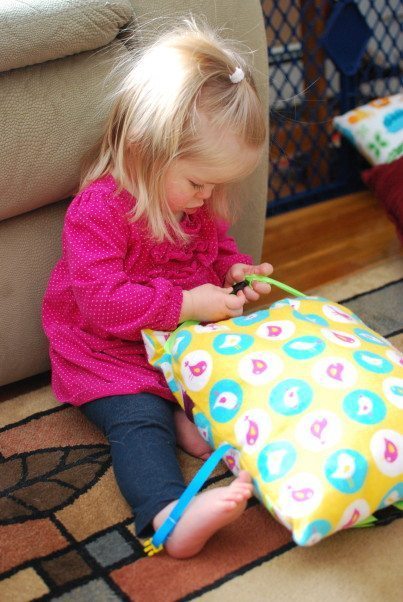 In fact, I made two, because my son was developing an interest in buckles as well. A few months later, I made a third one for a friend. Our buckle pillows have held up extremely well and have a permanent spot on our toy shelf.
With the love of buckles came a love of zippers. Same thought – how could I make something simple that allowed my twins to practice zipping? What about zipper boards? No sewing needed for this one – just some cardboard, felt, zippers and a glue gun. That's it! I made two, and they sit right next to the buckle pillows. Both toys have gotten many hours of use, and I've really enjoyed watching them learn and improve upon their fine motor skills.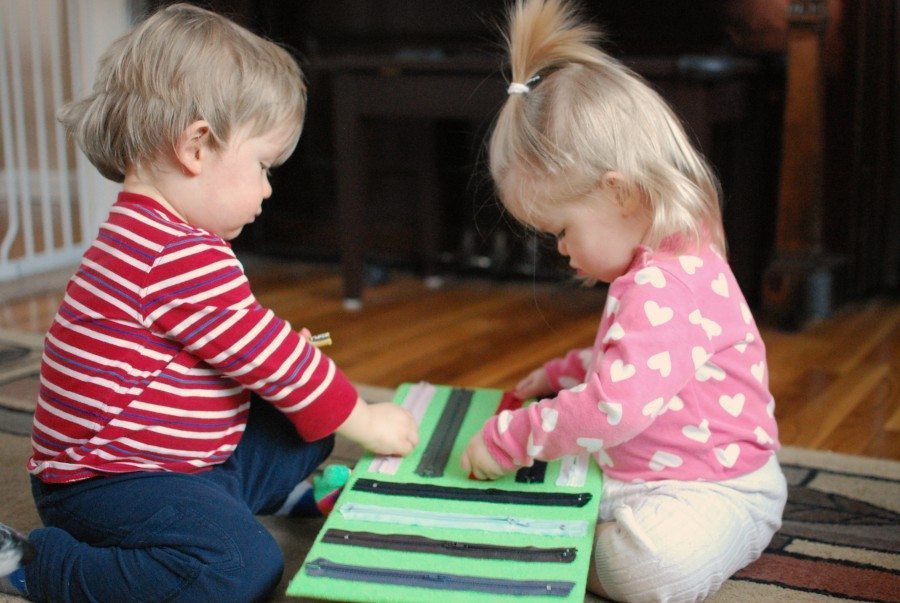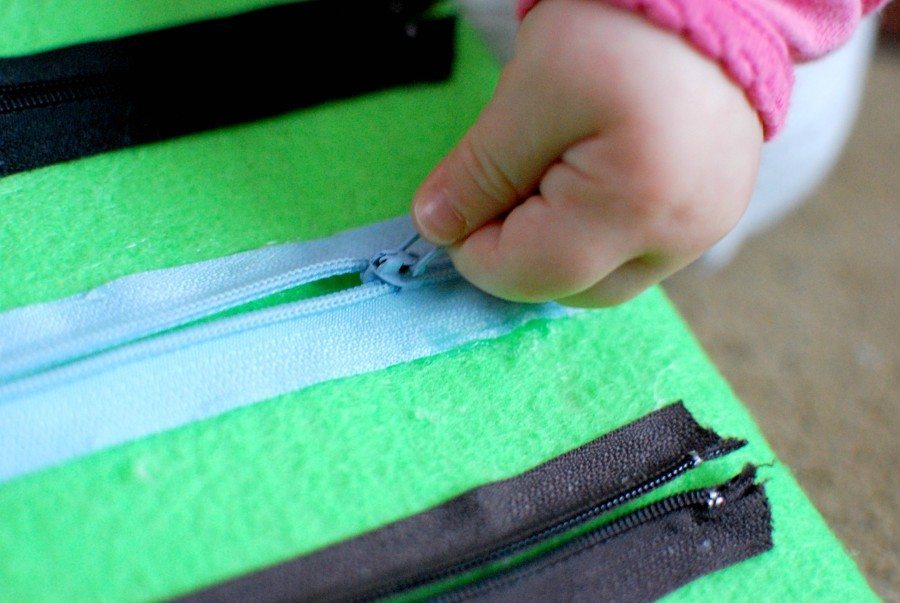 I found it very satisfying to create simple toys for my kids that were educational, got tons of use, and were even personalized. Not to mention, they were cheaper than if I had bought something similar from a store. What else could I use my sewing machine for? Other than the buckle pillows, I had never sewed anything in my life. And still to this day, I don't really know what I'm doing.
As my children learned their letters, I thought it would be nice if they could hold the letters as they practiced, rather than just from books or a puzzle. I found a few ideas on Pinterest and then went for it, making the entire alphabet out of scraps of fabric I already had, using simple patterns on the sewing machine. Now the twins run to their alphabet basket and find the letters of their names or put the letters in order as they sing the song. It's a multi-purpose toy that I personalized with super cute fabric patterns, including scraps from their buckle pillows.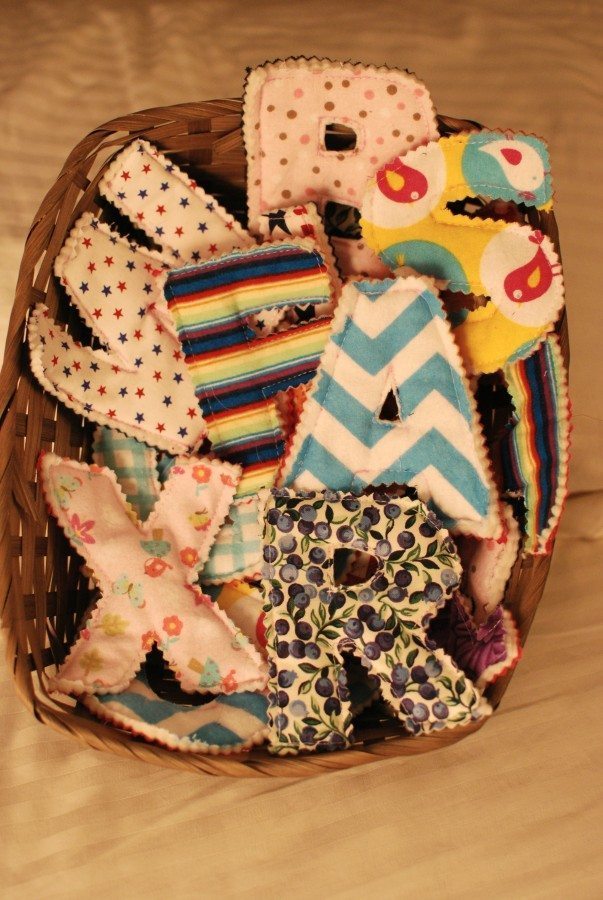 While I was on this sewing spree, I made one more gift for my children. I won't lie, this one was supposed to be quick and easy, but for a novice sewer like myself, it took me two weeks. I wanted something sentimental – something soft that the twins could hug and love and wear down. There were tutorials for cute stuffed animals on the internet, some using old clothes. As I dug through the bags of the twins' infant clothes, I found their old baby blankets and a decision was made. I was able to sew two upcycled baby blanket bunnies for the twins to snuggle, and though it took me a while, it was worth it. The twins love their bunnies and they've joined the ranks among the other loves they have in their cribs.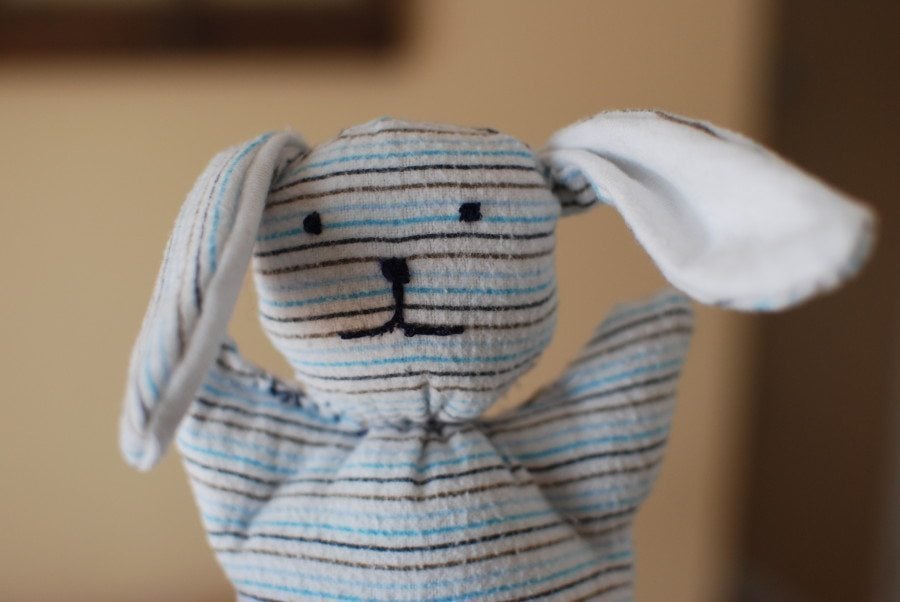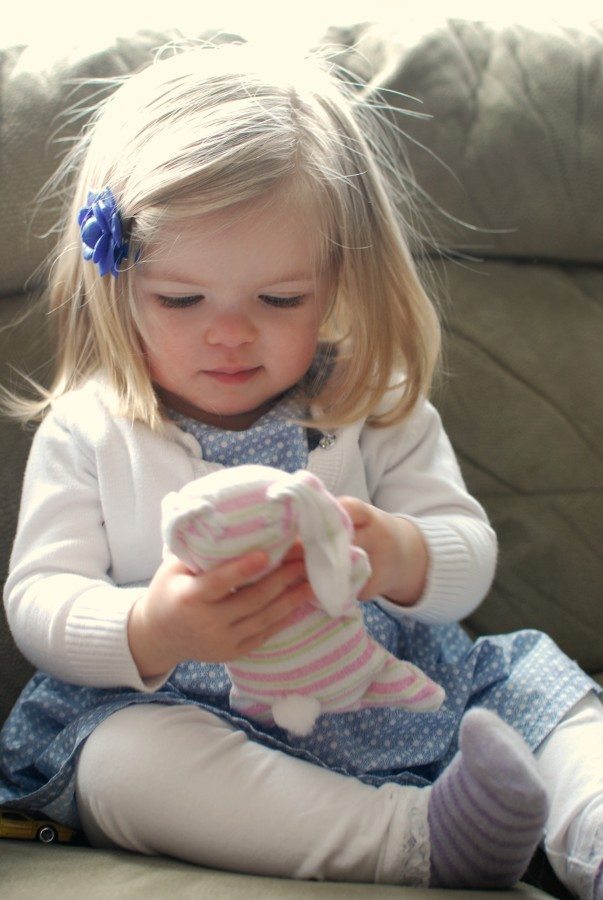 The final result after making my children something from scratch is worth the time it takes me to learn to sew, read tutorials, and browse Pinterest. What I have made are items that I hope will be saved and passed down to my children's children. They hold sentimental value to me and hopefully the kids as well as they grow older. I'm still not really GOOD at it, and I certainly don't have the creativity to make up toys on my own, but it's still worth it. In addition to the emotional piece, in most of these cases I've saved money. I've used scraps, and borrowed materials from my relatives. Those old baby blankets were going to be donated. Now, a piece of them will stay with my twins in the form of soft, snuggly bunnies. I love it.
If this sort of thing interests you but you don't feel you've got the chops, I can't tell you enough how uncrafty I am. I can only create something when I'm following a tutorial with picture steps, but I did it. You can make your own toys with a little time and patience!
I've got other crazy ideas, such as creating my own felt board, stuffed felt foods, bean bags and cloth napkins (I know…). Time has gotten away from me as I'm back to being a full-time elementary school teacher. But the holidays are coming. Nothing is more special than a homemade gift!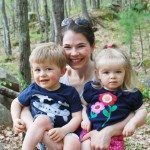 Megan Champion is a fifth grade teacher and the mother of two-year old boy/girl twins. She and her husband also share their small space with two hyper rescue dogs. After going through infertility treatments, navigating the chaos is exactly what they always wanted. She somehow finds time for her hobbies, photography and writing, and can be found blogging about infertility, DIY and money-saving ideas, and twin topics at twintalkblog.net. She can also be found on Facebook at Facebook.com/twintalkblog. Click here to read more articles by Megan on Twiniversity.
Related Articles