One of my favorite things about being a mom is getting down a dirty in arts and crafts!  Once my second set of twins came along I found very little time to dedicate to this, which upset my big twin girls. They really missed doing fun projects with me, so we picked it up again this year. The special thing with our projects is we try to use items we already have or can find in nature. These "snowy day" crafts are perfect for days where it's just too cold and crummy out to leave the house and your kiddos are about to go stir crazy. I like to keep the spending to a minimum; this really helps get their creative juices flowing!
I've shared with you a few very easy crafts and one semi-difficult one. These crafts lean more towards a Christmas theme, but you can adapt almost all of them for Hanukkah, or a general winter theme if the holidays are over.
This first one my girls created on their own. I actually had the canvas boards left over from a decorating project but they are minimal cost, maybe $5 for two at Walmart.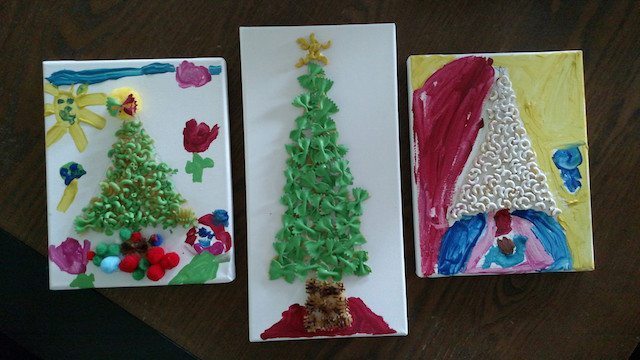 Noodle Trees (easy)
Materials:
dry noodles, such as macaroni, bow tie, and corkscrew pasta
acrylic paint (non-toxic)
small canvas boards (paper or construction paper is too flimsy for the weight of the noodles)
liquid craft glue
paint brushes
left over decorations like sequins, beads and pom poms
Directions:
On the canvas board, draw a faint outline of a tree in pencil
Fill in the tree with liquid craft glue
Spread dry noodles out over the glue
Let dry completely
Paint the noodles and canvas background
Let the paint dry then add additional decorations if desired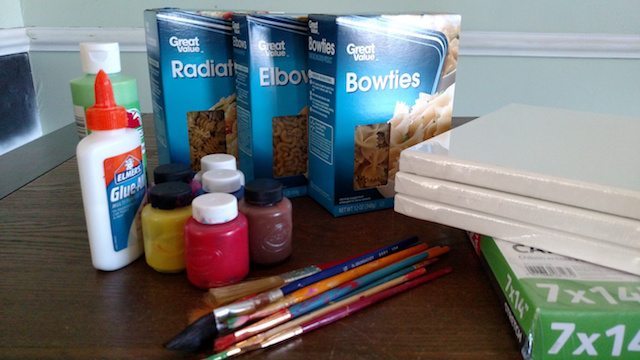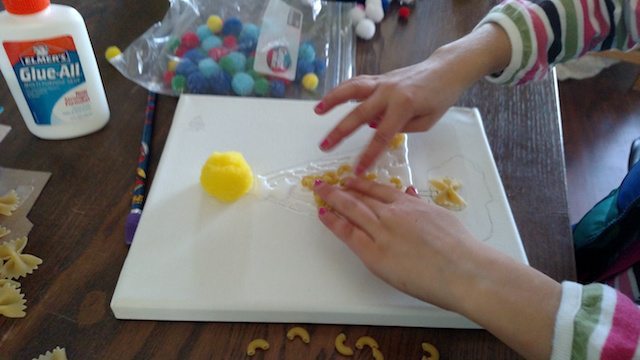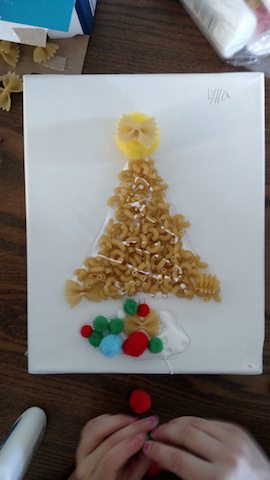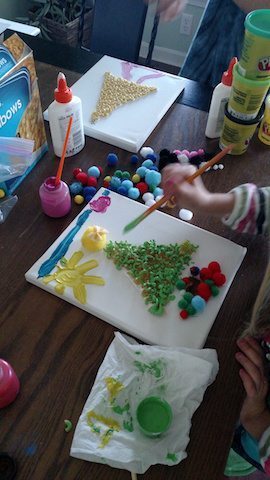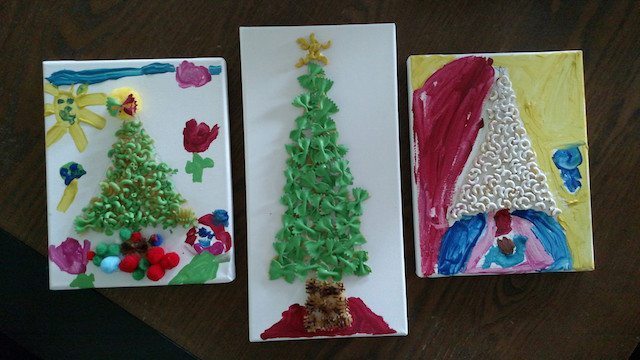 The second project we saw on YouTube and the lady made her trees look gorgeous and easy. While ours didn't turn out so gorgeous, the girls really loved the final product and are very proud of them.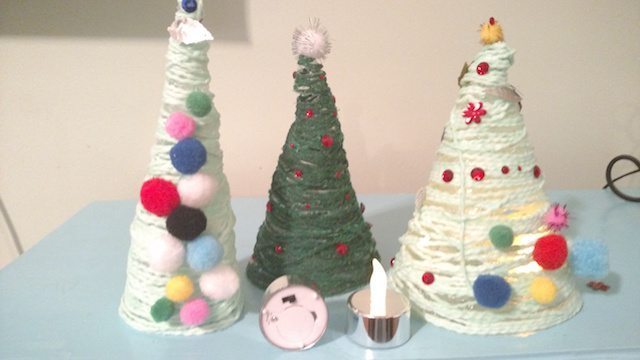 Yarn Trees (semi-difficult, adult help needed)
Materials:
paper
Scotch tape
yarn
glue
spray glue
plastic wrap
paint brushes
sequins or other little decorations
small bowls for glue
Directions:
Cut cone shapes out of paper and use tape to hold the cones together
Wrap the cones with plastic wrap
Starting at the top, brush liquid glue on the outside of the top half of the cone
Begin wrapping the yarn around the cone, starting at the top, and add glue as you go until the entire cone is covered with yarn
Use spray glue to coat the outside of the yarn (this step should be done by an adult). This is what will cause the yarn to become stiff. If you don't have spray glue, use a paint brush to brush glue on the outside of the yarn, but be aware this is a lot more difficult and will cause some frustration.
Let the cones dry overnight. You can try a hair dryer to speed up the process.
Once dry, remove paper cone from under the plastic wrap. Remove plastic very carefully.
Decorate the outside of your "tree" with sequins, pom poms, and beads, as desired.
Put an electric tea light under each one and turn off the lights! Watch your kids oooh and ahhhh…
*Yarn is not very sturdy so use very light decorations. Even stickers would work well.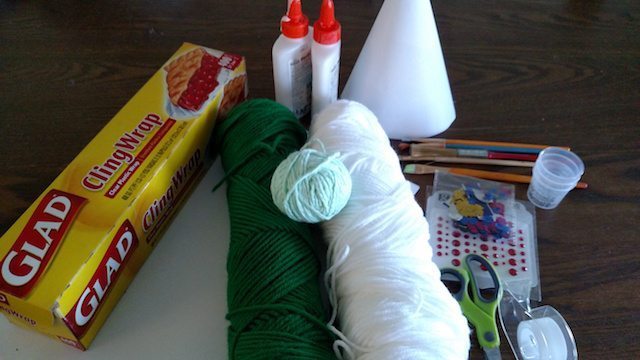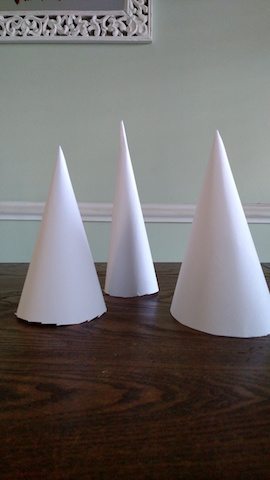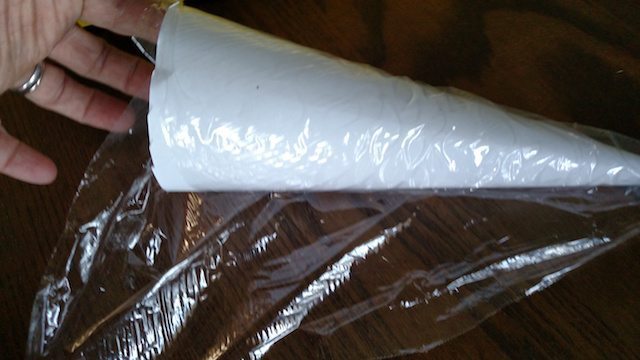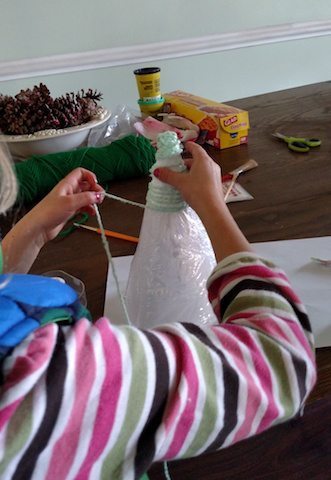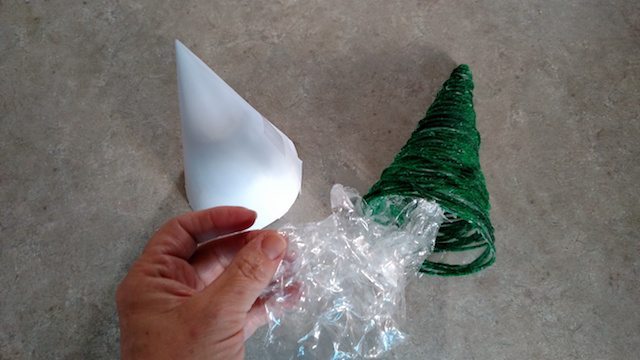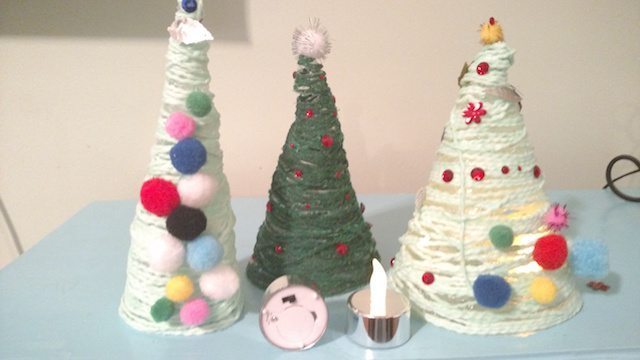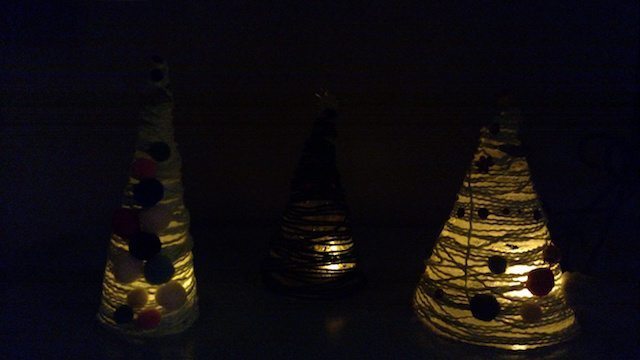 Finally, here are a few easy projects that we didn't need to spend a penny to create.
Ceramic Tree Coasters
I love this ceramic tile coaster craft. I found white tiles while cleaning and thought these would come in handy but I wasn't sure what for. Then it dawned on me that this would make a great Christmas gift for grandparents! If you're going for a general winter theme, designs such as snowflakes, snowmen, and ice skates work well too.
Materials:
Plain white ceramic tiles
Acrylic paint
Paintbrush
Directions:
Draw a faint outline of a tree in pencil
Put green paint on your child's finger and let her press her finger print many times on the tile in the shape of a tree.
Once that is done repeat with brown for the base of the tree and then yellow for the star!
The girls thought this was so fun because they could do it all on their own.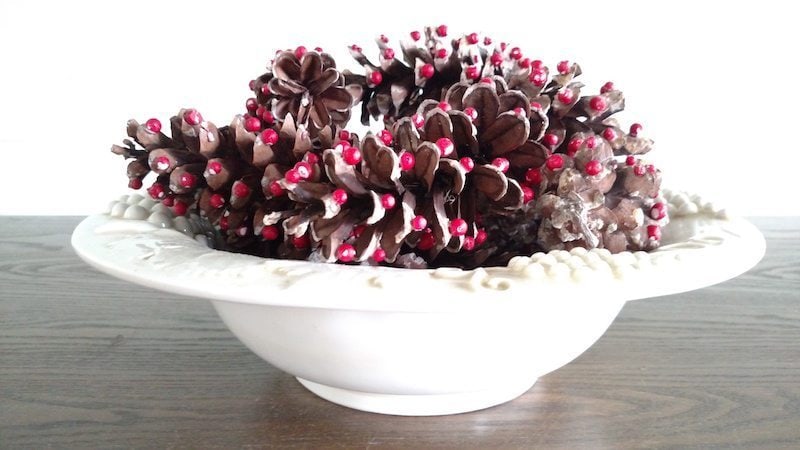 Red Tipped Pinecones
My girls love collecting pinecones. We go on walks and gather pinecones and acorns until we have two bags full. They love to paint them and put them in bowls and glass vases for the holidays.
Materials:
Pinecones
Little tiny red balls (we gathered the ones that fell off our wreaths and garland)
Glue
Directions:
Simply dab a bit of glue at the edges of the pinecones
Add red balls to the glue
So easy, fun and pretty! If you don't feel like dealing with glue and little accessories, then just paint them with acrylic paint. Or paint the pinecones with festive colored paint first, then add the balls to the tips after the paint dries.
Painted Wrapping Paper
This is another favorite, but you must be in a patient state of mind to deal with messy hands and feet! If you don't want to make wrapping paper you can adapt this craft to use small canvases for a cute keepsake. Add the child's name and age with paint for posterity.
Materials:
Plain brown craft paper
A variety of acrylic paint colors
Paint brushes
A package of wipes
Old sheet or drop cloth
Googley eyes
Black marker

Directions for the Reindeer
Lay out an old sheet or drop cloth
Paint bottom of your child's foot brown
Gently press your child's foot on to the paper
Push footprint down and remove. Quickly clean off the messy foot with a wet wipe.
Once the footprint dries, add black marker antlers, paint on a dot of red paint at the tip of the heel for a nose, and glue on googley eyes

Directions for Santa
Paint palm of hand and thumb with red paint
Paint fingers white
Gently press child's hand onto brown paper and remove. Use a wipe for cleanup.
Glue on googley eyes
Paint tip of the hat white
Arts and crafts can be tiresome, but the fun the kids have and the memories they make with you is well worth the effort!
Kerry Bergeman is the founder and the mastermind behind New2Two.com – A peek at my life as a Mother of fraternal AND identical twins! Kerry is a full-time stay at home mother of six year old fraternal twin girls and one year old identical twin girls. She also teaches part-time at the local community college and runs Mommies of Multiples on Facebook (a group dedicated to helping moms of multiples with their daily questions and concerns). Her blog, New2Two is about life with twins, dealing with infertility, raising awareness for bully prevention and the challenges of having a daughter with a severe intolerance to dairy. What does she do on her time off? She is the Brand Ambassador of the Twingaroo twin carrier- the first and only ergonomic twin carrier that features a built in diaper bag (yes, that's her on the box)! She sells Usborne Books to help encourage all to read! She's bringing the book back one kid at a time! Click here to read more articles by Kerry on Twiniversity. 
Related Articles