Tony Burch, a 30-year-old Army captain posted in South Korea, used FaceTime to watch his wife, Mary Pat Burch, give birth to their four new arrivals via C-section at the AMITA Health Adventist Medical Center in Hinsdale. Tony was more than 6,500 miles and 14 time zones away. This wasn't going to stop this military father from witnessing the birth of his quadruplets back in Illinois.
"He could see the babies as they were taken to the warmers, and he got the rundown on how they were doing and how much they weighed," 29-year-old Mary Pat Burch said in a statement from the hospital this week.
The couple already were parents to 23-month-old Alice when they were told in August they would be expecting triplets. Another ultrasound threw up a new surprise a week later when they learned it was quadruplets, which meant the Burch family would be more than doubling in size to a family of seven. "We wanted a big family, but we thought we'd be able to spread it out more," Mary Pat Burch said. "Instead we got an instant upgrade."
Tony Burch is an Army engineer and was originally stationed at Fort Hood, Texas. After he was deployed to South Korea in September, his wife moved with Alice to her hometown of Tinley Park, Illinois, to live with her parents and await the babies' arrival.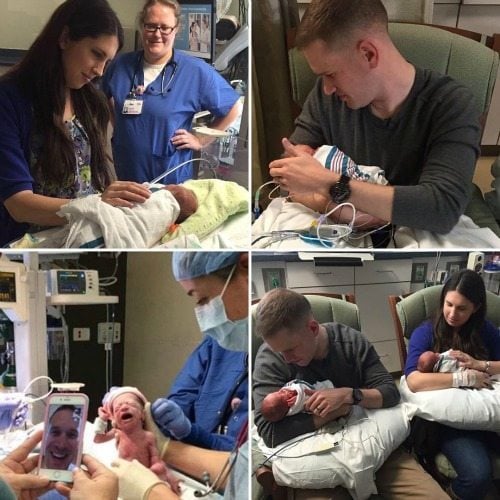 She gave birth to Henry (3 pounds, 8 ounces), Nathaniel (3 pounds, 6 ounces), Samuel (3 pounds, 2 ounces) and Molly (2 pounds 14 ounces) on January 24, according to the hospital. There were 23 medical staffers in the delivery room, including obstetricians, neonatologists, and labor and delivery nurses, plus Tony Burch, via FaceTime.
The dad of five was able to meet the babies in person, without the use of technology, when he returned on a special overseas trip from South Korea four days later, the hospital said in an Instagram post. He is scheduled to return to the U.S. full-time in June.
While their mother was discharged from the hospital after four days, the tiny babies need to be monitored in intensive care and will likely not leave the hospital for several more weeks. Nonetheless, Kim Carmignani, director of the hospital's neonatal intensive care unit, was pleased that "the quadruplets are beautifully the same size, which is great … We don't like to see one growing more rapidly than the others because this can cause systemic problems."
* * *
The rate of twin births has risen 79 percent over the last three decades, and continues to increase. A mom of fraternal twins and a national guru on having two, Natalie Diaz launched Twiniversity, a supportive website with advice from the twin-trenches.
What to Do When You're Having Two is the definitive how-to guide to parenting twins, covering how to make a Birth Plan checklist, sticking to one sleep schedule, managing double-duty breastfeeding, stocking up on all the necessary gear, building one-on-one relationships with each child, and more.
Accessible and informative, What to Do When You're Having Two is the must-have manual for all parents of twins.
* * *
Whether you're a twin parent in the big city surrounded by scores of resources, or a triplet parent out in the country with no one around for miles — our multiples parenting forums are for YOU! Sign up for FREE and connect with people who are just like you — parents of multiples looking for advice, parenting tips, or even just people to chat with who will understand what you're going through. Our forums are open to people all over the world and we offer scads of specialty rooms to find others who are going through the exact same thing as you. Check it out today!
* * *
Twiniversity is the #1 source for parents of multiples and we are growing faster every day!
Find us all over the web: