Every month Twiniversity recognizes a Super MoM of Multiples. This month we are proud to introduce you to Dee Bohreer as May 2016 Super MoM!
Dee was nominated by her wife, Teresa Roldan. Here is what Teresa has to say about Dee.
I would like to introduce Dee, my wife, best friend and stay-at-home mom to our fraternal twin girls. She is an amazing Mom. Dee has had panic attacks and depression for many years due to childhood traumas and has, in my opinion, successfully navigated herself into healthy emotional patterns with our girls.
We have been together for almost twenty years and when we were finally in a place to start our family, she stood by me through fertility appointments, biopsies, and almost a year of mood altering medications. It was not fun for anyone, but she helped me through each step.
We were fortunate enough to only have to go through two IUI cycles before becoming pregnant. Then, at eight weeks in, we got the news that we were having two. Since Dee was already at home regularly, our plan was always for her to be the stay-at-home mom. Having twins put much more stress on her than we initially expected when we began this process.
My pregnancy was relatively uneventful as twin pregnancies go, but it ended about a month early with preeclampsia. Our girls went to the NICU and came home together on their sixth day. I was able to stay home for four months, but during that time, went back to the hospital twice for gallbladder issues. The second hospital stay culminated in surgery. Dee had help from friends for a good amount of time, but still had many days and nights alone with our two very tiny girls.
Once I was well and back to work, she then had two infants to care for alone for up to ten hours a day. We have two beautiful, healthy, happy little girls who are about to turn one in a week and Dee has been an amazing Mom to them. She has not only persevered through her depression and panic issues but has also given our girls a better start than she was allowed. I don't think I tell her enough just how much I admire what she had been able to do for herself, for our girls and for us.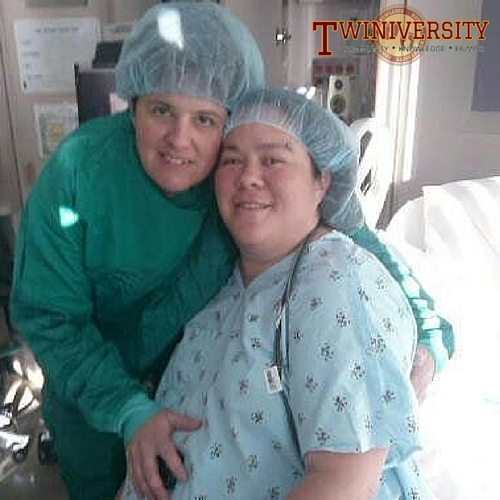 We also spoke with Dee and here is what she had to say about being such an amazing mom:
I was born in Belgium because my Dad was in NATO and I grew up in Arcadia. I was introduced to my wife Tess (Teresa) in sixth grade by her Mom who was the fifth grade teacher. We became a couple almost 20 years ago. We had some fertility issues and it took us 2 trys of IUI. We went into the doctor and we found out we were pregnant and then when Tess was 8 weeks along the doctor told us that we were going to have twins.
We had the girls when they were 35.5 weeks. We had to have to have an emergency cesarean because Tess had pre-eclampsia. When I first saw my girls Helena and Madalyn it was the most awesome thing I have experienced. The girls had to stay in the NICU for 5 days and then they came home.
About 2 months after the birth she had to go to the hospital Tess was diagnosed with Pancreatitis and she had to have surgery to have her gallbladder out. I was on the AIDS Life Cycle at that time, which I have done for the past 15 years. I had to come home and take care of the girls while Tess was in the hospital. She recovered and came home.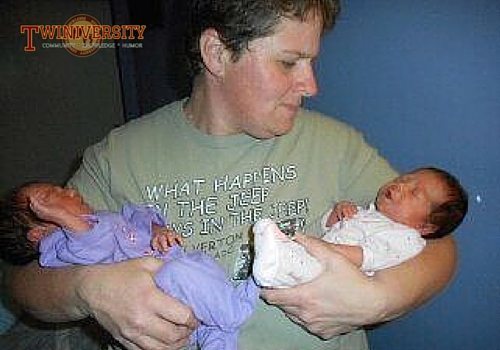 I now take care of the girls by myself 5 days a week for about 9 hrs a day. I do have help 1 day a week from their Uncle Tony. I enjoy it but I would lie if I didn't say it causes my panic attacks to flair up.
Thank you Dee for sharing your story with us. As a thank you, we at Twiniversity would like to send you to the spa for some long overdue relaxation!
Do you know an amazing Super MoM that deserves to be recognized? Nominate her here!
* * *
Related Article
* * *
The rate of twin births has risen 79 percent over the last three decades, and continues to increase. A mom of fraternal twins and a national guru on having two, Natalie Diaz launched Twiniversity, a supportive website with advice from the twin-trenches.
What to Do When You're Having Two is the definitive how-to guide to parenting twins, covering how to make a Birth Plan checklist, sticking to one sleep schedule, managing double-duty breastfeeding, stocking up on all the necessary gear, building one-on-one relationships with each child, and more.
Accessible and informative, What to Do When You're Having Two is the must-have manual for all parents of twins.
* * *
Whether you're a twin parent in the big city surrounded by scores of resources, or a triplet parent out in the country with no one around for miles — our multiples parenting forums are for YOU! Sign up for FREE and connect with people who are just like you — parents of multiples looking for advice, parenting tips, or even just people to chat with who will understand what you're going through. Our forums are open to people all over the world and we offer scads of specialty rooms to find others who are going through the exact same thing as you. Check it out today!
* * *
Twiniversity is the #1 source for parents of multiples and we are growing faster every day!
Find us all over the web:
Or contact us by email at community@twiniversity.com