As a child my parents would load the four of us kids into our old Ford Station Wagon and haul us around the country on a road trip. It was awesome … we would travel into the desert with no air conditioning and no cruise control. This wagon sported some fancy seats in the very back, perfect for making a bed to lie down on. We had no CDs and no DVDs. We played good old fashion car games with license plates, the alphabet, and of course slug-bug. We often invited friends along sitting each of us hip to hip. Those were the days we really tested the engine on a car. We packed on the miles and the memories.
We learned on these trips that there were no shortcuts to any place worth traveling. We had some fantastic discussions, visited some amazing places, and I'm sure we whined an awful lot. But that didn't stop us from exploring the wonders around us. But, I offer you my parent's advice. Expect the unexpected and always be prepared.
I now have my own family and a "Swagger Wagon" of my own. I have learned over the years to prepare for everything. My husband and I have made a diligent effort to "road trip" with our twins. We have had all kinds of adventures. I hope by sharing a few of our safety and travel tips, we might help you to enjoy the journey a little more.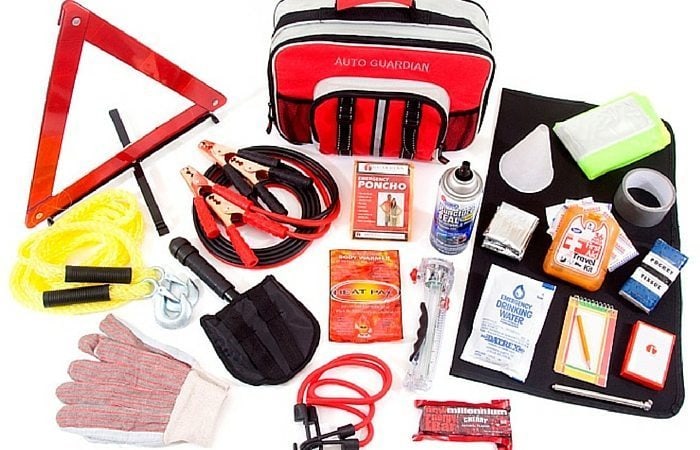 EMERGENCY KITS
When travelling by car you should always have an emergency kit. This should include safety and First-Aid items. Consider including items such as: water, food, flares, jumper cables, flashlights, emergency blankets, matches, gloves, tools, and a First-Aid supplies.
It is also important to take an Emergency Kit for the twins. Inside include a thermometer, children's Ibuprofen and/or Tylenol, band-aids, and any medications your twins may need. In the middle of the night when your little one comes down with something, you won't regret having this along.
PACKING OVER-NIGHT BAGS
If you are stopping for just the night to stay in a hotel, pack an over-night bag. We pack a bag for each of us, and a Back-pack for the twins. In it, we included everything we would need to get us through the night: pair of PJ's, change of clothes, a swim-suit, your bathroom needs, and your twins comfort items and emergency kit. It is much easier to pull out a back-pack and head into a hotel, than to unload all the suitcases from the car. It also makes check-out a whole lot easier!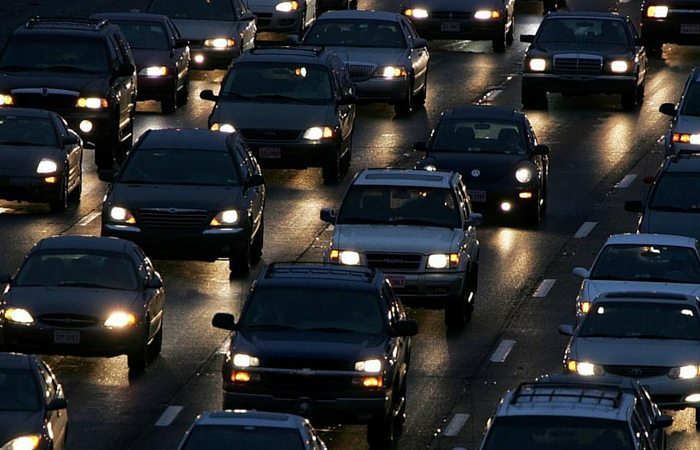 WHEN TO TRAVEL
Believe it, or not, this can be a very controversial subject. "I" (This is my opinion, so take it or leave it) believe it depends on what type of travel you are doing.
When travelling by car, many people chose to travel at night with their children. We will not. Don't get me wrong, it would be much easier for us. My husband works nights and would probably prefer to drive at night. My children sleep well in the car and would probably do just fine. As a part of my safety tips, I DO NOT recommend travelling at night with children. Not only is your visibility limited, but your roadside assistance is also limited. Many gas stations close after 10:00 PM. In many areas police and emergency services provide limited support after 10:00/11:00 PM. You will not find a tire shop or an auto mechanic after usually 9:00 PM. As we talk about expecting the unexpected, you never know when something will go amiss. The last place you want to be at 2 AM is stranded in the middle of nowhere (or in some strange town) with your children along the highway. In addition there are a lot of "Crazies" (as well call them) out at those hours. Even stopping for gas in the middle of the night puts your family at a greater risk than during the day. It is also not as safe for your children as they should not lie on the seats without properly being restrained and/or sleep in their car seats for extended periods of time. Instead of traveling over-night, I recommend starting early. Starting at 4/5 AM and planning your stops around wake up and/or nap-times.
STOPS
For Infants and Toddlers it is recommended that you stop at a minimum of every 3 hours. They need to be taken out of their car seats and stretch. This is the perfect time to feed them, diaper them, and let them run and/or kick their legs a bit. Children 5 to 12 will likely need to stop every 4 hours to stretch, eat, and potty. Plan no less than 30 minutes at each stop (especially for infants and toddlers). If you plan it right, you can schedule nap times in the car and pit stops while they are awake.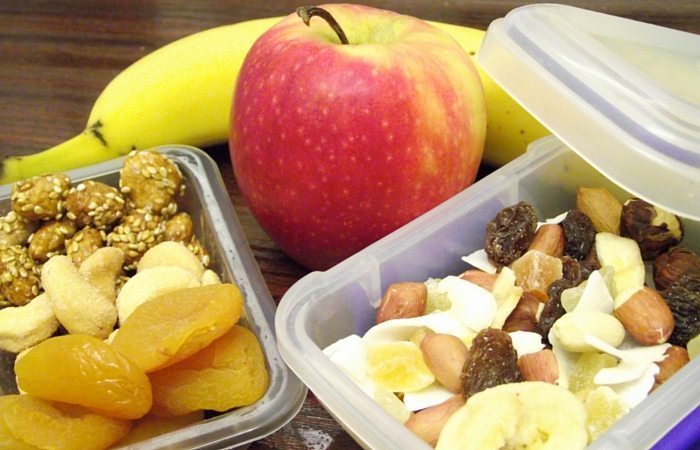 SNACKS:
Healthy Snacks are a must for us when travelling. Our twins will get grouchy and wild from all the added sugars from food on the go, so we pack healthy snacks for all our trips. There is always a way to eat healthy on the go. Kids love to eat finger foods. We use the lightweight ice sheets to keep things cold, and reusable containers. One of our greatest snack hacks is what we call "snack packs". We take them everywhere and our twins think they are so fun. Some of our favorite Healthy snacks are: grapes, mandarin oranges, cherry tomatoes, cucumbers, carrot sticks, popcorn, peanuts, raisins, pretzels, banana bread, jerky sticks, and cheese moo's.
ROAD TRIP ACTIVITY HACKS
DVD Player: We travel with limited TV time. As the day is winding down and the kids are getting fussy, a movie might just be the trick to making it to our destination.
CDS and Books on Tape: Books on CD are also a great way to keep your little ones busy. Note: I would say for 3 and up. Age 2 may be too difficult for your little ones to turn the pages at the chime. In this case, frustration may be a greater nuisance. (Just saying ..)
Books for older kids to read (Note, some kids will get sick reading in the car)
Coloring: Cake pans with lids make great coloring boxes. Fill the inside of the pan with paper, coloring books, crayons and/or color pencils. I do not recommend markers. The lid they can use as a table on their lap.
Road Trip Bingo: You can download game boards for free on-line and print them off. As the kids see the items on their game boards out the window they can play a little game of Bingo. We use Gold Fish Crackers as our markers.
License plate game: You can download these game boards as well. Each time your child see's a state license plate they can mark it off their game board.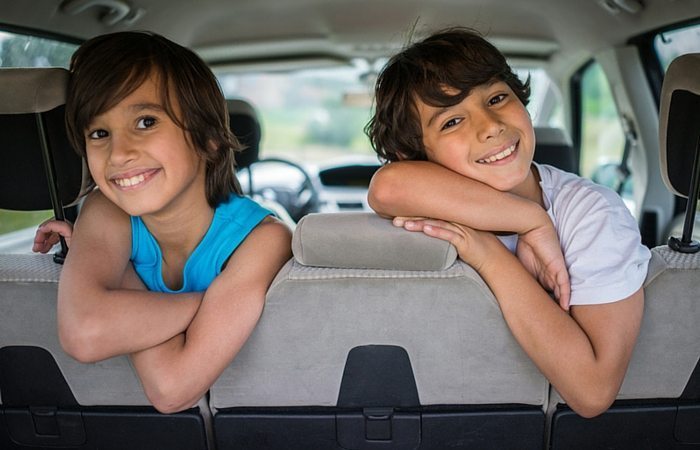 Felt Boards: This is perfect for toddlers. You will be surprised how long their little imaginations will keep them busy playing with a felt board and a few animals, characters.
Make some Goop: It is a silly-putty like play-dough that will not stick to your child's hair, interior, or clothing. Store it in a zip lock and let them shape creations while you drive. This is a great sensory activity for toddlers on up. This will keep their fingers and minds busy for a while.
Catalog Shopping: Give them any kind of catalog (Toy Catalogs are great) and a pen. Let them circle all the things they like.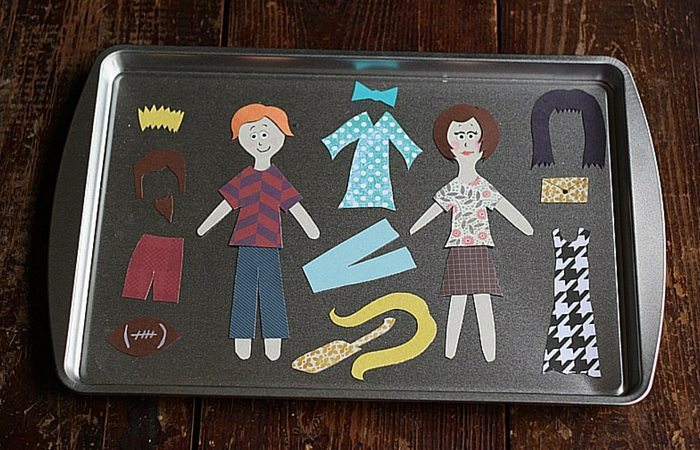 Magnet Boards: You can buy all sorts of magnetic toys (my twin girls love the magnetic paper-doll like toys where they can dress up the princess'). I've also seen Mickey Mouse ones for little boys with all the different characters. (NOTE: The cake pan as noted for coloring also works great with magnets)
Treasure bottle: Fill a clear plastic bottle with all sorts of treasures. (Paperclips, seashells, buttons, coins, noodles, legos, etc) and fill it with rice. As they shake and move the bottle around see how many treasures they can find in their bottles.
Puppet show: Get little finger puppets and let them do puppet shows for you. You will laugh and they will laugh.
REWARDS
Make a clip out of clothes pins to hang on the visors with your twins names. If the twins act naughty, take their clip down. If their clip is hanging when you stop the car, they get a surprise. Usually it is another activity as noted above, a special snack, or sometimes even a $1 to spend on their trip!
We live in a world full of wonders and magnificent things to adventure. There is nothing in this life that will bond you closer as a family than "time" spent together. Take a trip and give you multiples a story to tell. I was once told "A destination is never a place; it is a new way of seeing things." Enjoy your journey!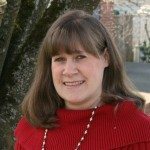 Minden Buckingham lives in Portland with her husband Mike and twin girls. She is a stay-at-home mom and enjoys running the daily carpools. Minde also enjoys spending time with her family, trips to the coast, photography, and writing. For more articles by Minde on Twiniversity, click here.
* * *
Related Article