Hey mamas and papas, listen up! We've got a GREAT article on helping your twins to overcome their fear of bathtime.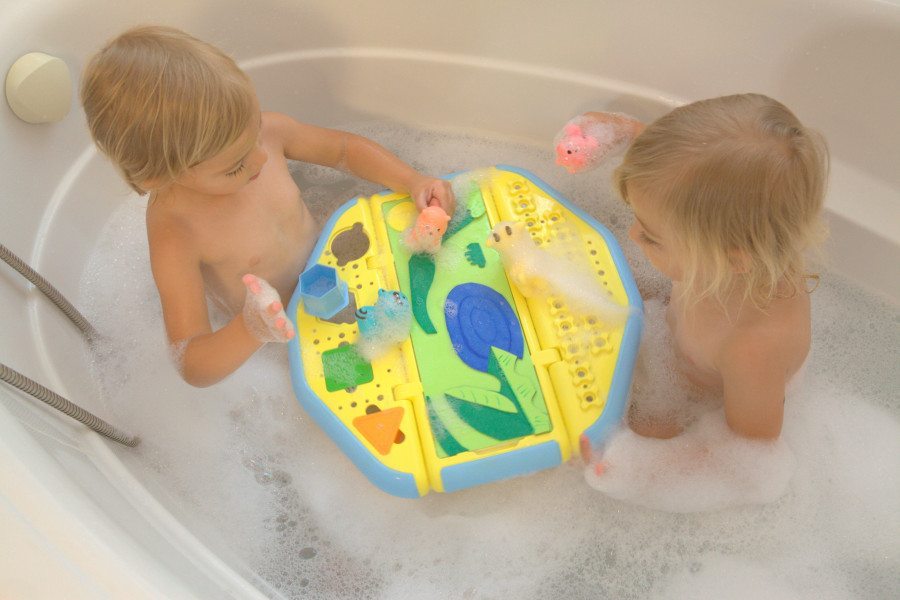 We absolutely adore the Tubby Table, invented by a TWIN MOM! It's the perfect way to keep water INSIDE the tub while your twinnies get clean. It's also a great way to transition babies from a baby bathtub to the big bathtub once they are sitting up confidently on their own. This toy will make your kids look forward to bath time and the bedtime routine.
Overcoming Bathtime Fears
There is nothing worse than hearing your babies scream in utter terror when they get anywhere near the bath tub. It becomes extremely stressful for everyone involved. Employing a few tricks can help your children get over this hump quickly and with as few tears as possible.
Distractions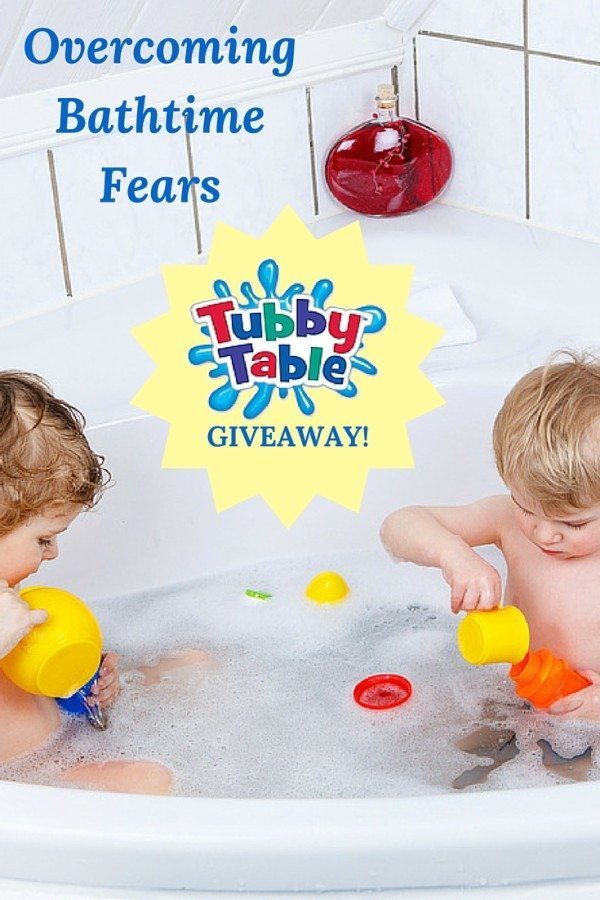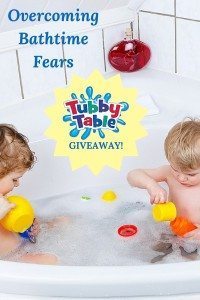 I find distractions to be quite helpful. It helps children forget where they are and moves their focus from their fear and allows them to concentrate on something positive.
This is where those washrag hand puppets someone gave you at your shower come in handy. Mrs. Froggy or Mr. Piggy talking in silly voices and dancing around the edge of the tub can be a great distraction.
Hold your child's hand and sing them silly songs while your partner does the washing. This physical connection helps keep their attention on you and away from the water and/or hair washing. They associate holding your hand with being safe so this will help calm them down and ease their discomfort
Bath tub crayons are a must. My husband and I would color on the tub walls with them while one of us held the hand of the upset baby. Talking aged kids can take turns making requests for what mommy or daddy will draw next. They soon get distracted by actually getting to color all over the walls that they will forget their fears.
Toys are the ultimate distraction. Fill the tub with plastic books, squirt toys, boats and anything else that your children are interested in. Something like a Tubby Table is great at drawing and keeping their attention because of all its bells and whistles and because it sits in the tub at chest level. It makes the tub feel more solid and less full of hidden dangers.
Quick dissolve color tablets for the bath tub are another great idea. Let your kids each pick one and let them drop it in the tub. They get mesmerized by how the tablet fizzes and bubbles while releasing a swirl of color into the tub and forget their fear of the water.
Change of Venue
If the above distractions are not working try a change of venue. There is nothing that says that your child has to be bathed in the bathtub.
The kitchen sink is much smaller than a bath tub and therefore much less scary for small children. The fact that they are sitting up high at your eye level is also comforting for them.
Lots of kids feel more comfortable taking a shower than a bath. Small children love to sit in the shower and splash in the small amount of water that pools at the bottom. The shower is very non-threatening since the water never goes above ¼ inch.
Purchase a long, but shallow under-bed plastic storage container and let your twinners play inside it during the day. Turn it into a rocket ship, sled or fort and then when it is bath time tell them that you are going to turn it into a boat. Place it inside the tub and let your children help you fill it with a watering can or cup. Because it isn't the tub itself and the children are already in love with the container they are much less fearful of this container than they are the tub. You can also place it on your tile or linoleum instead of inside the tub if it makes your children more comfortable.
Bath time doesn't need to be a hassle filled with tears and struggle. There are many ways in which you can make it not only comfortable, but fun for your children.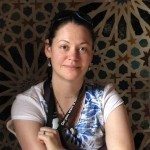 Destiny Effertz is a mother of 3 boys; twin 3 year olds and a 5 year old. She worked for many years as a civil litigation paralegal prior to having children. Now she spends her days formulating new pie recipes, throwing epic kid parties, planning family vacations, and planning and executing pirate adventures and trips to far away planets with her boys.
Related Articles
THIS CONTEST HAS CLOSED