Hey gang, listen up! We've got a great article for you on must-have supplies to breastfeed twins.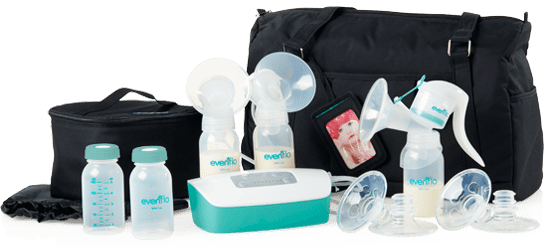 We just love Evenflo's line of breastfeeding products; they are truly fantastic. Their bag adapters are our new favorite item because they allow you to pump directly into the bag — no more messy transfer from bottle to bag! GENIUS!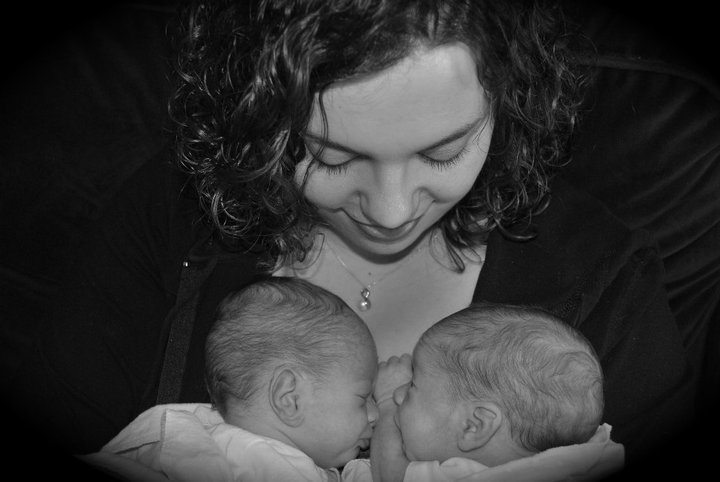 Must Have Supplies to Breastfeed Twins
Welcome to motherhood as a twin mom. You may be reading this as a pregnant mom wondering how on earth you are going to feed two tiny humans at the same time. I will not lie. It is hard. It is also magical, joyful, and overflowing with lovely oxytocin. I both nursed and bottle fed my twins. You may just bottle feed, you may just nurse, or you may do both; either way you are going to survive and flourish in this motherhood thing regardless of how you feed your baby.
I will never forget the first time I nursed both my twin boys at the same time just a few days after they were born. I was so excited and the NICU nurses were so excited that they called over several other nurses and NICU mothers to come look at the glory of it all. "Look! I am feeding two babies at the same time!", I thought. I didn't care that I was topless in front of so many women, I just beamed with joy in that moment. You will too. It took work and determination, but we did it. I would like to share with you a few supplies that made nursing twins, a feat in itself, a little easier road for me.
Nursing one baby can be done on the go, in public, around others and rather quick. Nursing tandem (twins at the same time) requires quite a bit more maneuvering and handiwork when they are small. It also requires you being totally topless with no free hands most of the time, depending on how well your babies stay latched. Of course, there are many positions and you could feed one baby at a time too.
The best thing I did was setup a nursing station at home. I had a certain comfy corner of the couch I always sat in. It had a small table to the side with a water bottle, the remote, my phone, nipple cream, a burp cloth, and a double nursing pillow. As time was nearing to nurse the twins, I would turn on a show I liked or some music, fill up the water bottle and prepare myself to be sitting there for a good 20 minutes.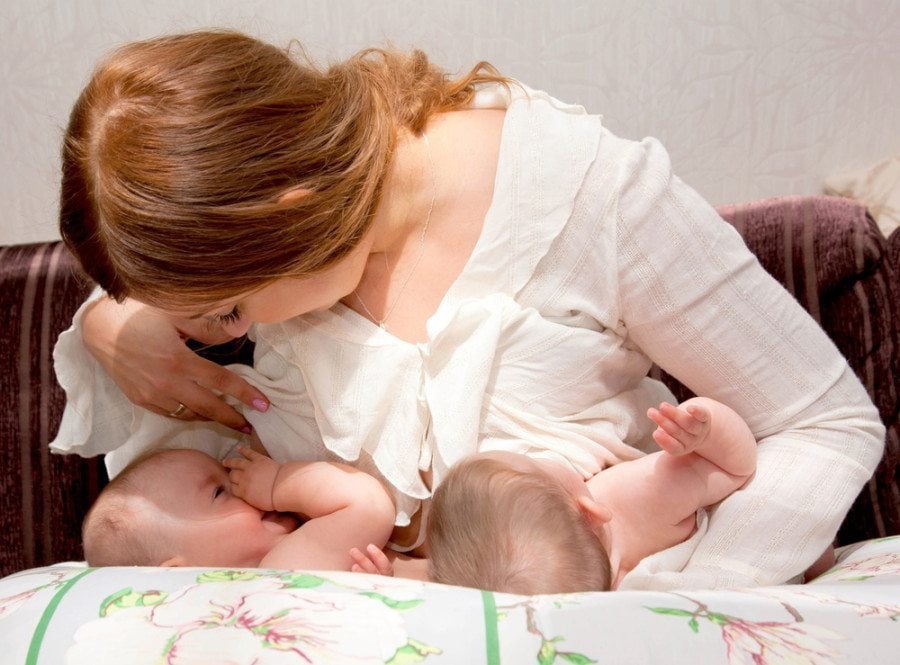 Here are a few supplies at my nursing station that could help you too:
-Double Nursing pillow. The double nursing pillow is made extra wide on both sides to support a baby on each side. Many also come with back support, which is lovely.
–Double Electric Breast Pump. A double pump will help your breastmilk supply to get established, which is recommended in the early weeks of nursing twins. Your time is limited — make sure you're pumping from both breasts at once to optimize your pumping. Don't forget breastmilk storage bags, too.
-Notebook or Nursing App. You are a mother, your brain is now mush. You will often not remember the last time you fed your babies. Writing down what time, who ate on what side, etc. helped me because I had one breast that didn't supply as much milk as the other so I always wanted to switch who ate on what side with each feeding. It's also important to alternate your babies on each breast to make sure your breasts don't become lopsided over time.
Take Care of You Too
-Nursing camisoles. Camisoles were my go-to shirt most days. I loved them and wore them until they died. I still wear them, to be honest!
-Supportive, No-Wire Nursing Bras. No one likes shopping for bras and nursing bras were always tricky to find, especially since the size of your breasts change throughout the day. If you find a good, supportive, soft and flexible one, buy them in every color.
–Disposable nursing pads with adhesive on the back. Those suckers fall off or shift and you end up a milky mess if you don't use ones with adhesive.
-Nipple cream. Coconut oil. Something to soothe those tired, achy nips after every single feed.
-Nursing cover. When visitors come over or if you feel uncomfortable nursing uncovered out and about.
-A large, reusable water bottle. One that is cute helps brighten the day. One that has markers for how much you drink does too so you can have a goal for how much to drink every day.
-Easy, Healthy Snacks. You are about to get hungrier than you thought you could ever be nursing twins. Find some healthy snacks that are quick and easy you can keep at your nursing station and in your diaper bag. Fruit, nuts, lactation cookies, and of course chocolate.
-Mother's Milk Tea. You are about to feed two people and herbal lactation blends may help you increase your milk during seasons of supply dips. There are many lactation blends that may work for you. Check out your local natural foods store or online for what may fit you best.
-Support. Ask for help from a friend, neighbor, sister or mother. Ask your spouse to encourage you. Call a lactation consultant for a visit right after birth and keep calling her if you need to. Join a Mothers of Multiples club in your area. Surround yourself with encouraging, positive people who will walk alongside you and help you meet your breastfeeding goals.
The most important supply on this list, in my opinion, is support. Take care of yourself and your sweet baby's momma. Ask for help. From one twin momma to another, you can do this!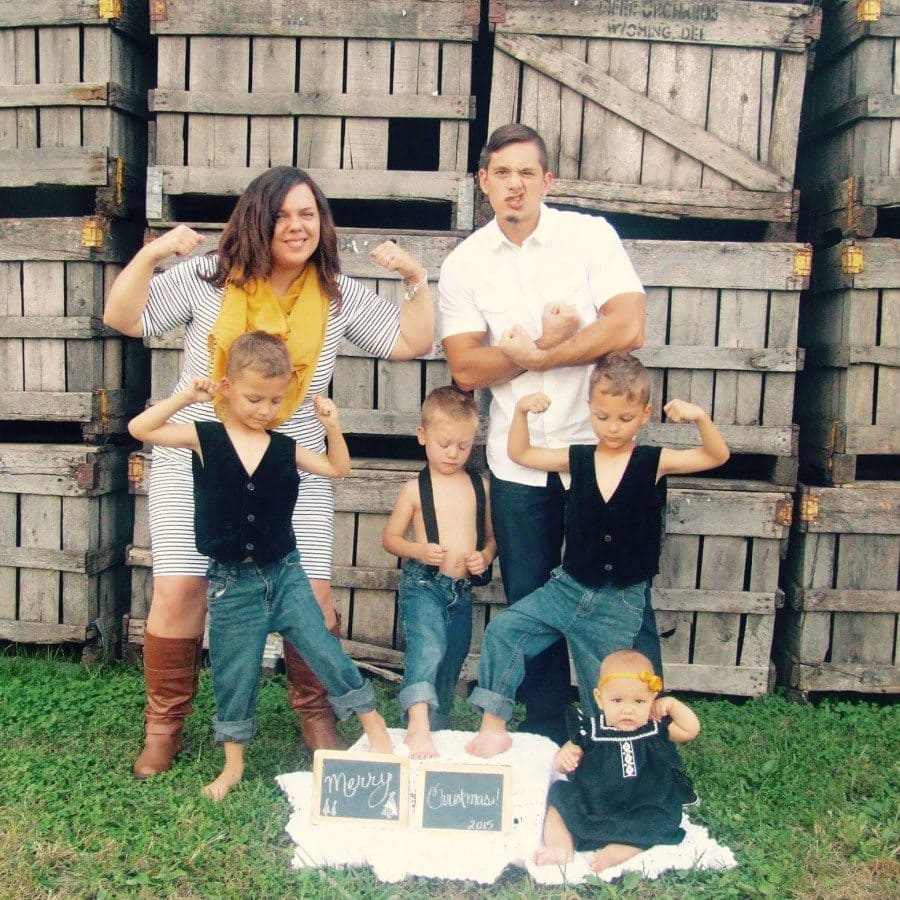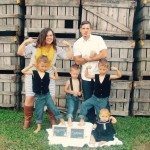 Rachel Bowman is a mom with four kids in four years, a husband who drinks enough coffee for them both, and a recovering neat freak. She is an infertility and IVF survivor, pastor's wife, twin mom, and writer of words over at waitingforbedtime.com. Come join her there after you survive your kid's bedtime routine.
Related Articles
THIS CONTEST HAS ENDED