Flying in general can be a stressful experience. When traveling with multiple children the stress level can be heightened. Subtract the help of another adult and the idea of getting on an airplane can be unimaginable. Here are some great tips to help you when flying alone with your twins and make your flight a success!
Booking Your Air Travel
Children under the age of 2 can fly for free on a parent's lap. Unfortunately, it is the policy of all airlines that each lap infant must be accompanied by an adult. So if you are traveling alone with twins you will need to buy at least one additional seat. Some airlines even have rules that there must be one adult present for each infant; be sure to call the airline before you book to learn what restrictions may be in place. When purchasing tickets for an international flight you will still be required to pay a fee for a lap infant. United Airlines for example has a fee that is equal to 10% of a full price adult fare.
If you are financially able to, book a seat for each child (even if they are under the age of two). This allows you to bring their car seats on board and makes things so much easier and more comfortable for everyone.
Most large airplanes offer a family restroom that includes a changing table, but some small regional planes may not. Make sure that you check online and make other preparations if the plane does not have one.
30-60 days prior to your trip
If you are taking a long haul flight (out of country) any preferential information or requests you made with the parent airline may not get transmitted to partner airlines who fly a leg(s) of the trip. You will need to contact each airline directly to request any special or restricted dietary meals, including kid meals. I like to order a vegetarian meal because specialty meals generally come out before any of the other passengers are served. This way I can eat my food quickly and be ready to assist my kids if they need help with theirs.
If your twins are under 1 year of age and under 30 lbs you can book baby bassinets for long haul flights. These bassinets come with sheets and bedding and hook straight onto the bulkhead in front of your seat. These bassinets are extremely limited and you need to make sure that you reserve them for both your flight out and return as soon as possible.
At this time you will need to contact the airline directly (for any type of flight) to make sure that your lap infant (if you have one) is properly ticketed. I have shown up at the airport more than once only to find that my lap infant wasn't even added to my reservation.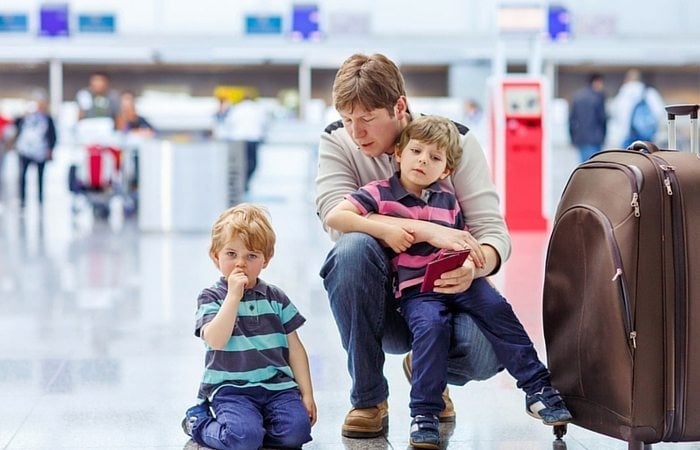 Checking In and Boarding
Try to avoid using the check-in counter. These lines are always long and require more patience than most children have. Instead either bring carry-on luggage only and/or curb check any larger items with the airport porter. If you are flying with children under the age of 5, consider checking all of your luggage with a porter. It is customary to tip the porter for each bag that you check. Children 5 and over are more than capable of pulling their own carry-on suitcase and wearing their own backpack.
It is infinitely easier to check in for your flight at home and either print hard copies or download mobile boarding passes. Each child, including lap infants will have their own ticket. I like to take a screen shot of each mobile boarding pass so I can easily swipe through each ticket image for the TSA agent to scan rather than pulling them individually, hoping that cell service holds. Remember that children are only required to have I.D. if they are flying internationally.
If you are traveling with a stroller, obtain a gate check tag as soon as the gate agent arrives at the desk. This will allow you to avoid the mad dash right before boarding. Note that if you're traveling with a double stroller (as most twin families with small children are) you need to check with your airline to ensure there are no restrictions on weight limit, as a few airlines will not allow you to gate check a larger stroller. At time of posting (July 2016) American Airlines doesn't allow strollers over 20 lbs. to be gate checked; if over the 20 lb. limit it will be checked along with your luggage. Rumor has it that you may be able to circumvent this rule by discreetly moving your double stroller away from the check-in area so it doesn't get noticed and weighed. Some families have reported success with this because they skipped the weigh-in at the counter and TSA did not question it.
If you have children who are between 1-4 (the wiggliest ages) wait and board at the very end. This gives them a little extra time to get their wiggles out. If you do wait until the very end, carry-on space may be limited, so make sure you have all of your required items for the flight in a bag that can fit under your seat.
On The Flight
For children 2 and under bring a bag of brand new toys and books for them to play with. Only present them with one of these new items at a time. It is also a good idea to bring along their favorite snacks and drinks.
For children 3-8 pack a backpack with a water bottle, special snacks and items that they are interested in, including a media device (if you feel they are old enough), headphones, sticker or activity books, and other activities. Kids can be fairly self-sufficient for periods of time if they have everything that they need on hand.
If your kids are allowed tablet time (and on long-haul flights I would recommend it) and you have an Amazon Prime account you can download a combination of up to 25 movies and TV episodes for off-line viewing per Prime account. Whether you are for or against media time for children it is better for your child to be calm and entertained than it is for them to be fidgety, distressed and uncomfortable on a long flight. An entertained child makes for a happy flight for everyone involved.
Kids over the age of 8 are almost completely self-sufficient on plane rides, but it is still a good idea to oversee what they pack to make sure that they have everything that they need.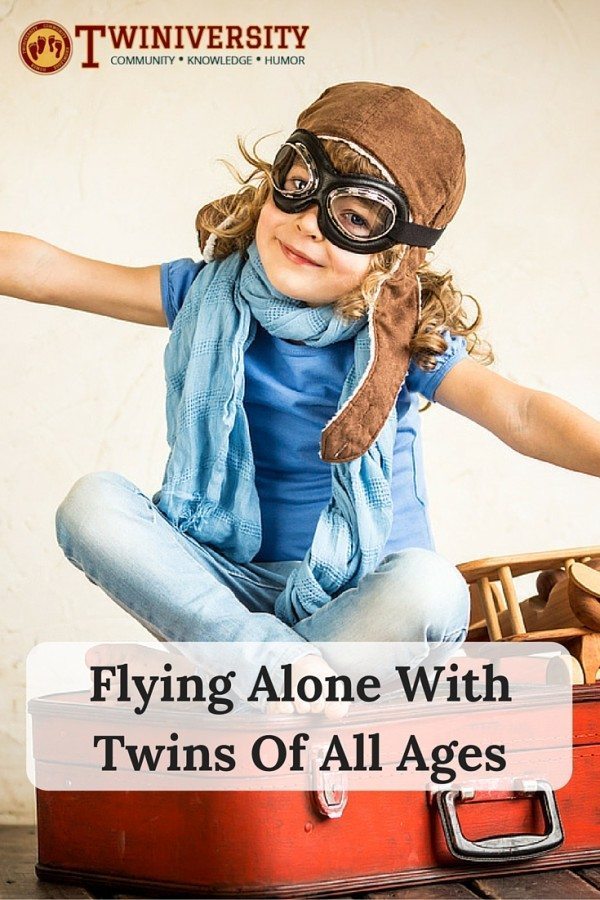 Transfers And Landings
When traveling with young children on flights that require a transfer at some point in your journey make sure that you pick an itinerary that has enough time in-between flights for you to wait for a stroller to come up from the cargo hold and to be hauling small children, car seats and any other gear to your next gate. Oftentimes you can be left waiting for 5-10 minutes (local), or 15-20 minutes (international) for a stroller to come up from the cargo hold.
If you are traveling with children under the age of 6 and you are at your final destination, let the plane empty and get off last. This allows more time for you to gather all of your gear (and children) and get off the plane without dirty looks at how slow you are going or people pushing from behind.
Good luck and safe travels!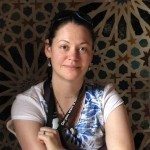 Destiny Effertz is a mother of 3 boys; twin 3 year olds and a 5 year old. She worked for many years as a civil litigation paralegal prior to having children. Now she spends her days formulating new pie recipes, throwing epic kid parties, planning family vacations, and planning and executing pirate adventures and trips to far away planets with her boys.
---
Related Articles
---
The rate of twin births has risen 79 percent over the last three decades, and continues to increase. A mom of fraternal twins and a national guru on having two, Natalie Diaz launched Twiniversity, a supportive website with advice from the twin-trenches.
What to Do When You're Having Two is the definitive how-to guide to parenting twins, covering how to make a Birth Plan checklist, sticking to one sleep schedule, managing double-duty breastfeeding, stocking up on all the necessary gear, building one-on-one relationships with each child, and more.
Accessible and informative, What to Do When You're Having Two is the must-have manual for all parents of twins.
* * *
Whether you're a twin parent in the big city surrounded by scores of resources, or a triplet parent out in the country with no one around for miles — our multiples parenting forums are for YOU! Sign up for FREE and connect with people who are just like you — parents of multiples looking for advice, parenting tips, or even just people to chat with who will understand what you're going through. Our forums are open to people all over the world and we offer scads of specialty rooms to find others who are going through the exact same thing as you. Check it out today!
* * *
Twiniversity is the #1 source for parents of multiples and we are growing faster every day!
Find us all over the web:
Or contact us by email at community@twiniversity.com