Everyone grows at their own rate and in their own way. You. Me. Our twins. Especially our premature twins. Premature babies are typically behind the average in growth for their age compared to a baby born at their full term. If you have babies who were born prematurely, you understand.
Since they spend the first weeks/months continuing to grow outside of the womb as they would have finished growing inside the womb, they play catch up. A double duty of sorts, working to do the growing of inside the womb and out. This puts the amount of time until their due date behind in growing against the average. They're behind even before they start.
This reality of being behind in growth based on age was probably explained to you too soon after their birth, maybe even before your pain medication wore off. Or, if you're still baking your twinnies, you've likely been told the premature birth of your twins is a real possibility. When this reality of having not one, but two (or more) babies who are born early and therefore who will grow physically and developmentally behind a full term baby sank in, you might have had a reality check that went something like, "My twins may not grow as I planned."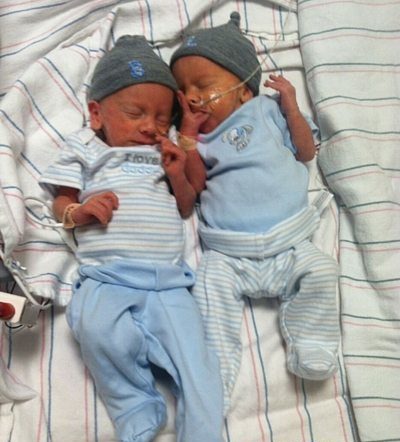 As a parent of preemies you will likely ponder, "Will my premature twins be smaller than everyone else?" or, "How do I help them grow faster?", or maybe, "When will my twins catch up to their friends' growth?" All the answers will vary from child to child. Overall, embrace your preemies, follow doctors' and professionals' directions, then watch them grow. If you're required by their doctors or encouraged by others to put in extra effort in order to help them catch up, give it all your effort. It'll take work, time, and purpose. If it takes longer than you think it should, keep working. It's helping. They're depending on you and don't even know it yet. Although they'll be considered preemies for a lifetime, they may not always seem like one; and that'll be because of your effort.
Your preemies may experience being low on the charts in weight and height. That's okay. There's always a child who weighs more, and there's always a child who weighs less. There's always a child who's longer, and there's always a child who's shorter. Keep following your doctor's directions and as long as your preemies are following their own growth curve you can put your mind at rest.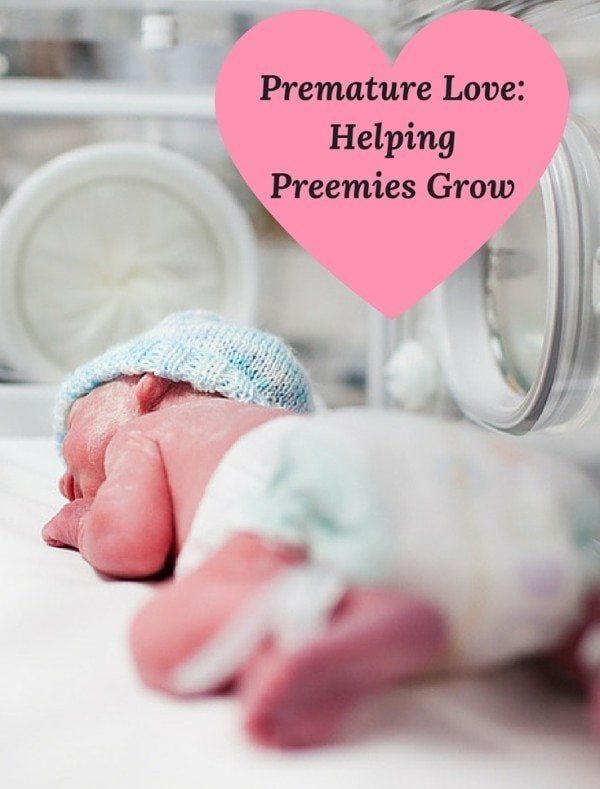 In addition to physical growth, developmental growth is also important. Like when they conquer rolling over, sitting up, eating, crawling, pulling up, walking, talking, and how they play and discover. If you talk with any other parent, twin or preemie parent or not, you'll quickly discover that all babies learn at different rates. Yes, there's the textbook child now and then, but in general, each parent will tell you how and when their child hit milestones at different stages and ages.
It's still our job as their parents to encourage, teach, and help them to grow quickly and efficiently in order to catch up. With all that, experiencing highs and lows in their developmental growth can be expected. Some days we may think they're doing just fine in their growth. The doctor was pleased with their numbers, they're fitting in with what others their age are doing, you can't even tell they have to work harder than most. While some days we may be discouraged by their growth. Their numbers were barely on the chart, they aren't doing what their peers are doing yet, they're just not getting it. Patience and hard work are two characteristics that must be practiced, by not only your set of premature multiples, but mostly you.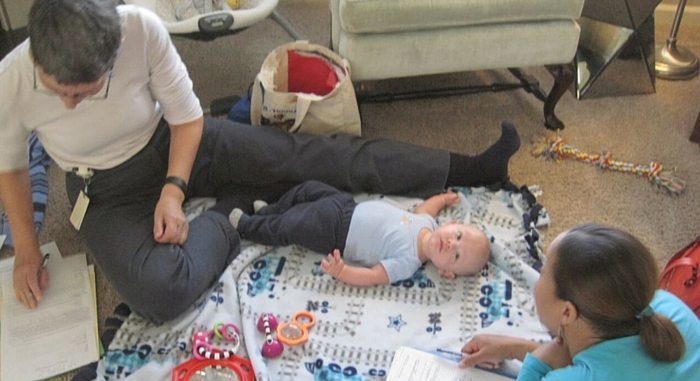 If you're concerned with their growth being too far behind the average in certain areas, there are programs that exist to help measure and encourage premature babies growth, through physical therapy, speech therapy, occupational therapy, etc. These programs are typically funded by state government (Early Childhood Intervention) and are available to those who reach out for extra help, no matter your status. Your pediatrician or specialist's office can give you a referral, if they haven't already introduced you to a program, but you don't need a referral for a free evaluation by Early Childhood Intervention. Do a web search for "Early Intervention" plus your state and you'll find several services to call to set up an evaluation.
They say the average age to aim for preemies to be caught up with their peers is at two years old. This is a goal to aim for, but don't get discouraged if they're not exactly the same height, weight, not doing the same things or learned the same skills as their full-term friends at their second birthday party. Keep working together and your children will be happy and thrive.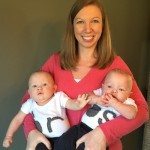 Liza Mead is a stay-at-home-mama to fraternal twin boys and has a background in interior design and marketing, both of which she works in second to her favorite titles as Wife and Mommy. In Raleigh, North Carolina, when her twins are content or sleeping, she spends time organizing, being involved in church events, and event planning. She's thankful for the blessing of each day's new memories created. For articles by Liza on Twiniversity, click here.
* * *
Related Articles
* * *
The rate of twin births has risen 79 percent over the last three decades, and continues to increase. A mom of fraternal twins and a national guru on having two, Natalie Diaz launched Twiniversity, a supportive website with advice from the twin-trenches.
What to Do When You're Having Two is the definitive how-to guide to parenting twins, covering how to make a Birth Plan checklist, sticking to one sleep schedule, managing double-duty breastfeeding, stocking up on all the necessary gear, building one-on-one relationships with each child, and more.
Accessible and informative, What to Do When You're Having Two is the must-have manual for all parents of twins.
* * *
Whether you're a twin parent in the big city surrounded by scores of resources, or a triplet parent out in the country with no one around for miles — our multiples parenting forums are for YOU! Sign up for FREE and connect with people who are just like you — parents of multiples looking for advice, parenting tips, or even just people to chat with who will understand what you're going through. Our forums are open to people all over the world and we offer scads of specialty rooms to find others who are going through the exact same thing as you. Check it out today!
* * *
Twiniversity is the #1 source for parents of multiples and we are growing faster every day!
Find us all over the web:
Or contact us by email at community@twiniversity.com