A Mom recently asked:
I have identical twin boys who are almost 7 weeks old. How can I identify them easily, without me having to undress them to look for the birthmark one of them has? It's hard to tell my identical twins apart.
Here's what our Twiniversity fans had to say!
– I kept the hospital bracelets on my identical girls for as long as they fit. Then I painted their nails. Once they started sucking on their fingers I had to rely on their birthmarks. One has a spot on her foot and the other has one on her back. Eventually Twin B shoved Twin A into a table and Twin A has a scar on her forehead (like Harry Potter!) as a result.
– Most people suggest painting a toe nail. But eventually babies like to put their feet in their mouths, so I would suggest the pinky toe. As time goes by you'll know who is who without having to look for an identifier.
– My identical girls are 7 years old and I still mix them up. Although having different colored glasses does help until they decide to swap. Couldn't use the birthmarks either as they were identical!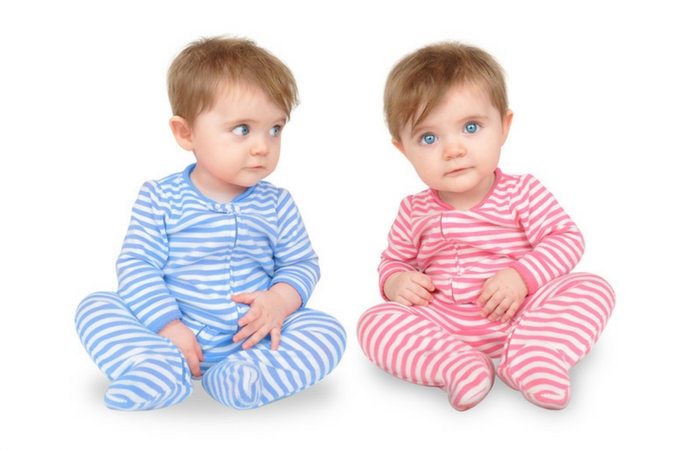 – I assigned colors. I have identical girls with no type of birth marks. Lilly would be in something with pink and Leona would be in something with yellow. Actually, most of the time I would just remember who I put in what. I still do it at almost two years old.
– We did a color coded cotton string that made sense to us (Greg=Green) since the boy color nail polish just looked like bruised fingertips and concerned the doctor. Once they went to school or change classes at daycare we put the string back on to avoid confusion
– Although one had a little blue vain visible in his face, we put a different colored bracelet on them and later continued with the assigned colors. They are 3.5 now and are still "color-coded", they are used to it, and family and friends count on it, we don't need it anymore.
– We have identical boys that are now 17 months old. At first we kept their hospital bracelets on as long as possible. Then we assigned Benjamin blue or strips and Jacob green/grey/red or prints depending on the outfits.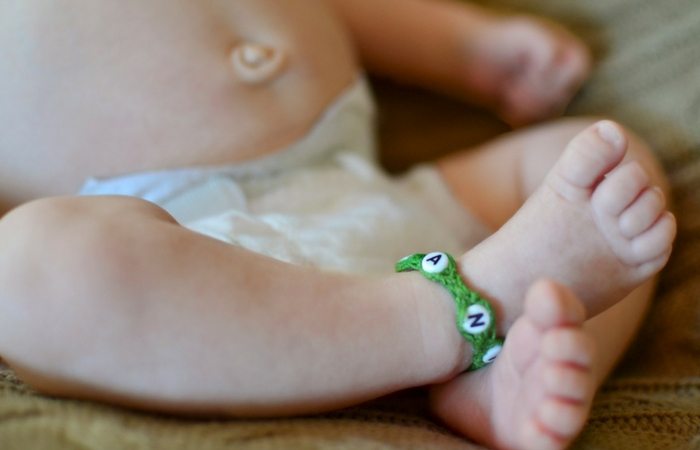 – My mom crocheted bracelets and we assigned colors to each twin. They wore them as ankle bracelets over their pajamas.
– We did things like painting our girls toe nails (piggy paint is non toxic), or used soft baby hair ties on their ankles.
– We bought letter stickers for our girls and placed it on a outfit we also put their names on a pacifier and had it clipped to them.
– I have identical boys and one has a freckle by his lip. They're now 8 months old and I can finally tell them apart by their facial expressions.
– I have identical boys. We did colors (i.e. Liam wore blue & Henry wore the other color) and/or pacifier clips. Liam always had a pacifier clip with lines on it.
– We got little bracelets with their names in it for my identical twin boys on Etsy.
– Different color pacifiers and parted their hair to the opposite sides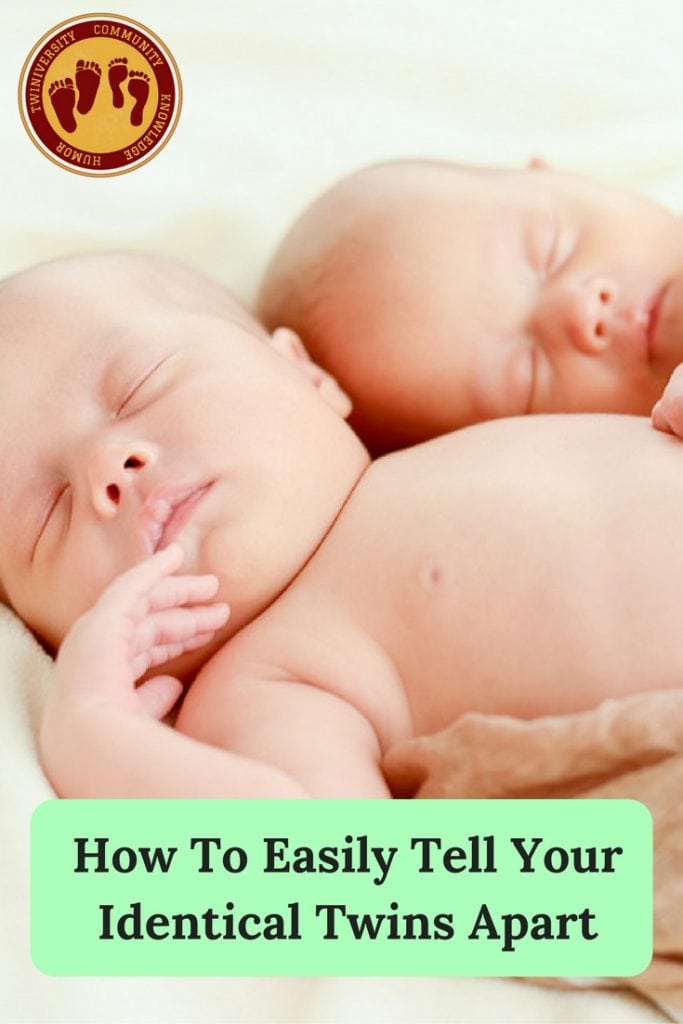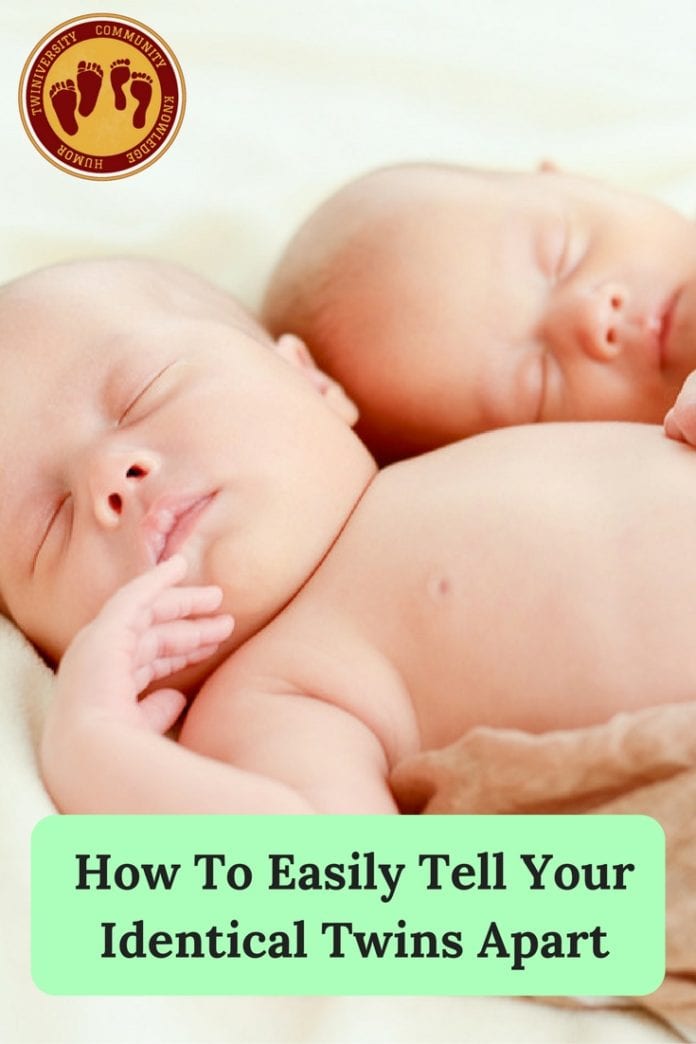 – I had 2 stacks of diapers and I wrote their names across the butt! No shame in labeling babies! They're 10 now and I still confuse them sometimes.
– Mabel's Labels makes washable fabric labels, and you could put them on the outside of their clothes. You can put whatever you want on the label, so you could just use the first letter of their names. The labels are not cheap, but they last forever. I bought some fabric labels (for items brought to school) and some dishwasher safe labels (for sippy cups) for my boy/girl twins.
– They were dressed in different colors, we also looked for the slight differences. One was 4lbs 7oz when born the other was 5lbs 2oz so one was slightly bigger and one had a slightly rounder head.
– ID bracelets. Mine have worn gold bracelets with their names since they were newborns.
– All belly button scars are different.
---
Related Articles
---
The rate of twin births has risen 79 percent over the last three decades, and continues to increase. A mom of fraternal twins and a national guru on having two, Natalie Diaz launched Twiniversity, a supportive website with advice from the twin-trenches.
What to Do When You're Having Two is the definitive how-to guide to parenting twins, covering how to make a Birth Plan checklist, sticking to one sleep schedule, managing double-duty breastfeeding, stocking up on all the necessary gear, building one-on-one relationships with each child, and more.
Accessible and informative, What to Do When You're Having Two is the must-have manual for all parents of twins.
---
Whether you're a twin parent in the big city surrounded by scores of resources, or a triplet parent out in the country with no one around for miles — our multiples parenting forums are for YOU! Sign up for FREE and connect with people who are just like you — parents of multiples looking for advice, parenting tips, or even just people to chat with who will understand what you're going through. Our forums are open to people all over the world and we offer scads of specialty rooms to find others who are going through the exact same thing as you. Check it out today!
---
Twiniversity is the #1 source for parents of multiples and we are growing faster every day!
Find us all over the web:
Or contact us by email at community@twiniversity.com