Every month Twiniversity recognizes a Super MoM of Multiples. This month we are proud to introduce you to Timmie Cordova as October 2016 Super MoM!
Timmie was nominated by her wife, Cindy. Here is what Cindy had to say about Timmie:
My wife, Timmie, is the premiere Super MoM! She carried our twins Lux and Olive to full term (38 weeks), delivered via c section in October 2014. On January 1, 2015 she made a New Year's resolution to run (at least) one mile a day in 2015. She ran with the twins in a regular double stroller until they were big enough for the BOB. She then continued with them in the BOB sometimes doing one mile, sometimes ten. She became a Long Beach legend as other moms would stop her at the store and say "I saw you running with your twins at the beach!" or "at the park" or "up that hill"!
Besides running a mile a day, she also is a stay home mom and started a fitness business called Rise Up Training (RUT) Camp (because she has SO much free time!). RUT Camp is an obstacle style boot camp. She started it in September 2015. What was once only one class has spread into 24 classes. RUT campers are more than workout buddies, they're a #fitfam. They do weekend field trips, watch each other's kids, and attend other social events outside of the gym. Timmie encourages giving back through various organizations. RUTers are encouraged to bring in their old gym shoes which are donated to the Long Beach Women's Shelter. Recently RUT participated in the Long Beach Mission Backpack Drive and donated school supplies which were handed out to underserved kids in our community.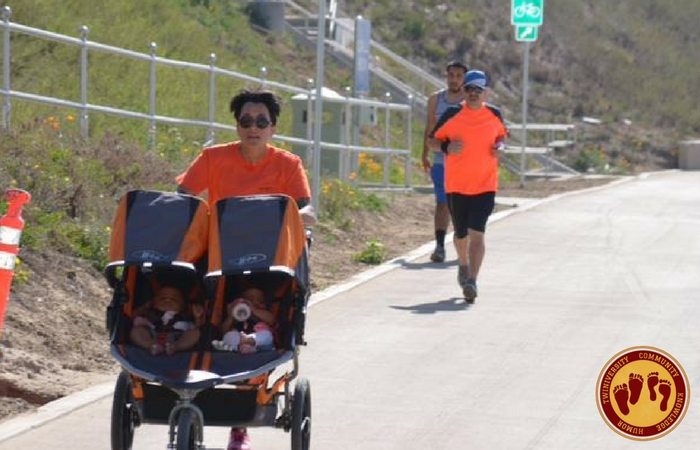 We also spoke with Timmie and here is what she had to say:
I was raised in Marin County, CA. I am a Northern California girl who moved to Southern California 5 years ago to escape the cold. Growing up I wasn't that girl that dreamed about the big white dress and kids. I just wasn't. I was pretty boy crazy, but for some odd reason I never pictured anything long term.
After coming out at the age of 23, I still really never pictured the white dress and kids. I just wasn't the girl who always wanted to be a mom. I wasn't the girl who dreamed of getting married. Then something startling happened. As I started dating and found myself very unlucky in love I realized something about myself that was pretty major. I wanted a family. I wanted to have kids. I wanted the white picket fence and the little boy and little girl running around out front. What I knew I didn't want was the wrong partner. I wanted this, but I would only have it with the right person.
You see along my journey many unexpected things happened. While pursuing a life long dream of becoming a fitness buyer, once I was actually immersed in the fashion and corporate world I realized I hated it. So I left. I turned to my boss one day and I said I was leaving my corporate job to become a personal trainer. I am sure you can imagine the standing ovation she gave me. Not so much. She thought I was crazy. I also made one of the best decisions of my life that day. I pursued what I was meant to be in the world. So yes many of the cliche things you see about us are true. I met my amazing wife when I was her coach. I know, I know so lame, BUT it really was strong connection at first sight. So we meet, we fall in love and we have the talk. It was a big talk. The kid talk. I wanted kids, she was ten years older, in her 40s and had come to the decision after a hysterectomy that she wasn't going to have them and that was okay. So wait, I mean I wanted to have kids, and I absolutely wanted them with her, but "I" was going to have to have them. Wait, wait, wait. That wasn't part of the plan.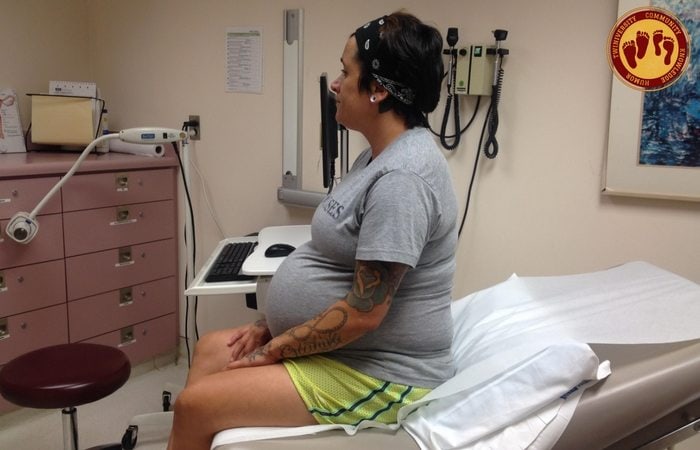 6 months into our relationship we took a completely life transforming trip to Africa. After working at an orphanage together for 2 weeks we decide that without a doubt we would start a family together.
We started the process of doctor appointments, check-ups, tests and so on to have kids. My doctor in one of these appointments turns to me and says "oh do you have twins in your family." Me, "why?" Doc, "you are dropping eggs from both sides." Me, in my head, whatever that means. My father was adopted and literally left on a door step so I have no idea if there are any twins on his side. I thought this was a waste of a conversation because with this process of picking up sperm, driving it to the office seat belt fastened and arms at 10 and 2 because everything is so calculated here, I was going to be lucky if we were going to get pregnant with one. Well, boy was I wrong. We got the 'pregnancy' written across the stick. We go in to the doctor's and sure enough it's twins. My wife was beside herself happy and I was like "are you kidding me?" Twins!! I never thought I'd carry one, and now two!!
65 lbs of ice cream later, I couldn't have been happier. I felt like we were the luckiest couple alive. A boy and a girl, big Lux and little Olive, are our world. Carrying them was tough. We had a scare at 10 weeks where we thought we lost them. I was able to move very slowly and minimally. They are here now, they are healthy and we are so blessed. It's not easy. Nothing is easy. It's easily the toughest thing I have done, raising these two, but it's the best. I am still me, but am better because of her and because of them.
I lost the 65lbs the first year running one mile a day for all of 2015 with the twins in my nifty orange double BOB stroller. I launched a fitness business that I had only dreamt of during pregnancy one year ago and it's taking off. I could only do it with my wife's support and with their energy, love and life. I go back and forth between mom, wife and coach, but it's the best back and forth of all time. I am lucky to be able to do it. I could not do any of it without them. I have THE best support system and it is with that support that I am able to have my white picket fence and eat it too. Wait. Is that right?!? Well, you know what I mean.
I don't feel like I'm doing it all, I feel like I have it all.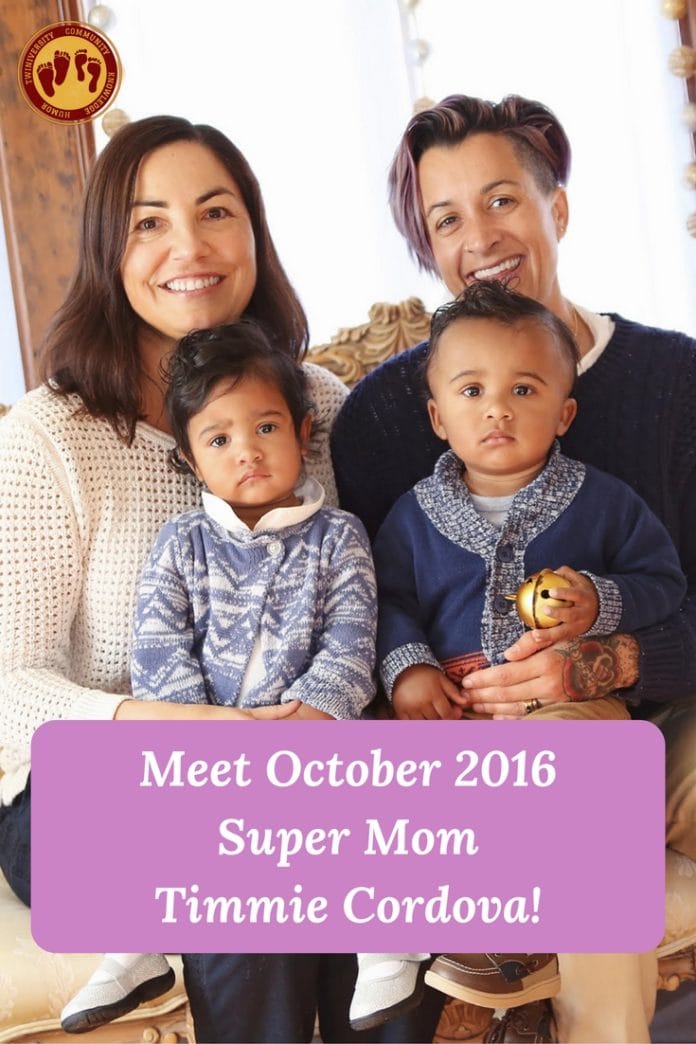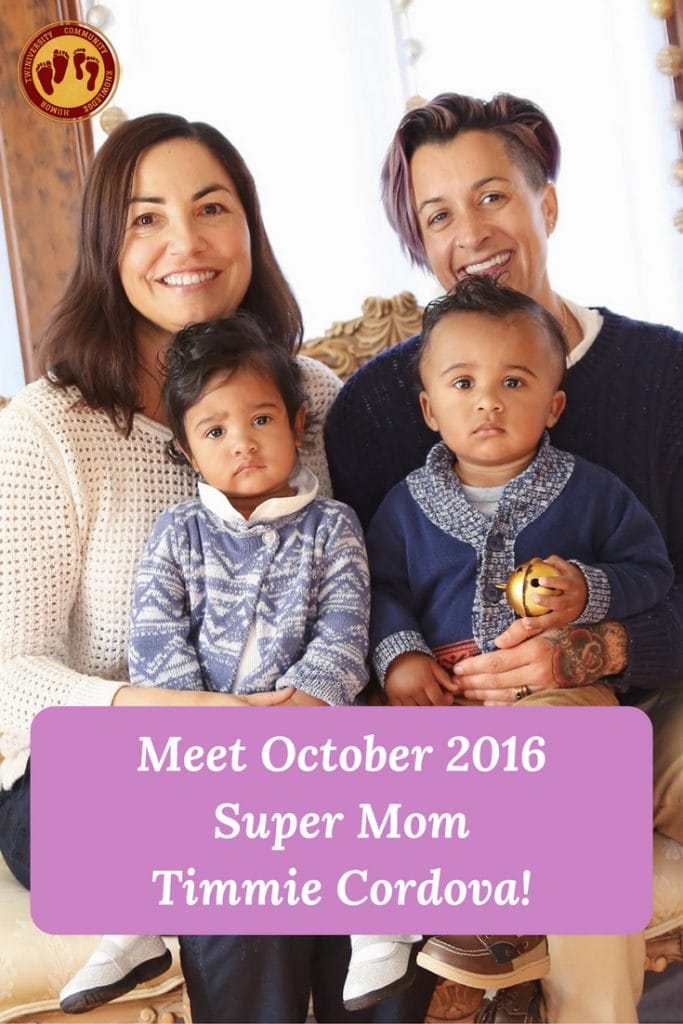 Thank you Timmie for sharing your story with us. We at Twiniversity would like to celebrate your awesomeness by sending you to the spa for some pampering!
Do you know an amazing Super MoM that deserves to be recognized? Nominate her here!