Hey gang, listen up! We've got some awesome tips on must have pumping accessories, plus a great giveaway from Evenflo Feeding!
One lucky family will take home an Evenflo Feeding pumping prize package, the perfect starter kit to get your milk flowing for your multiples. The prize package includes:
---
Must Have Pumping Accessories
Pumping for twins takes a lot of work and dedication. Planning ahead for pumping is essential so that you can make the most of your time. Here are some must have pumping accessories to help you make the most of your time pumping.
1. Nipple cream. It soothes, moisturizes and protects cracked and sore nipples to ease in breastfeeding and pumping.
2. A pump travel bag. If you are on the go with a pump and twins in tow a good bag to hold the pump and its parts is important.
3. Extra pump parts. Make sure to buy an extra set of pump parts such as valves, tubing, and flanges. This is helpful when you're on the go so that you don't have to pack up and go home to pump.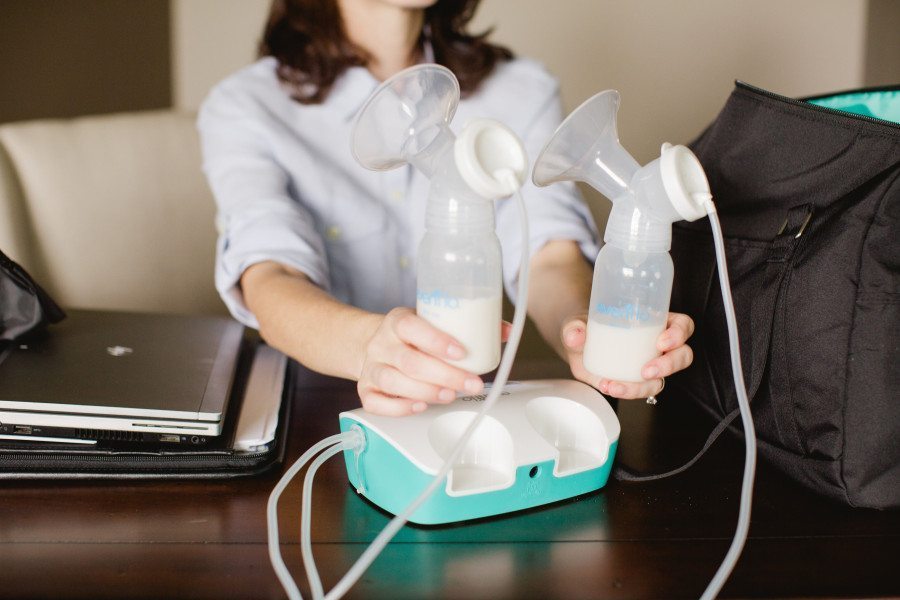 4. Extra pump parts for the home. Having an extra set of pumping parts at home makes a world of difference. Not having to constantly clean the parts for the next pump makes things easier on you. (Twiniversity Tip: You don't need to wash your pump parts after every use. You can rinse them with water after use and keep everything in a zip-top bag in the fridge. Then wash everything with soap and water once a day.)
5. Extra bottles and storage bags. If you fill up your bottles or storage bag when pumping and have "overflow" milk to pump you might need an extra bottle/bag or two.
6. A snack and drink. Make sure you have something to eat and drink within arms reach while you're pumping so you don't need to stop to get yourself a snack. Staying well hydrated and fed is so important to produce the most milk possible.
7. A comfortable place to pump. Comfort is very important for good milk production. A supportive chair or couch will make all the difference in your pumping experience.
8. Pictures or a video of babies. This may help your milk "let down", especially if you are not with them at the time.
9. Hands free pumping bra. This is essential for moms of multiples! Without this hand-free bra you'll have to hold the flanges up to your breasts while you pump. A hands free bra will allow you to do things like eat, fold laundry, or make a phone call while you pump.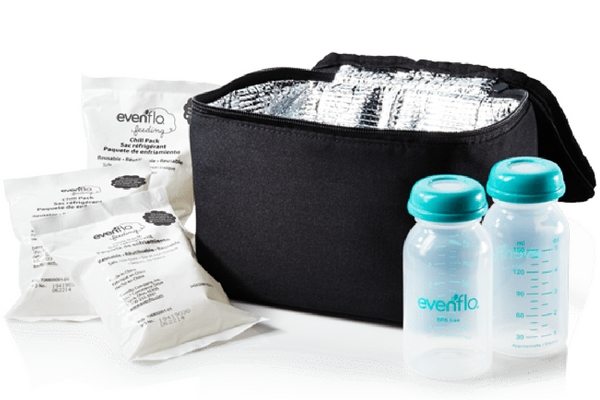 10. A cooler with an ice pack. If you are away from home often you can store the milk in a cooler to make sure that your milk does not spoil.
11. A pump with a rechargeable battery or car adaptor. You don't have to worry about being near a outlet to pump! You can also pump while in the car.
12. Something to keep you entertained. Cell phone, TV remote, a good book, Kindle or iPad. Sitting for a long period of time (typically 15-20 minutes) can be boring, so why not stay entertained during that time? Also don't forget your charger for your phone if the battery dies quickly.
Knowing that you are fully prepared to pump when necessary can make your pumping experience a lot more pleasurable. Set up your own pumping station in your home so you don't have to reset the stage every time. A handy basket full of your pumping essentials can be moved around the house to make your pumping station more flexible. Adding your personal favorites to your pumping station (ie. lip balm, chocolate, a journal) will help make pumping less of a chore and create a more enjoyable experience.
---
[gravityform id="276″ title="true" description="true"]