---
We spent our first Noel in the NICU at Mt.Sinai surrounded by life-saving machines beeping to the beat of "The Little Drummer Boy" playing on the radio. At the time, my twins were less than 10 days old, and they'd unexpectedly arrived six weeks early because of preeclampsia.
I was discharged days before and was tortured with the fact that my babies had to spend this holiday in a hospital instead of my belly where they belonged. I spent as much time as I could holding my twins in my arms. I couldn't decide if this event was a blessing or a curse—it was a blessing since I was finally lucky enough to be a mother, but a curse because my body had failed me.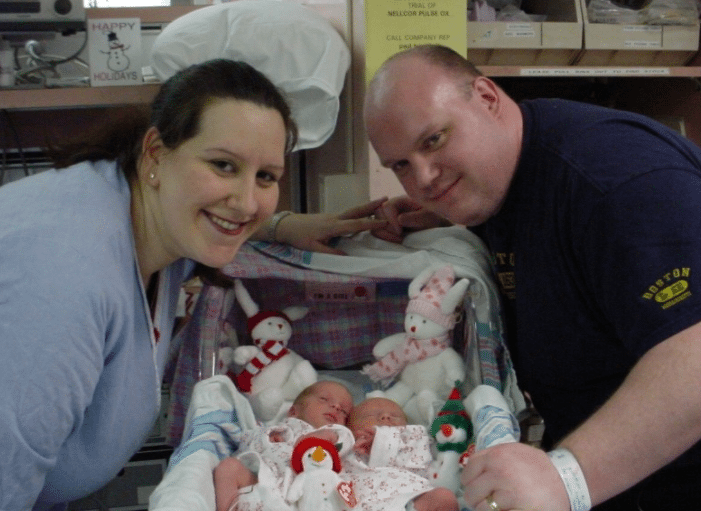 Despite the unfortunate circumstances, we nevertheless dressed the twins up in newborn Baby's First Christmas outfits on Christmas Eve, celebrating and singing along to every song on that radio. I held them and rocked them past midnight, into the first hours of Christmas Day, then my husband and I eventually had to go home and get some rest ourselves.
The moment I opened my eyes in the morning, I listened to the eerie silence—no gentle stirrings or even hungry cries—and was saddened by the fact my twins were 7.8 miles from our apartment.
When we trekked back to the hospital, the day started like any other. We spoke to doctors and nurses and resumed our routine of learning how to care for our preemies. Hours went by, and the holiday tunes played. Doctors laughed in the background, nurses toasted with sparkling cider—but my section of the NICU, understandably, wasn't so merry.
At around 3pm, a man came into the room and was greeted with cheers, hugs, and kisses from the staff. This man, someone told us, was a father of a "NICU graduate" and was making his annual visit to the place that his family had called home for sometime.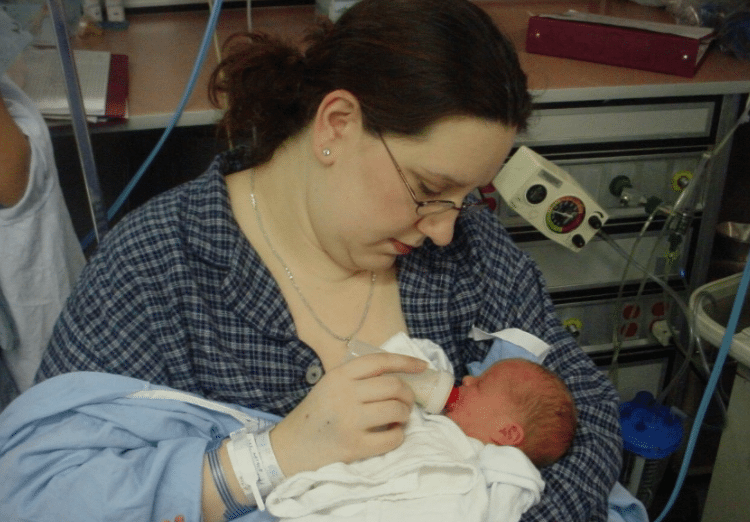 We watched as the gentleman went around placing a tiny stuffed animal near every baby in the NICU that day. When he got to my family, he handed me a blue and red cow that played "Jingle Bells" when one pressed his belly. He looked me in the eyes and said, "I know how you feel." He didn't say anything else, but for a moment, I connected with this man. This man was no longer a stranger but my beacon of hope and strength. He had made it through. His son had "graduated." He had endured the same sadness, the same confusion, and he had made it out.
That cow changed my outlook on my life as a parent. I stopped focusing on the fact that my twins' tiny bodies were only 4 lbs each and started seeing the ounces that they gained from the day before. I stopped looking at the monitors and started looking at the babies themselves to check their status.
I started smelling the box of chocolates at the desk for all parents to share rather than the clinical smell of the room. I started hearing the words to the holiday songs and noticing the small details, like all the decorations that the nurses had put around the room that had probably been there for days.
This Christmas my children will have just turned 9. I look at them now: my son, so generous and kind, an A student with a passionate love of trains and science; my daughter, "Little Red" with a personality to light up a room and the gift of gab like me. The each represent the finest attributes my husband and I have to offer. NEVER, could I imagine back then, the joy and fulfillment they would bring to our lives.
That little cow had done all that. To this day, I cherish it. It's been my symbol of hope since that one Christmas in the NICU. It's one of my most prized possessions—besides my twins, of course.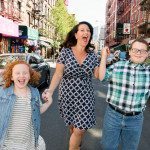 Natalie Diaz is the Pied Piper of twin families around the globe. Founding Twiniversity — the world's leading support network for multiple birth families — in 2009, she's become a global influencer for this small niche community. Reaching over a half a million families a week through Twiniversity's Facebook, Twitter, Pinterest, Instagram and YouTube channels, she takes her Women In Toys Wonder Woman Award Nomination for Social Media Influencer very seriously. Moms and dads of twins flock to Twiniversity's social media channels to find resources, ask questions, explore new products, and find community and support from other twin parents. Natalie is a true connector, bringing parents from all walks of life together, breaking past cultural differences, to share in the highs and lows of parenting twins.
---
Related Article
---
The rate of twin births has risen 79 percent over the last three decades, and continues to increase. A mom of fraternal twins and a national guru on having two, Natalie Diaz launched Twiniversity, a supportive website with advice from the twin-trenches.
What to Do When You're Having Two is the definitive how-to guide to parenting twins, covering how to make a Birth Plan checklist, sticking to one sleep schedule, managing double-duty breastfeeding, stocking up on all the necessary gear, building one-on-one relationships with each child, and more.
Accessible and informative, What to Do When You're Having Two is the must-have manual for all parents of twins.
---
Whether you're a twin parent in the big city surrounded by scores of resources, or a triplet parent out in the country with no one around for miles — our multiples parenting forums are for YOU! Sign up for FREE and connect with people who are just like you — parents of multiples looking for advice, parenting tips, or even just people to chat with who will understand what you're going through. Our forums are open to people all over the world and we offer scads of specialty rooms to find others who are going through the exact same thing as you. Check it out today!
---
Twiniversity is the #1 source for parents of multiples and we are growing faster every day!
Find us all over the web:
Or contact us by email at community@twiniversity.com