Are you looking for twins baby stroller reviews that will tell you the honest truth about what you need and don't need? Twiniversity founder, twin gear expert, and author of the bestselling expecting twins book, "What to Do When You're Having Two", Natalie Diaz has developed a very through archive of twins baby stroller reviews in video form so you can see all the details up close! After perusing Nat's twins baby stroller reviews you'll feel confident that you can make the right double stroller choices for your twins that will suit your family's needs to a tee.
Click here to watch all of Nat's Double Stroller Reviews on Twiniversity
Nat's twins baby stroller reviews will cover details on specific double strollers on the market — tandem, side-by-side, inline, umbrella, and double frame — as well as offer tips on how to choose the best stroller for your twins. She leaves no stone unturned and you'll find yourself learning details about these strollers that you can't find on product descriptions. Nat is a true twin gear expert and she will not lead you astray!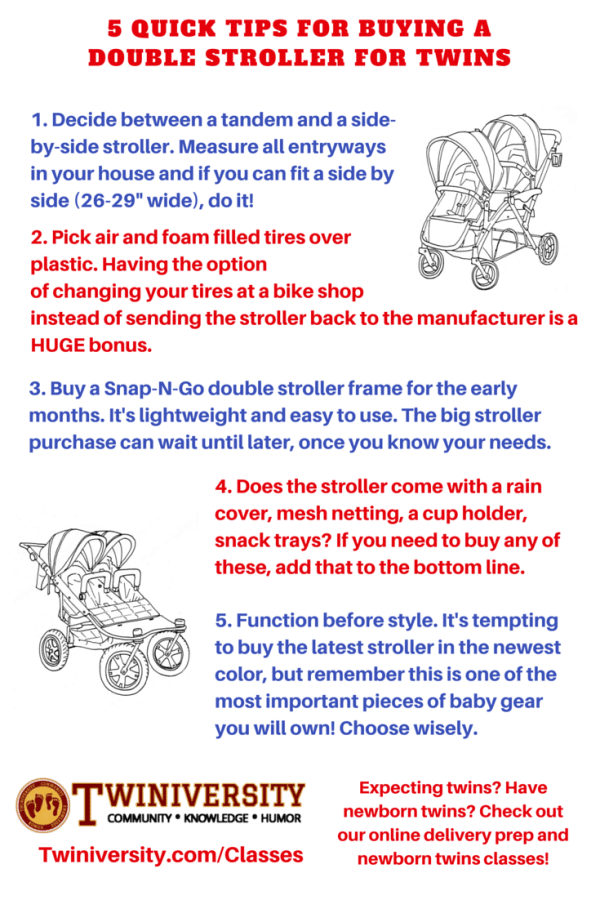 ---
The rate of twin births has risen 79 percent over the last three decades, and continues to increase. A mom of fraternal twins and a national guru on having two, Natalie Diaz launched Twiniversity, a supportive website with advice from the twin-trenches.
What to Do When You're Having Two is the definitive how-to guide to parenting twins, covering how to make a Birth Plan checklist, sticking to one sleep schedule, managing double-duty breastfeeding, stocking up on all the necessary gear, building one-on-one relationships with each child, and more.
Accessible and informative, What to Do When You're Having Two is the must-have manual for all parents of twins.
---
Whether you're a twin parent in the big city surrounded by scores of resources, or a triplet parent out in the country with no one around for miles — our multiples parenting forums are for YOU! Sign up for FREE and connect with people who are just like you — parents of multiples looking for advice, parenting tips, or even just people to chat with who will understand what you're going through. Our forums are open to people all over the world and we offer scads of specialty rooms to find others who are going through the exact same thing as you. Check it out today!
---
Twiniversity is the #1 source for parents of multiples and we are growing faster every day!
Find us all over the web: