The biggest decisions you have to make about preschool for twins are, when should they start school and what type of school will suit your twins? Finances, whether you are working or home (the daycare/sitter situation if you are working), the temperament and social skills of your twins, their relationship to each other and location/availability of preschools nearby all play into these choices.
Are My Twins Ready for Preschool?
My twins have a January birthday, so they could start preschool at 3 ½ and go for two years, or a 4 ½ and just go one year before starting kindergarten. As a former teacher, I try to work creative projects (that also teach skills) into our playtime, but I also know that with two of them (and a new little brother), they don't get as much one-on-one time as I'd like. That's part of the reason we decided to start them at 3 ½ instead of waiting. They can have some of that one-on-one time with their teachers as they work through the various skills and evaluations.
We looked for low student teacher ratios in schools to help with this. If there are areas where one twin struggles, we can work on some of those skills at home. It allows us to have a focus, instead of me trying to teach them, evaluate them and work on areas where they struggle. As twin parents we are already doing (at least) two things at once at all times, this helps me to feel confident that they are being taught the needed skills at school as well, and not relying solely on our playtime at home. I do enjoy teaching them new things, and practicing writing letters with them, but some days getting everyone dressed and fed is an accomplishment!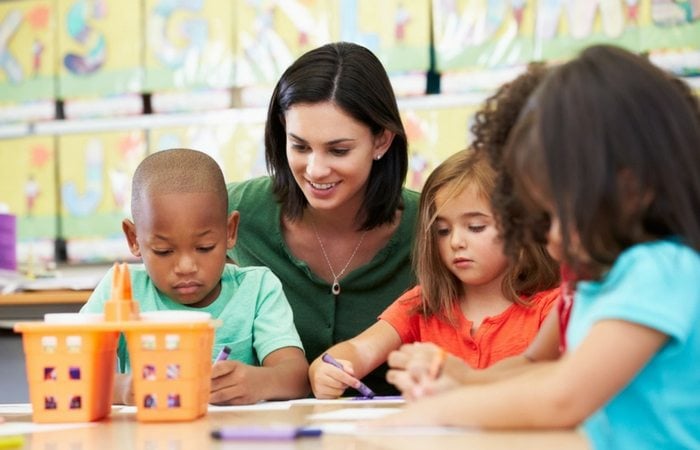 The second reason we decided to send them for two years is that they have been home with me since they were 6 months old, and while we have babysitters, they are with me most weeks 24/7. We started this year at 2 mornings a week, and next year will either do 3 or 5 mornings to ease them into Monday – Friday 9am-3pm. We have time to transition them into school a little slower and by the fall of kindergarten we hope that they'll be excited and ready.
The school environment gives them an opportunity to make their own friends and choose their own activities. They started school in September and have already made some friends that they seem to play with regularly. Sometimes, they play together or share certain friends but often they choose to play without their twin. We've seen their individual personalities and preferences come out more in these first few months and it has been good for them!
How We Chose Our Preschool
The option to play together or play separate was one thing that made our school search a bit tricky. I was looking for something that would allow them that freedom, but didn't want to put them in separate classes altogether. I think being away from me AND each other would have made the beginning of preschool much tougher. To evaluate all my options, I went to a local preschool night at the library. There had to be over 40 schools! There were Montessori, Co-Op, private, non-traditional, religious based, traditional setting (within a public school), and a bunch of others that didn't really fit into a category.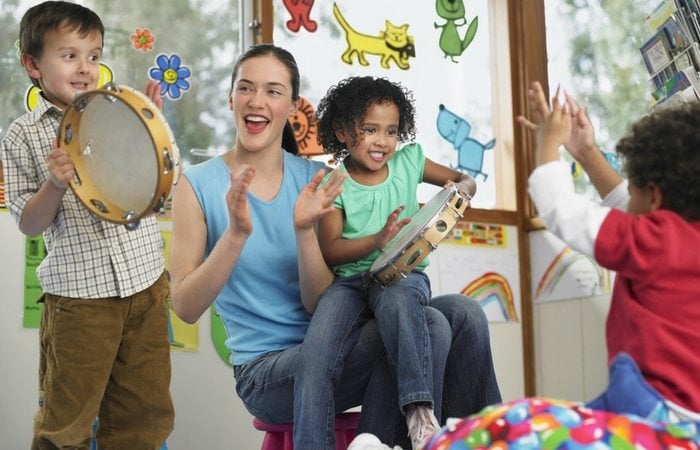 I started talking to each group and asking questions while taking notes. Did they offer a twin discount? Was I required to work in the classroom? Did they allow siblings in the same class? Did they allow you to send your child only Tuesday/Thursday? By the 7th school I started to get overwhelmed.
I went home with a giant pile of packets, we started to whittle it down. We cut a few right off the bat due to cost (x2). Most schools offer a sibling discount of some sort but there are some very pricey preschools out there! We opted out of the co-op because the new baby might make that tricky. But if it worked for you, it would be a great way to save some money because those were often a little less costly due to the fact that you contribute your time and service. We picked out a few that looked like they were best aligned with our preferences and scheduled visits.
Most of them suggested bringing the girls to visit with me during the school day. The ones that suggested leaving them home during the visit were also cut off my list. When we visited the school that we ended up picking, the girls were so comfortable that they ran to join the other kids and were very upset when it was time to leave! The school we picked had a schedule where they had small group time with a handful of students and the teacher, a music class, and then center time where they could choose how to spend their time. This really caught my interest. Most preschools had a center time, but with the set-up of this school the centers were spread out through several classrooms. So for the first half of the morning the girls are together, and for the choice time they can choose to play together or be in completely separate rooms (and that's exactly what they did while we visited). It really depends on the relationship of your twins, but there's usually a leader in the pair. It's been good to see the less dominant twin set up and make choices that are all her own.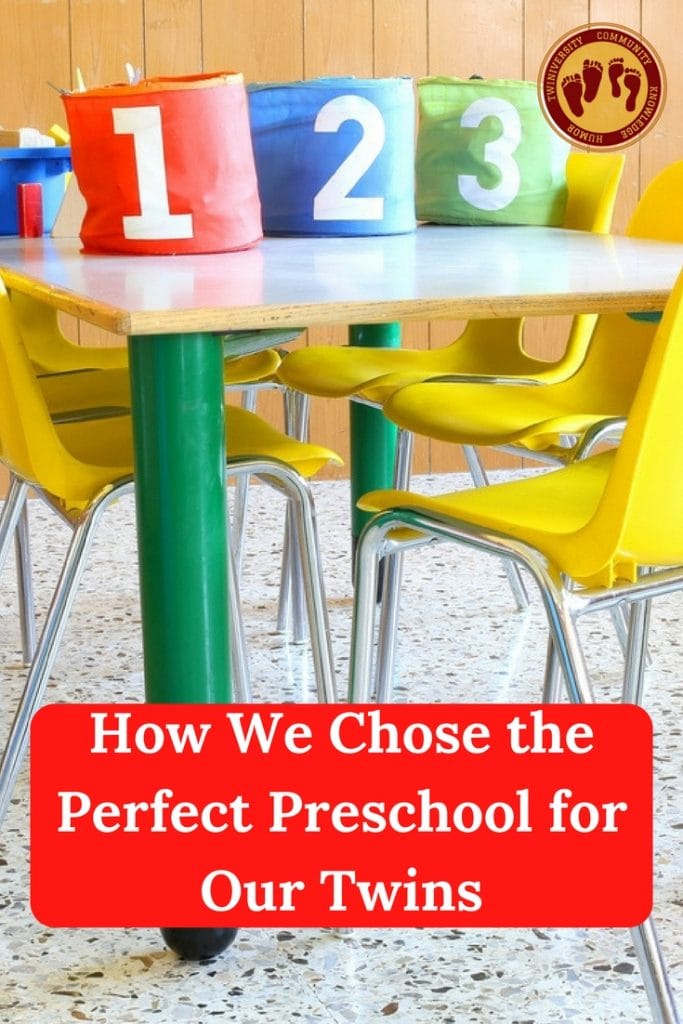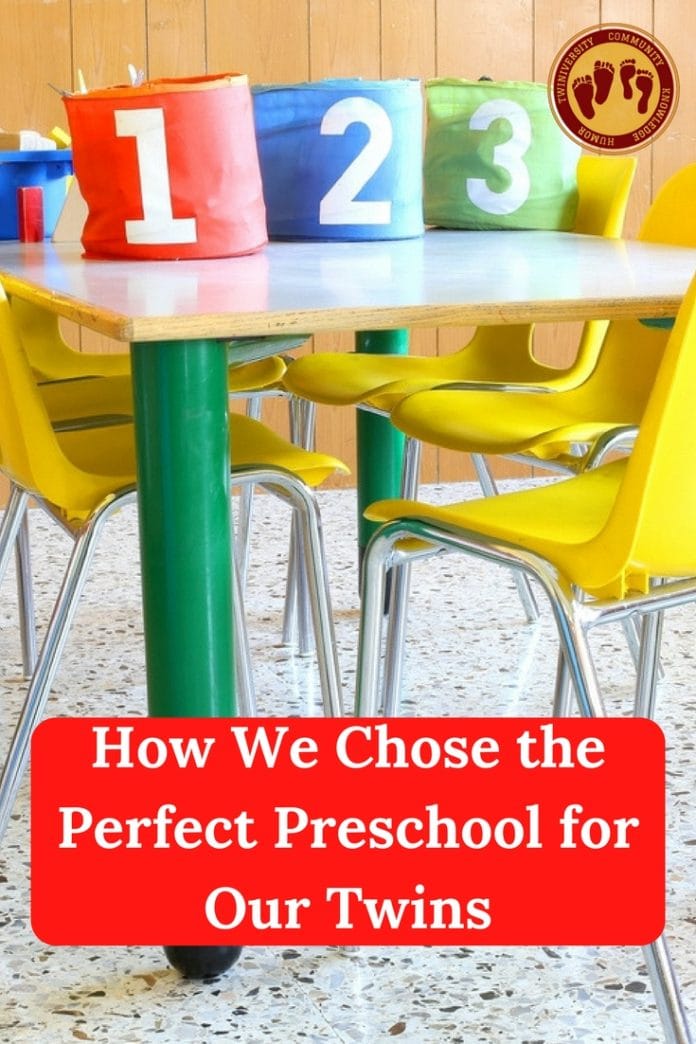 If your twins are more independent of each other, maybe they would be comfortable in separate classrooms or maybe they would be able to play independently in the same class. But mine seem to fall into the same patterns as they do at home, and this school has been a wonderful fit for allowing them some independence from each other with a safety net still in place. Some days they come home and tell me, "I was worried about [my sister] but then I found her and I was better". Some days they talk about completely opposite things and clearly enjoyed their separate play time.
When it comes time to look into preschools make sure you examine it from your twins' perspective. Do they benefit from being together, do they need separate classes, or do they need something in between? I've heard of some parents sending one child Monday, Wednesday and Friday and the second child Tuesday, Thursday and Friday. If your school allows that schedule, that would allow them some of that same independence, as well as one on one time at home! Just because a school worked for an older sibling or a friend's child doesn't mean it is the best fit for your twins. We toured 4 schools after narrowing it down from 40+. Don't be afraid to do your research, ask questions about how they address siblings in the class together and by all means—don't forget to ask about a twin discount!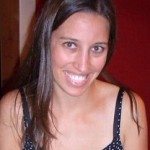 Stephanie Cleland is a high school teacher who traded in her teen students for adorable twin toddlers and now spends her days entertaining her almost 4 year "twinadoes". She married her college sweet heart, Kirk, and her hobbies include scrapbooking and other creative projects. She also is working on a blog ilovemytwinadoes.weebly.com.
---
Related Articles
---
The rate of twin births has risen 79 percent over the last three decades, and continues to increase. A mom of fraternal twins and a national guru on having two, Natalie Diaz launched Twiniversity, a supportive website with advice from the twin-trenches.
What to Do When You're Having Two is the definitive how-to guide to parenting twins, covering how to make a Birth Plan checklist, sticking to one sleep schedule, managing double-duty breastfeeding, stocking up on all the necessary gear, building one-on-one relationships with each child, and more.
Accessible and informative, What to Do When You're Having Two is the must-have manual for all parents of twins.
---
Whether you're a twin parent in the big city surrounded by scores of resources, or a triplet parent out in the country with no one around for miles — our multiples parenting forums are for YOU! Sign up for FREE and connect with people who are just like you — parents of multiples looking for advice, parenting tips, or even just people to chat with who will understand what you're going through. Our forums are open to people all over the world and we offer scads of specialty rooms to find others who are going through the exact same thing as you. Check it out today!
---
Twiniversity is the #1 source for parents of multiples and we are growing faster every day!
Find us all over the web:
Or contact us by email at community@twiniversity.com