When my boys started pre school, I knew that they would be exposed to pre school germs and was prepared – lots of hand washing, vitamins, etc. Little did I know that they would be sick – All. Of. The. Time. It always seemed to be something that has to do with their throat. My boys really like their doctors, in fact they dressed up like them at Halloween. However, as we frequented the doctors office more and more, they were always in fear of the dreaded stick, not to mention their tonsils were the size of golf balls – literally.
In addition to their tonsils being HUGE, they snore and it's loud and burly. They would also wake themselves up. Interestingly enough, they never woke each other, nor did they complain about each other. In mentioning this to my pediatrician, and all of the times they had endured the stick, she recommended that we saw an Ear, Nose, and Throat Doctor.
Prior to going to the doctor, both boys had to get an x-ray done of their throat. They did amazingly well as I told them they were going to have to put on a heavy blanket and be still for a picture for the doctor.
Once in the doctors office, we were able to look at their x-rays. The doctor told us that both boys have super large tonsils and adenoids. Aden-who? What? I mean I didn't know what that is, does, and where in the body it's located. I learned that adenoids are a patch of tissue that rest behind the nasal cavity and cannot been seen through the throat, unlike tonsils. Through the x-ray and a complete explanation, we learned that my boys only have about a hair line of space between the tonsils and adenoids. She asked if they ever breathe through their nose, and after thinking about it – NEVER! They are heavy mouth breathing babies!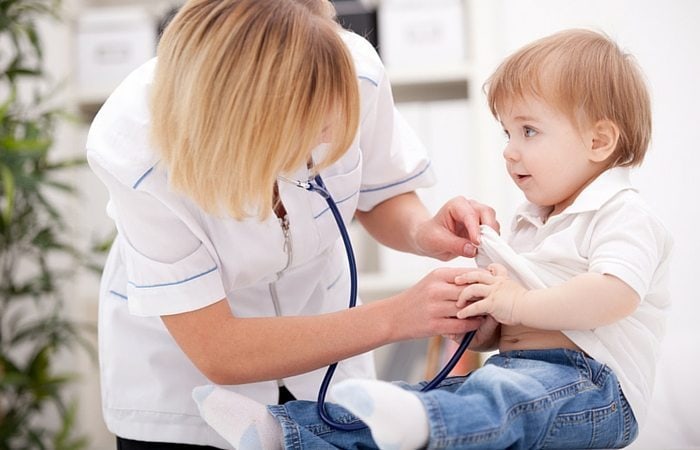 The doctor recommended the removal of tonsils and adenoids for both boys. She said it was a 45 minute, out patient procedure. By doing this, the boys will be able to breathe better, sleep easier, and hopefully reduce the frequency of the stick! The doctor had done this before with twins and one would go right after the other. We decided that we wanted to have the boys do the procedure the same day and be able to recover together.
In order to prepare our boys (with the recommendation from the doctor) we told them that the doctor is fixing something in their throat, that I would be able to hold their hand while they go to sleep, and when they wake up they will have a sore throat and popsicle. We also told them they would have to wear a special gown and that we would be with them every step of the way.
Both boys were ready! We asked my mom to come with us so that either kid would not be alone – while in recovery, or if my husband or I were talking with the doctor, etc. Once we arrived, the boys were ready, sheepie and giraffie in hand ready to go. They were stronger than I was, and I really held it together — until I left the operating room (both times) where I was able to hold my sons hands as they went to sleep. As one was going into recovery, the other was going in for his procedure.
The doctors said that kids coming out of anesthesia could have a very disoriented reaction, some angry, some sleepy, and others crying. When my first son woke up, he was calm and just wanted his popsicle. Finally, my other son came out, and he was weepy, and wanted me to hold him. He was also very sleepy — and after about 45 minutes, he was ready for his popsicle.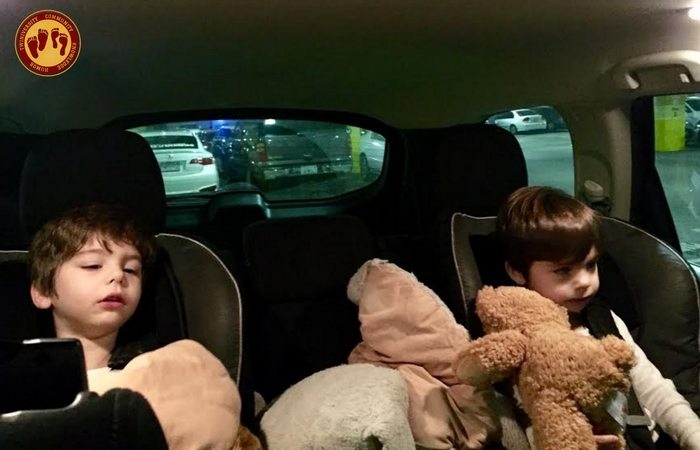 The nurses and doctors were amazing. By the time we left, the boys were alert and eating their popsicles. Our fridge was filled with all types of popsicles from bomb pops to super hero popsicles, jello, pudding, mashed potatoes, and more.
Now on to the recovery. The hard part was over, right? We had many sleepless nights, lots of ice chips, popsicles, and doing anything to manage the pain. This included watching movies, playing games on the iPad, reading stories, and staying on top of their medicine, which by day two was round the clock tylenol for two days. By day four, we gave the boys tylenol when they complained about their throats. Everyday was different during that first week, some moments sleepy, some more pain, and other moments they want to play. We just went with it.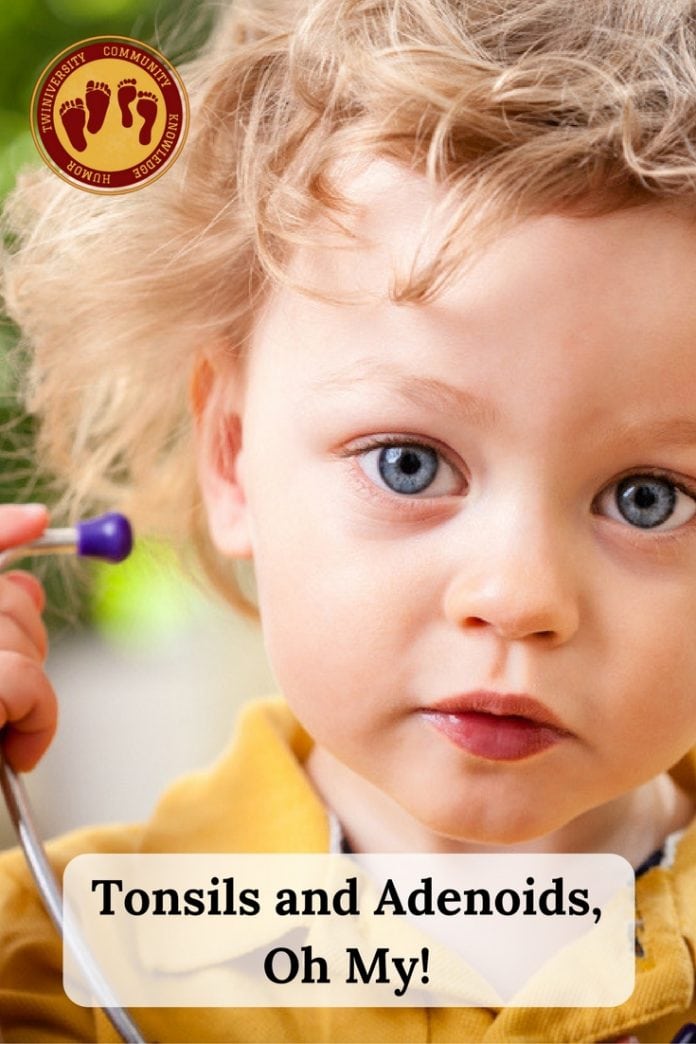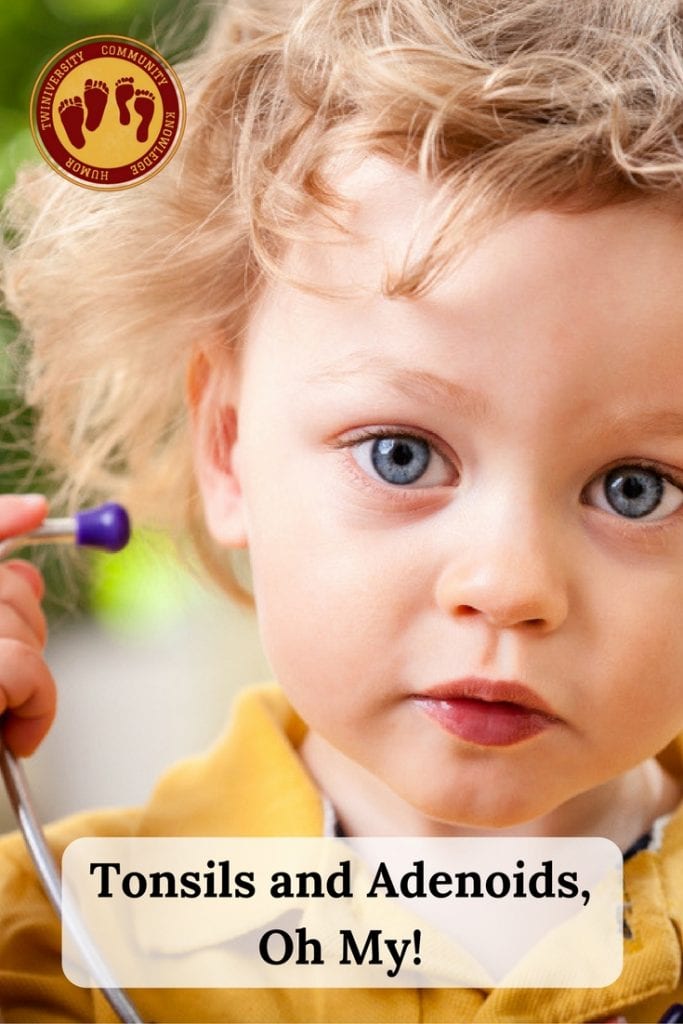 One thing we did not count on, nor have we ever experienced, were the night terrors. One of my boys woke up screaming and the other woke sobbing. This happened for two nights during the first week of recovery. Our pediatrician said it could be from the meds (they were also on antibiotics), being over tired, and the procedure as they had been through a lot. We learned very quickly not wake them, rather just tell them we are there for them, to let them know they are safe at home, and then in a few minutes they would go back to sleep.
My boys were four when we had the procedure done, and thankfully they are super resilient. The doctor said that the recovery time was two weeks, and the first week is the longest, then it really does get better. We saw the benefits almost immediately, even in the early days of recovery. They are able to breathe with their mouths closed, they have restful sleep, and can overall breathe easier. Now they are back to their happy, playing, laser blasting, super hero selves and we couldn't be happier!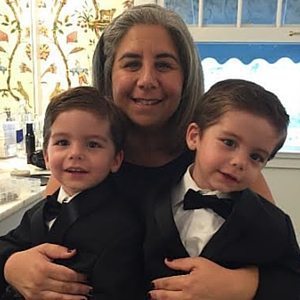 Kerri Stern is an educator living in Los Angeles. She and her husband are happily raising their 3 year old identical twin boys with a lot of love while maintaining a sense of humor at all times! For more articles by Kerri on Twiniversity, click here.
---
Related Articles
---
The rate of twin births has risen 79 percent over the last three decades, and continues to increase. A mom of fraternal twins and a national guru on having two, Natalie Diaz launched Twiniversity, a supportive website with advice from the twin-trenches.
What to Do When You're Having Two is the definitive how-to guide to parenting twins, covering how to make a Birth Plan checklist, sticking to one sleep schedule, managing double-duty breastfeeding, stocking up on all the necessary gear, building one-on-one relationships with each child, and more.
Accessible and informative, What to Do When You're Having Two is the must-have manual for all parents of twins.
---
Whether you're a twin parent in the big city surrounded by scores of resources, or a triplet parent out in the country with no one around for miles — our multiples parenting forums are for YOU! Sign up for FREE and connect with people who are just like you — parents of multiples looking for advice, parenting tips, or even just people to chat with who will understand what you're going through. Our forums are open to people all over the world and we offer scads of specialty rooms to find others who are going through the exact same thing as you. Check it out today!
---
Twiniversity is the #1 source for parents of multiples and we are growing faster every day!
Find us all over the web:
Or contact us by email at community@twiniversity.com