Hey gang, listen up! We've got a great article on 3 ways to support infant development through play, plus an awesome giveaway from Manhattan Toy Company! One lucky family will take home a Wimmer-Ferguson Infant Toy Prize Package (a value of $170!), which includes…
THIS CONTEST IS CLOSED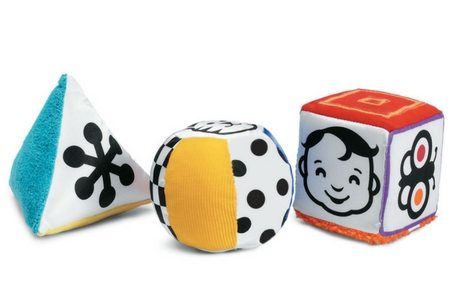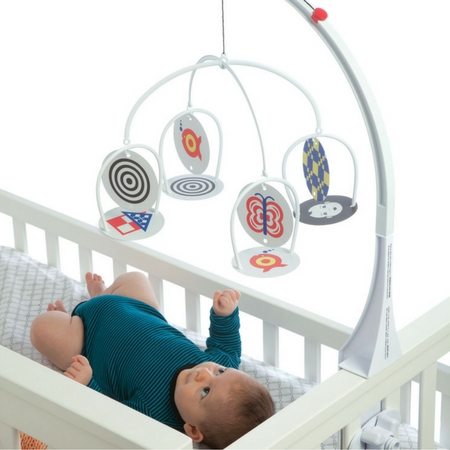 We adore the line of Wimmer-Ferguson infant toys! Since infants cannot see color for the first several months, the black and white high contrast patterns and graphics found on the Wimmer-Ferguson toys are great tools to stimulate baby's sense of sight. They are perfect for tummy time, crib play, and on the go, supporting motor and sensory development for your twinnies.
---
3 Ways to Support Infant Development Through Play
Before becoming a feeding specialist, I worked in early intervention as an occupational therapist. In this setting, therapists travel to families' homes to offer services to their children aged birth to three years with special needs who qualify based on a diagnosis or scores on standardized testing. I was welcomed into these families' homes during some very difficult and humbling times to help them bond with and teach their children to learn and grow. Throughout my time doing this, I discovered some common suggestions and activities used to help these infants grow. While I worked with children with special needs, these suggestions are appropriate for all infants to support development. Here are my three best suggestions for supporting infant development through play.
Choose bright colored toys that play gentle songs and/or light up.
Young children are drawn to toys that appeal to the senses and it is no secret that young children are learning about their world through their senses. Infants are drawn more to black and white colored objects and high-contrast patterns, as color vision does not fully emerge until 5 months of age, as well as objects that are within 8-12 inches of their face with high contrasting colors. As your babies grow having toys that are bright in color, light up, play music, and activate in a cause/effect manner are perfect to appeal to the senses and foster learning. Cause/effect toys are those that are activated by pushing a button and give an instant reward, such as music or lights. It is good to have a couple of these toys and rotate them during play sessions to keep play novel and exciting for babies. If you can't afford toys like these, don't worry. Offer simple toys that are brightly colored and make noise such as linking rings, rattles, or stuffed animals. Babies can play with these while seated securely in an appropriate seat, such as a bouncy seat or swing. You can also have babies lie on their backs on the floor and reach for hanging toys, like the linking rings, with their hands and feet.
Tummy Time
According to the Mayo Clinic, "Tummy time — placing a baby on his or her stomach while awake and supervised — can help your baby develop strong head, neck and shoulder muscles and promote certain motor skills. Tummy time can also prevent the back of your baby's head from becoming flat (positional plagiocephaly)." Tummy Time is essential play time for a baby's development. Not only does this position promote gross motor, or muscle, development, it helps to strengthen and develop a baby's sensory system. I encourage parents to have their child play on their belly on a soft mat or towel placed on the floor. Offer simple cause/effect or musical toys to encourage head and neck control while those babies lift their heads to look at their toys. Mirrors are also great to prop to encourage babies to look at while lifting their heads. They are often very interested in looking at facial expressions. I recommend that parents get on the floor with their babies and play in the same position with them. Parents can also have babies play in the tummy time position by lying on the parents' chest while the parent lies on the floor. Both foster bonding and engagement with their child as well as encouraging gross motor, sensory and socialization development.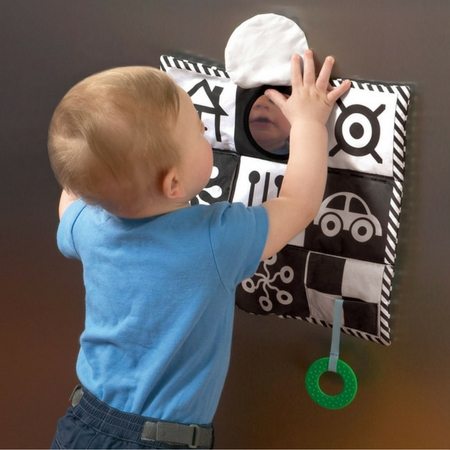 Facial Expressions and Socialization
We are slowly becoming a society dependent on instant gratification through electronic devices and our toys are becoming similar. These toys and devices have their own place for learning but let's not forget about one the simplest forms of learning through bonding and social engagement. I encourage parents to have periods of play with their infants that involves simple songs and finger games like Itsy Bitsy Spider and Peek-A-Boo. Children learn emotions, facial expressions, and socialization through this type of play and it greatly fosters bonding, not to mention making some heartfelt memories with your baby.
Playing with your baby is a wonderful time to bond and help your baby learn. Following these simple suggestions can help make play easy, fun and rewarding. Enjoy these little moments and have fun!
Megan Carpenter, OTR/L, SCFES has been an occupational therapist for 9 years with 7 years of experience in pediatrics at United Cerebral Palsy of Greater Birmingham. Megan is married and is also a mother of young twin girls who constantly keep her busy but fill her life with much joy. Both of her girls experienced severe reflux as infants, and as a result, Megan has turned her professional focus to pediatric feeding, eating and swallowing, and she has earned the American Occupational Therapy Association's Specialty Certification for Feeding, Eating and Swallowing. Megan can be contacted at mcarpenter@ucpbham.com with any questions related to OT. For articles by Megan on Twiniversity, click here.
---
Related Articles
---
THIS CONTEST IS CLOSED