Parents put so much pressure on themselves these days, and with all of the now-expected parties to celebrate various milestones it seems like the heat is always on to create that perfect Pinterest-worthy extravaganza. It starts before we are even parents, with the trendy gender reveal parties, continuing throughout the year with smaller acknowledgements, but acknowledgements all the same, of every major and minor holiday. The sweetest Valentines Day outfit, the comical St. Patrick's Day attire, the first bathing suit photo, a pun-filled Thanksgiving set, and oh god, the Christmas outfits!
This year of firsts is all just practice for the ultimate party planning extravaganza- the 1st birthday party. It seems like everywhere we look there are birthday parties that are worthy of the cover of Vogue, executed with precision down to the last detail. If you're the first of your friends to celebrate, you feel the pressure to set the standard high. If you're last, you feel like have to out-do everyone who came before you.
Hello, my name is Mallory and I am a party-planning-aholic. I started planning my sons' first birthday four months ahead of time. I found the best party package on Etsy, with custom invitations, and all of the accoutrements that one MUST have or the entire party will be ruined. Their birthday is in January, so we threw a "Winter ONEderland" party, complete with tiny woodland creatures in scarves and hats, homemade cupcakes that looked like frosted mushrooms, brown sugar cookies in the shapes of animals, a from-scratch hot chocolate bar with every topping you could imagine, and goody bags filled with chocolate bars, marshmallows and graham crackers that read "It was S'More fun with you here!". It was stressful, but in my head it was worth it. What kind of mother would I be if my kids didn't have the most coordinated, creative and wonderful party ever?
The answer? A normal one. A year went by and I realized their second birthday was coming up. I started racking my brain as to what the theme would be, what Etsy shop I would order the invites from, how it would all come together. My husband asked me "Why are we doing this again? Do you remember how stressed you were last year?" But now I had set my bar at such a level that if I didn't plan something bigger and better people would be let down.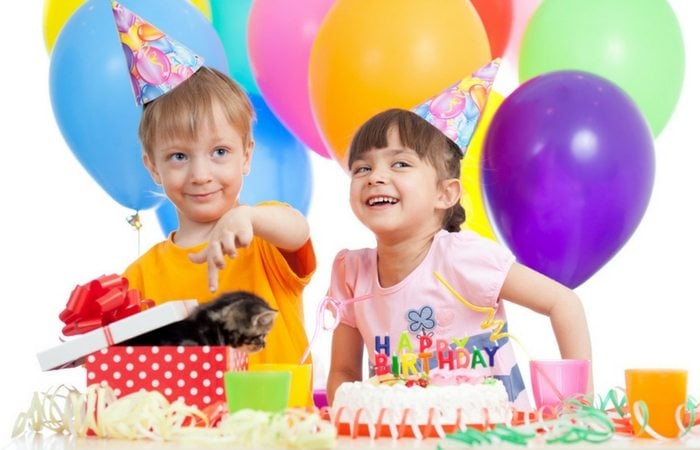 I realized that the only person that would feel let down was me. My kids didn't care if their cake matched their invitations, or if the decorations on the wall weren't that color scheme. The place I booked includes decorating and food in the package, and here I was scavenging for printable posters and signs to send them. That's crazy! I said to myself "Self, you can't go on like this. Just buy whatever decorations and balloons they want. It will all be fine."
I did end up buying custom invitations and a matching cake with homemade dinosaur-shaped cookies, because baby steps, but I just let the rest fly. AND THE WHOLE PARTY WAS A DISASTER!!! No. It wasn't. It was GREAT! The boys had a blast, everyone noshed on their bagels and desserts, my friends with kids seemed relieved to just be out of the house in a safe and crazy place, and family was happy to see the kids totally in their element and letting loose.
The moral of this story? No one really cares about the cupcake toppers, or if the tablecloths perfectly match the balloons. Will they be impressed if they do? Sure. But will they trash talk if they don't? Doubtful. And if they do? It's time to find new friends.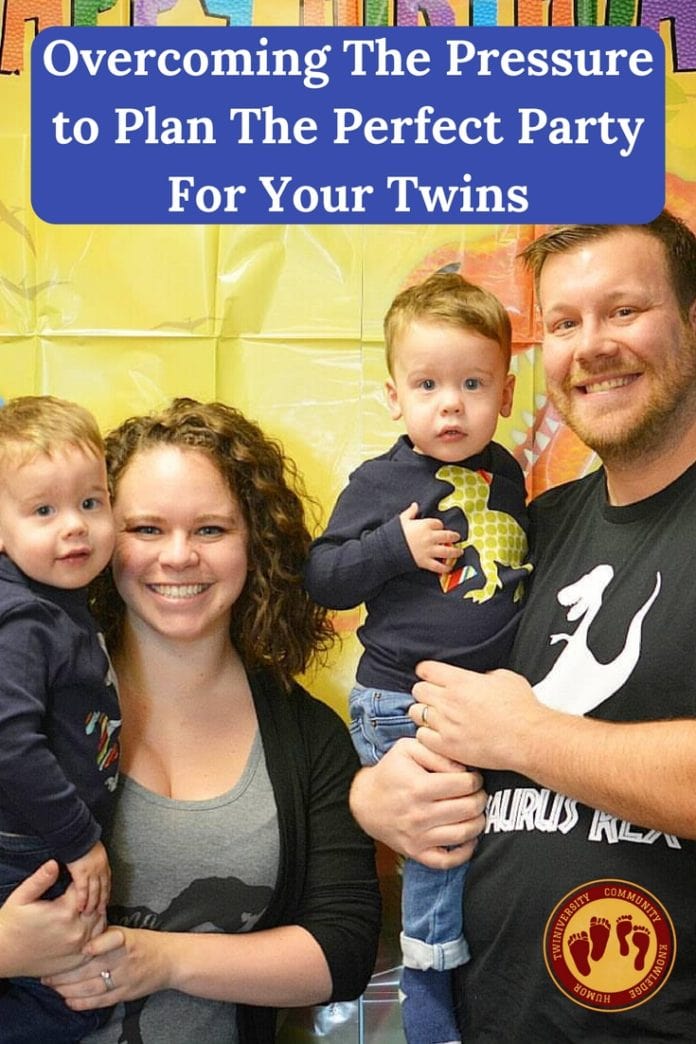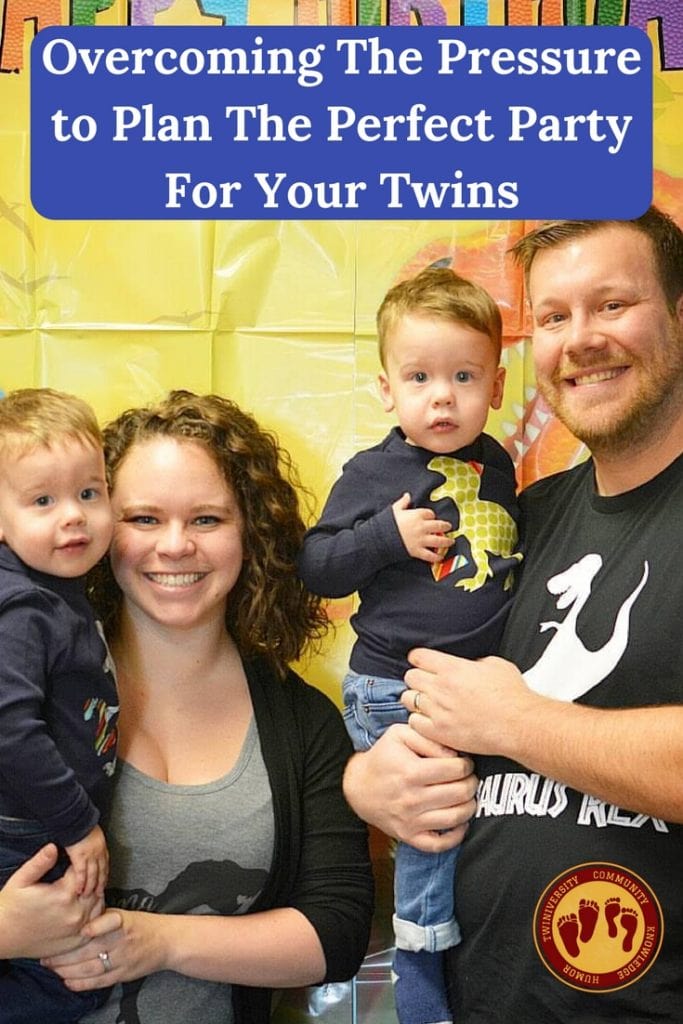 We need to stop putting so much pressure on ourselves, because it acts like an avalanche just picking up more snow and causing more destruction the longer we let this go on. Parents – we are better than this!
I have 10 months and 22 days until their 3rd birthday (but who's counting?) – and maybe, just maybe, their next party will be a quiet night at home with just mom and dad….and a custom cake.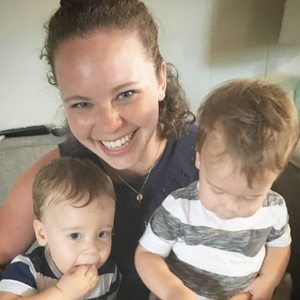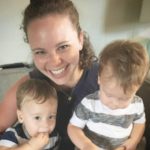 Mallory Kerley is a first time mom to two-year- old identical twin boys. No, twins do not run in her family, yes she's sure they are identical, yes her hands are full. She lives on Long Island with her husband, works full-time as a public relations professional for a non-profit organization and volunteers with homeless animals with all of her spare time.
---
Related Articles
---
Whether you're a twin parent in the big city surrounded by scores of resources, or a triplet parent out in the country with no one around for miles — our multiples parenting forums are for YOU! Sign up for FREE and connect with people who are just like you — parents of multiples looking for advice, parenting tips, or even just people to chat with who will understand what you're going through. Our forums are open to people all over the world and we offer scads of specialty rooms to find others who are going through the exact same thing as you. Check it out today!
---
Expecting twins? START HERE! Check out our ultimate list of the most important articles for expecting twins and managing your newborns!
---
The rate of twin births has risen 79 percent over the last three decades, and continues to increase. A mom of fraternal twins and a national guru on having two, Natalie Diaz launched Twiniversity, a supportive website with advice from the twin-trenches.
What to Do When You're Having Two is the definitive how-to guide to parenting twins, covering how to make a Birth Plan checklist, sticking to one sleep schedule, managing double-duty breastfeeding, stocking up on all the necessary gear, building one-on-one relationships with each child, and more.
Accessible and informative, What to Do When You're Having Two is the must-have manual for all parents of twins.
---

Twiniversity is the #1 source for parents of multiples and we are growing faster every day!
Find us all over the web: