I grew up looking forward to camping with the family and spending weeks at a time at summer camp. All through college I looked to find outdoor adventures wherever I could. Shortly after college I married my adventure partner. From there we traveled and explored as a couple. It was an easy transition when we became "dog parents", from four months on our dog, Delyla, was able to carry her own pack when we went backpacking and behave well at the climbing crag. It seems four month old humans aren't quite ready to carry their own weight…and there are a few more logistics to manage before taking them outside. We needed to change the way we went hiking and biking.
Here are 7 tips to enjoy hiking and biking after you have twins.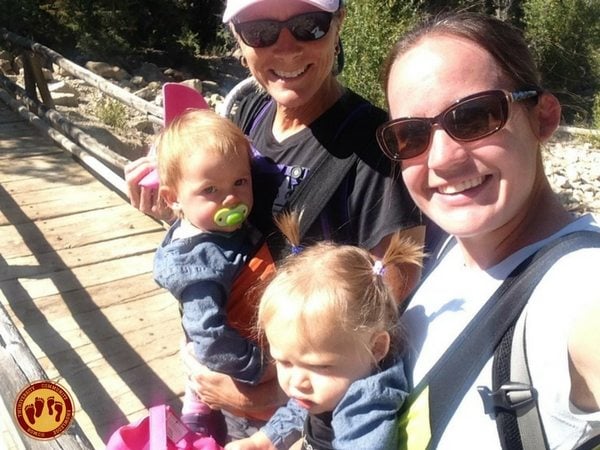 1. Accept the help of friends
As a twin parent you have probably grown confident wearing both babies around the house and around town. But when you're hiking if a friend is willing to carry a baby it's good give your twins a chance to get used to other people. You may also need that extra energy in case of an upset little one.
2. Pick safe flat areas to let twins explore
My girls love to explore, but since they aren't quite two yet they are easily distracted and taken from the safe path or the same path for that matter. So I like to wear the girls for the majority of the hike, but give them an opportunity to move themselves in an approved area. Also, I like to let them use the bouldering room at my gym as a jungle gym to introduce them to climbing so one day they will be able to try climbing on real rocks too!
3. Accept that shorter hikes are the norm
It's incredible how a short hike can take two hours with little ones. First someone is hungry, then someone is thirsty, next someone has found that rocks make great drums. There is even likely to be some literal smelling of the flowers on your hikes now. It is so rewarding to see your children start to appreciate nature, so slow down and do so at their pace.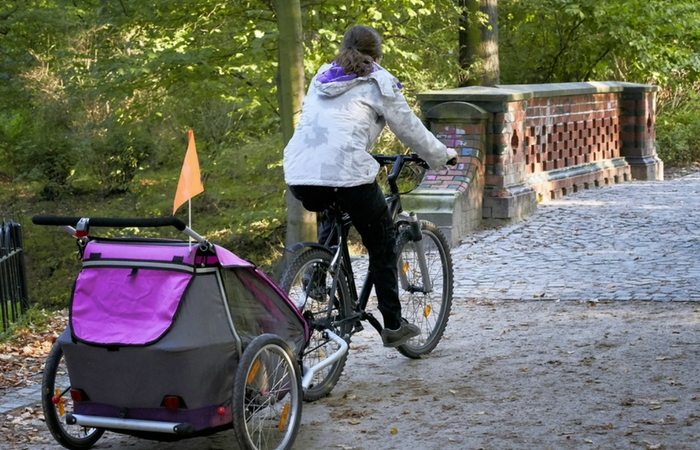 4. Plan your bike ride around naps or snack time
When my girls were taking two naps a day I loved timing a morning ride with their first nap of the day. The bike trailer is soothing and repetitive like a car, so my girls often just drifted off to sleep. Sometimes I do an impromptu ride if one girl has skipped their nap and really needs the rest. Snacks are also another great way to keep the twins occupied while you are riding.
5. Give incentive to your twins for the bike ride
Point out wildlife as you ride, this can make a bike ride as fun as a visit to the farm if you live in an area with animals. End your ride at a park or friends house. Chances are your little ones don't actually know that the park isn't 10 miles away, so take the scenic route if needed.
6. Teach bike safety early on
We bought very basic foam helmets when we bought the bike trailer. They often see my husband's mountain biking gear, including his helmet, and understand that it is worn to ride a bike. I was speechless the first time my 20-month old called me out for not wearing my own helmet. It's a habit that will be hard to break now.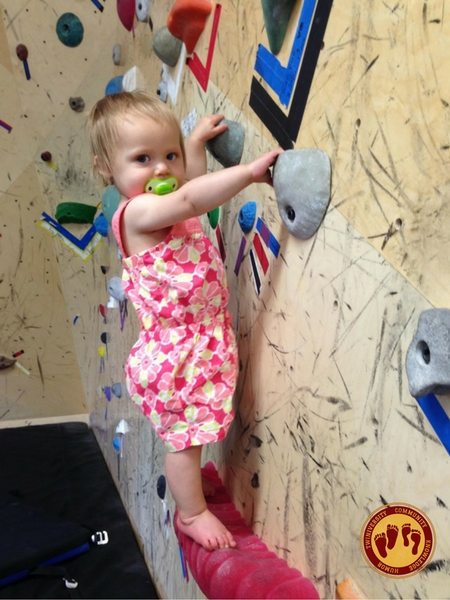 7. Hire a babysitter
I'm not sure why it took me so long to realize that I didn't have to use babysitters (and daycare) just for the traditional dinner dates and drinks with friends. Babysitters can be used for outdoor adventures that are too extreme for your kids. My local rock climbing crag is known for having loose rock, so I like to send my girls to daycare or get a babysitter so that I can still climb alone on occasion.
Some of my favorite hiking and biking gear
Thule Chariot Cougar 2 (with bike trailer kit) – The shocks on this thing are better than my mountain bike, it's no big deal to do a little "off-roading" with this. It's easy to switch from stroller mode to trailer mode, even with the twins already loaded in their seats. Bonus points for fitting into the back of a small SUV with ease.
BityBean UltraCompact Baby Carrier – This is the most lightweight carrier I've seen. It's so easy to pack two carriers in any bag even with all the other necessary gear. You can easily wear both babies with two bity bean carriers, or it's easy to adjust the sizing for a friend to carry a twin. External frame backpacks are popular and do allow kids to have more movement than other carriers, but I worry about losing balance with this design and two of these would take up a lot of space in your gear room.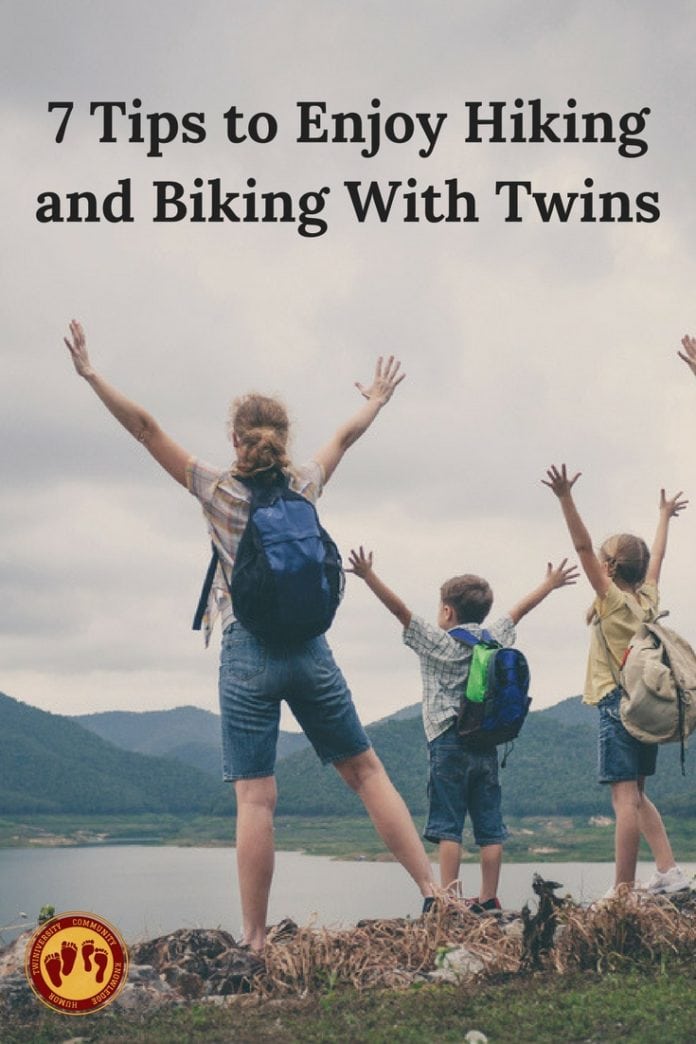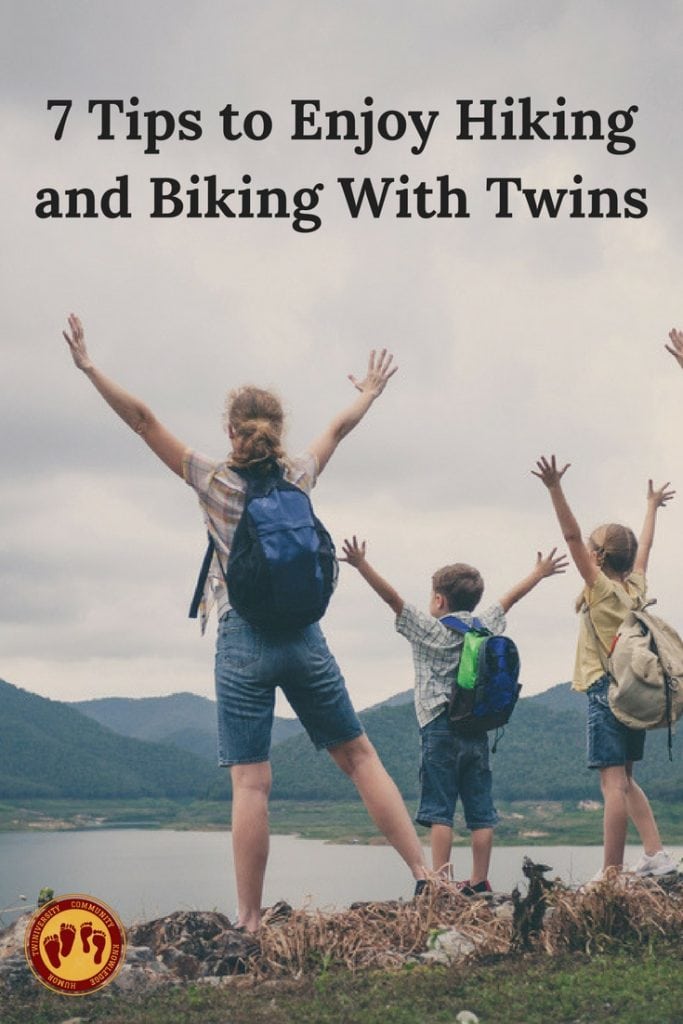 REI Flash 18 Backpack – I fell in love with this pack when I was traveling. You never know when you'll need a daypack on vacation or when you'll need an extra bag for your return flight. This pack can be comfortably carried by a handle or worn with a baby carrier.
Having twins does not mean that you will never go hiking and biking again. With some preparation and realistic expectations hiking and biking can be enjoyed by the entire family.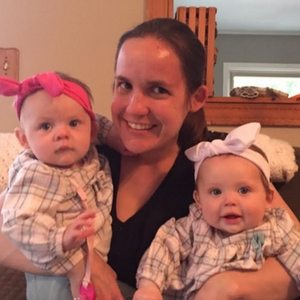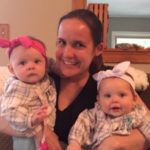 Becca Heldreth is mother to 18 month old fraternal twin girls. She has a master's degree in education and is currently able to teach from home. Her class of two toddler girls and one dog is quite an adventure. Lessons are certainly more focused on sharing and petting the dog gently than on factoring polynomials. Becca and her husband pass along their passion for the outdoors to their twins through trips to the bouldering room, hiking trails, and bike rides.
---
Related Article
---
---
Sign up for the Twiniversity Mailing List to be the first to hear about product giveaways, contests, and special offers exclusively for twins and higher order multiples!
---

Expecting twins? START HERE! Check out our ultimate list of the most important articles for expecting twins and managing your newborns!
---
The rate of twin births has risen 79 percent over the last three decades, and continues to increase. A mom of fraternal twins and a national guru on having two, Natalie Diaz launched Twiniversity, a supportive website with advice from the twin-trenches.
What to Do When You're Having Two is the definitive how-to guide to parenting twins, covering how to make a Birth Plan checklist, sticking to one sleep schedule, managing double-duty breastfeeding, stocking up on all the necessary gear, building one-on-one relationships with each child, and more.
Accessible and informative, What to Do When You're Having Two is the must-have manual for all parents of twins.
---
Whether you're a twin parent in the big city surrounded by scores of resources, or a triplet parent out in the country with no one around for miles — our multiples parenting forums are for YOU! Sign up for FREE and connect with people who are just like you — parents of multiples looking for advice, parenting tips, or even just people to chat with who will understand what you're going through. Our forums are open to people all over the world and we offer scads of specialty rooms to find others who are going through the exact same thing as you. Check it out today!
---

Twiniversity is the #1 source for parents of multiples and we are growing faster every day!
Find us all over the web: