Can you keep a secret? Could you keep a huge, life changing, oh-my-goodness-it's-twins secret? We know we couldn't! When we found out we were having twins, we called everyone immediately – which is why when we saw Kibbe and Alexander Jones' gender reveal video, we knew we just had to chat with them! We asked Kibbe a few questions to get to know them a bit better!
Did you tell anyone that you were having twins? Moms? Dads?
My husband and I wanted to keep the twins a secret from everyone, however, we soon realized we were going to need as much help as we could get, so we caved and told each of our mothers only. We asked that they keep it a secret from our fathers until the big reveal!
How old are your boys now?
Our twins, Court and Wyatt, are almost 2 years old.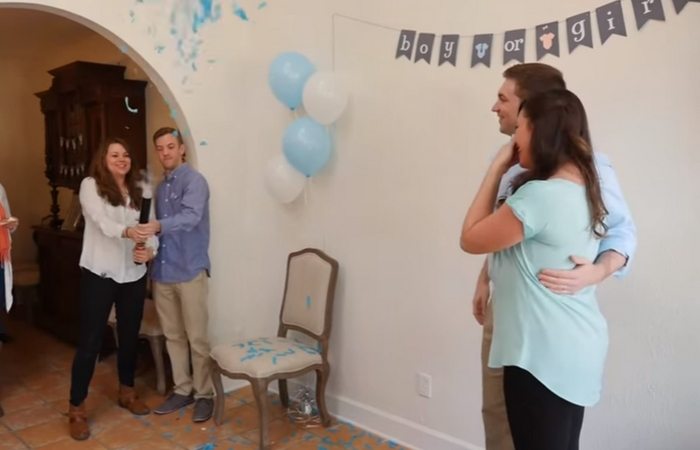 What was your reaction when you found out it was twins? Your husband?
When we found out we were pregnant, we were living in Colorado and about to move back home to Alabama. I decided to wait until we arrived in Birmingham to see the doctor for the first time. Throughout the stress of moving home and having never been pregnant before, I was not feeling 100% confident that I was pregnant, so I insisted that my husband not come to the first appointment, in case there was no baby. BIG MISTAKE. I had the ultrasound first and the technician had twins herself, so she just came out with it and said… "well, everything looks great but there are two"…my immediate response… "two what? two arms? two legs?" I'm adopted (thus no family history of twins that we know of) and we had gotten pregnant rather quickly, so no fertility treatment. The possibility of twins was not even on my radar! I immediately called my husband who thought I was joking at first and the rest of the appointment is a blur, people were talking to me but I have no clue what was said. That night once we finally got to talk to one another, we realized how incredibly lucky we were, not one healthy baby, but two.
How did you keep it a secret from everyone?
We initially decided to not tell anyone in case one of the twins was lost early on but once the date came where we were in the clear, we looked at each other and said, "It would be so fun to surprise everyone at one time with the news" and then we started hatching up the gender reveal. It was a very special time because it was a secret that only my husband and I knew. I would dodge questions and purposely ask that the sonograms try to show only one baby at a time. To this day, I cannot believe we kept the secret for so long, but it was so incredibly worth it.

How far along were you in the reveal video?
I was 19 weeks, we waited for our anatomy scan to be positive that both babies were healthy and that they could get the gender 100% correct"
What is the one thing that has surprised you most about your twin pregnancy?
How many people are fascinated with multiples! It was fun when strangers would ask what the sex of my baby was and I would say "2 boys" and they would pause and say "TWO???" and then ask a ton of questions. My boys are almost two and I still get questions every single day. It's a very special thing and being a twin mom is very much a part of who I am today.

Thank you, Kibbe and Alexander, for sharing your very special gender reveal video with us! We just love it!
---
Related Articles
---
Sign up for the Twiniversity Mailing List to be the first to hear about product giveaways, contests, and special offers exclusively for twins and higher order multiples!
---

Expecting twins? START HERE! Check out our ultimate list of the most important articles for expecting twins and managing your newborns!
---
The rate of twin births has risen 79 percent over the last three decades, and continues to increase. A mom of fraternal twins and a national guru on having two, Natalie Diaz launched Twiniversity, a supportive website with advice from the twin-trenches.
What to Do When You're Having Two is the definitive how-to guide to parenting twins, covering how to make a Birth Plan checklist, sticking to one sleep schedule, managing double-duty breastfeeding, stocking up on all the necessary gear, building one-on-one relationships with each child, and more.
Accessible and informative, What to Do When You're Having Two is the must-have manual for all parents of twins.
---
Whether you're a twin parent in the big city surrounded by scores of resources, or a triplet parent out in the country with no one around for miles — our multiples parenting forums are for YOU! Sign up for FREE and connect with people who are just like you — parents of multiples looking for advice, parenting tips, or even just people to chat with who will understand what you're going through. Our forums are open to people all over the world and we offer scads of specialty rooms to find others who are going through the exact same thing as you. Check it out today!
---

Twiniversity is the #1 source for parents of multiples and we are growing faster every day!
Find us all over the web: