Osprey is recalling 82,000 child backpack carriers that may be unsafe for children. The company has received four reports of children falling through the carrier's leg openings, resulting in scratches and one fractured skull.
This recall involves all models of Osprey Poco, Poco Plus and Poco Premium child backpack carriers manufactured between January 2012 and December 2014. The nylon child carriers were sold in three colors: "Romper Red," "Koala Grey," and "Bouncing Blue." They have a metal frame and a gray padded child's seat inside. The production date is stamped on a black label sewn into the interior of the large lower zippered compartment on the back of the carrier.
Recalled carriers have a production date code of S12SBPR1, S12SBPR1B, S12SBPR2, S12SBPR3, S12SBPR4, F12SBPR1, F12SBPR2, S13SB IPO, S13SBPR1, S13SBPR2, S13SBPR3, S13SBPR4, F13SBPR1, F13SBPR2, F13SBPR3, S14SBPR1, S14SBPR2, S14SBPR3, S14SBPR4, S14SBPR5. "Osprey" is printed on the fabric above the kick stand. The model name is printed on the back at the bottom.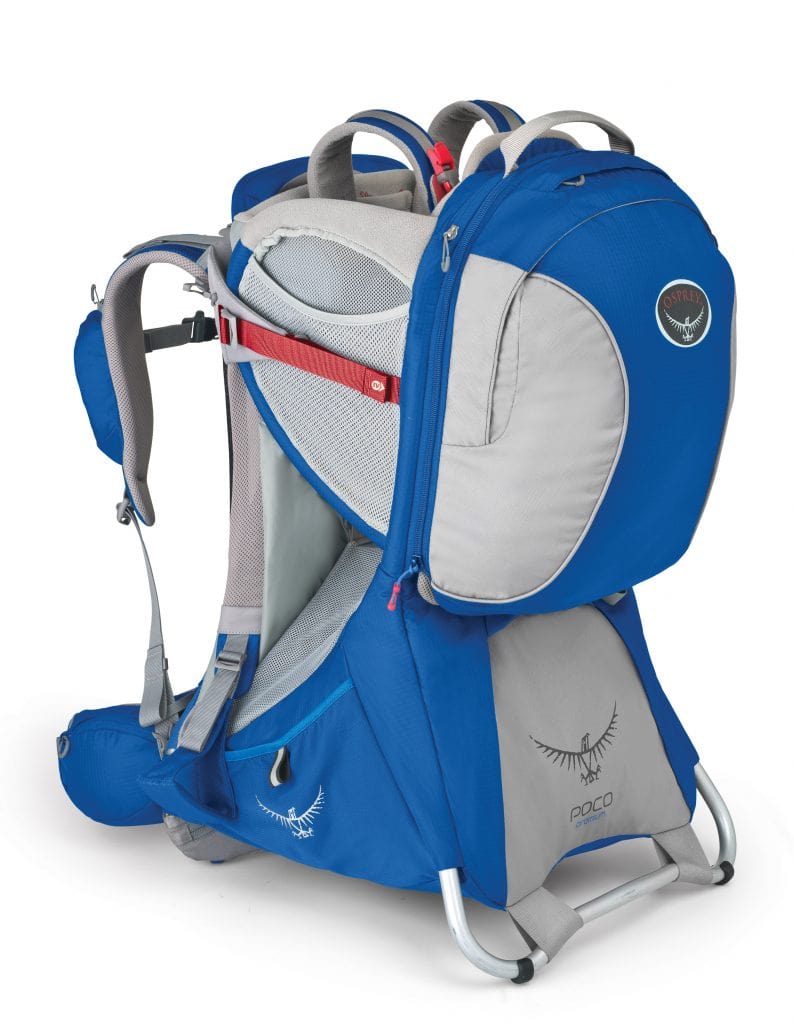 Incidents/Injuries
Osprey has received four reports of children falling through the carrier leg openings, resulting in one report of a skull fracture and one report of scratches to the head.
Remedy
Consumers should immediately stop using the recalled carriers and contact Osprey for a free Seat Pad Insert for use along with the existing safety straps to secure the child in the carrier. Consumers who previously received and installed the free Seat Pad Insert in their carriers are not required to take further action.
Sold At
REI and specialty outdoor stores nationwide and online at Amazon.com from January 2012 to December 2015 for between $200 and $300.
Consumer Contact
Osprey toll-free at 866-951-5197 from 8 a.m. to 5 p.m. MT Monday through Friday, email at pocoseatpad@ospreypacks.com or online at www.ospreypacks.com and click on "Poco Safety Notices" on the navigation bar at the top right hand corner of the page for more information.
---

Expecting twins? START HERE! Check out our ultimate list of the most important articles for expecting twins and managing your newborns!
---
The rate of twin births has risen 79 percent over the last three decades, and continues to increase. A mom of fraternal twins and a national guru on having two, Natalie Diaz launched Twiniversity, a supportive website with advice from the twin-trenches.
What to Do When You're Having Two is the definitive how-to guide to parenting twins, covering how to make a Birth Plan checklist, sticking to one sleep schedule, managing double-duty breastfeeding, stocking up on all the necessary gear, building one-on-one relationships with each child, and more.
Accessible and informative, What to Do When You're Having Two is the must-have manual for all parents of twins.
---
Whether you're a twin parent in the big city surrounded by scores of resources, or a triplet parent out in the country with no one around for miles — our multiples parenting forums are for YOU! Sign up for FREE and connect with people who are just like you — parents of multiples looking for advice, parenting tips, or even just people to chat with who will understand what you're going through. Our forums are open to people all over the world and we offer scads of specialty rooms to find others who are going through the exact same thing as you. Check it out today!
---

Twiniversity is the #1 source for parents of multiples and we are growing faster every day!
Find us all over the web: