At Twiniversity we have an amazing network of twin parents from all over the world. Some hold especially big space in our hearts because they are just so awesome. We first met Phoebe Kannisto back in 2013 when she was nominated for Super MoM of the Month. At the time, she and her husband had six boys, including at set of twins and a set of triplets. Their family has expanded by one, a girl, since then, and the boys have grown leaps and bounds. The entire family has gone viral for the best reason possible – donating their hair. Maybe you have seen them pop up in your newsfeed, or as you scrolled through twitter. They are hard to miss, six boys with gorgeous long locks and Phoebe proudly standing at attention.
When Phoebe posted the before and after pictures on Facebook, she had no idea her family would getting interview requests from around the globe.
According to Phoebe, it took the family years to accomplish their goal. Andre (10-years-old) grew his hair out for a year, her 8-year-old identical twins grew their hair for almost two years, and her 5-year-old fraternal triplets grew their hair for five years.
She told the Huffington Post, "Three years ago, my friend lost her son to cancer. He was a twin and very close in age to my twins. On the first anniversary of his passing, my three oldest boys donated their hair in his memory. Since their donation two years ago, our lives have continued to be touched by cancer. It's everywhere. My boys want to help, and donating their hair is how they do it."
This is the Facebook post that started it all–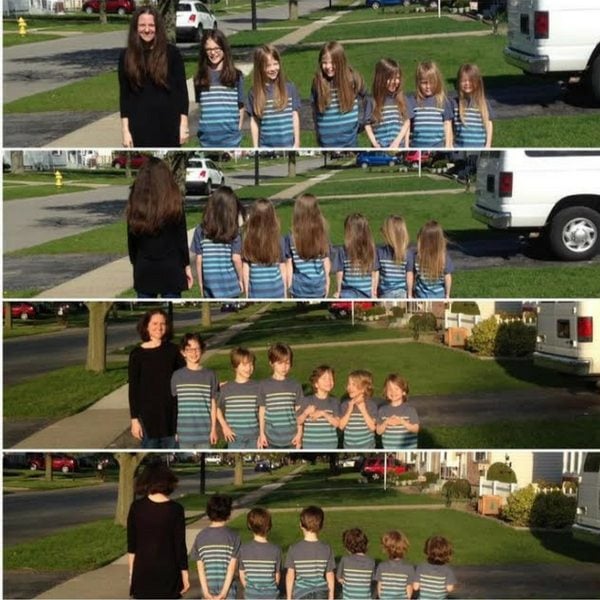 "Today my SIX SONS and I donated our hair to Children With Hair Loss," Kannisto captioned the photo. "A grand total of 17 feet of hair donated! I am so proud of my boys. They have been picked on and teased by everyone from their peers, to grown adults, but they didn't let that stop them. They had a goal and stuck to it. They are such amazing role models to their little sister. She watched in awe. A very special thank you to Hizair Hair Salon in North Tonawanda for making this donation possible."
We sat down with Phoebe Kannisto to ask her a few questions about the MoM life and going viral.
What is the organization to which you donated the hair?
We donate to Children With Hair Loss.
How does it feel to be a viral sensation?
This is surreal. We never imagined it would be getting this much attention. We have received messages from people all over the world who are inspired to donate their hair now too.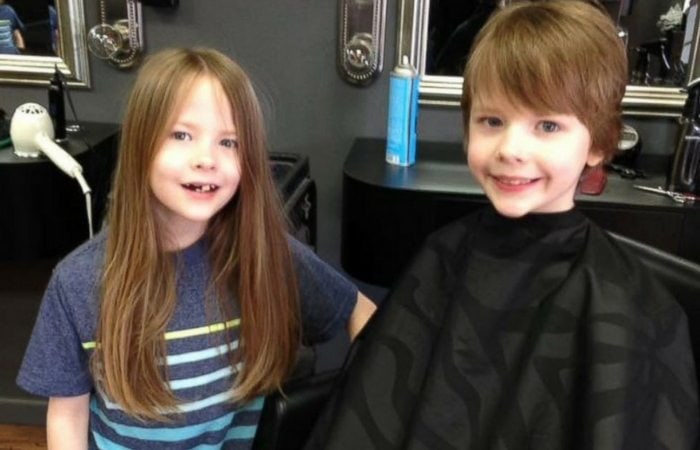 We read that the boys got picked on for their long locks. So how did they handle that?
They mostly just tried to ignore it. They had a goal in mind and hurtful words were not going to stop them. In the last week, they've gotten so much positive feedback. All those hurtful words have been forgotten.
With all those boys, how is your home still standing?
They're pretty well behaved, for the most part. Obviously, they get a bit carried away from time to time; they're kids after all. It's actually my daughter that that can be the wild one of the bunch. She jumps off couches, climbs baby gates, and climbed out of her crib at a year old. The boys never did that.
If you could give one tip to new parents of multiples, what would it be?
Relax and enjoy it. They grow up so quickly. . . So pick your battles, don't stress over things that don't matter. Keep a positive attitude. Have fun. It is such privilege to parent multiples. Never a dull moment!
We love your entire family Phoebe! You are all an inspiration to each one of us!
---
---

Expecting twins? START HERE! Check out our ultimate list of the most important articles for expecting twins and managing your newborns!
---
Sign up for the Twiniversity Mailing List to be the first to hear about product giveaways, contests, and special offers exclusively for twins and higher order multiples!
---
The rate of twin births has risen 79 percent over the last three decades, and continues to increase. A mom of fraternal twins and a national guru on having two, Natalie Diaz launched Twiniversity, a supportive website with advice from the twin-trenches.
What to Do When You're Having Two is the definitive how-to guide to parenting twins, covering how to make a Birth Plan checklist, sticking to one sleep schedule, managing double-duty breastfeeding, stocking up on all the necessary gear, building one-on-one relationships with each child, and more.
Accessible and informative, What to Do When You're Having Two is the must-have manual for all parents of twins.
---
Whether you're a twin parent in the big city surrounded by scores of resources, or a triplet parent out in the country with no one around for miles — our multiples parenting forums are for YOU! Sign up for FREE and connect with people who are just like you — parents of multiples looking for advice, parenting tips, or even just people to chat with who will understand what you're going through. Our forums are open to people all over the world and we offer scads of specialty rooms to find others who are going through the exact same thing as you. Check it out today!
---

Twiniversity is the #1 source for parents of multiples and we are growing faster every day!
Find us all over the web: