Hey guys, listen up! We've got a great giveaway for you today from Teletubbies, plus some suggestions on fun toys to help you to have a super fun summer with your twinnies, at home and on the road.
Scroll down to enter the giveaway…
---
---

Spending Our Summer with Teletubbies Toys and DVDs
Summer travel with little kids is full of fun times and great memories, but you should anticipate a certain level of stress for you and your children. While getting away from home brings new adventures, your kids will lose the comfort of home and routines. It helps to prepare your kids before hitting the road to let them know where you're going, what you'll be doing there, and how it will be different from their everyday schedule. A great way to transition your kids into your summer getaway is with a new toy to cuddle, bringing an extra level of comfort and excitement to help ease their worries (and yours!)
Teletubbies has come out with a new line of plush toys that are great to take on summer vacations. You can reveal the toys the morning of your big trip to get the kids extra excited about hitting the road and going on an adventure. Check these out!
Bring home all of the wonder and magic of the Teletubbies with this super soft plush toy! Perfect for playtime, nap time and bedtime, children will love to cuddle with their favourite Teletubby! AGE: 18+ Months, PRICE: $7.99, AVAILABILITY: All Major Retailers
Made from super soft plush, little ones will love the talking Teletubbies with speech and soundeffects! SimplysqueezeyourTeletubby'stummyandlistentoittalk. AGE: 18+ Months, PRICE: $14.99, AVAILABILITY: All Major Retailers
Just like her on-screen persona, this cuddly cutie loves to laugh. Made with super soft plush, children will love to play with Po! The more you tickle her tummy, the more she's going to giggle! AGE: 18+ Months, PRICE: $19.99, AVAILABILITY: All Major Retailers
This cuddly Teletubby is the perfect bedtime companion! Children can set how long their plush friend will sing with a built-in switch, while a soft night-light show helps ease them into a peaceful sleep. AGE: 18+ Months, PRICE: $29.99, AVAILABILITY: All Major Retailers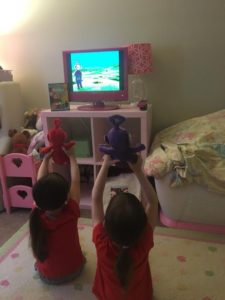 The Teletubbies are celebrating 20 Years of Big Hugs and they're back and better than ever! All 4 of your favorite characters – Tinky Winky, Dipsy, Laa-Laa, and of course Po – have been revamped to reflect the 21st century, including the screens inside of their tummies which are now touch-screen. Cool, right?! The new series is designed to help young kiddos develop their physical, emotional, and cognitive skills in a warm, loving, and playful environment.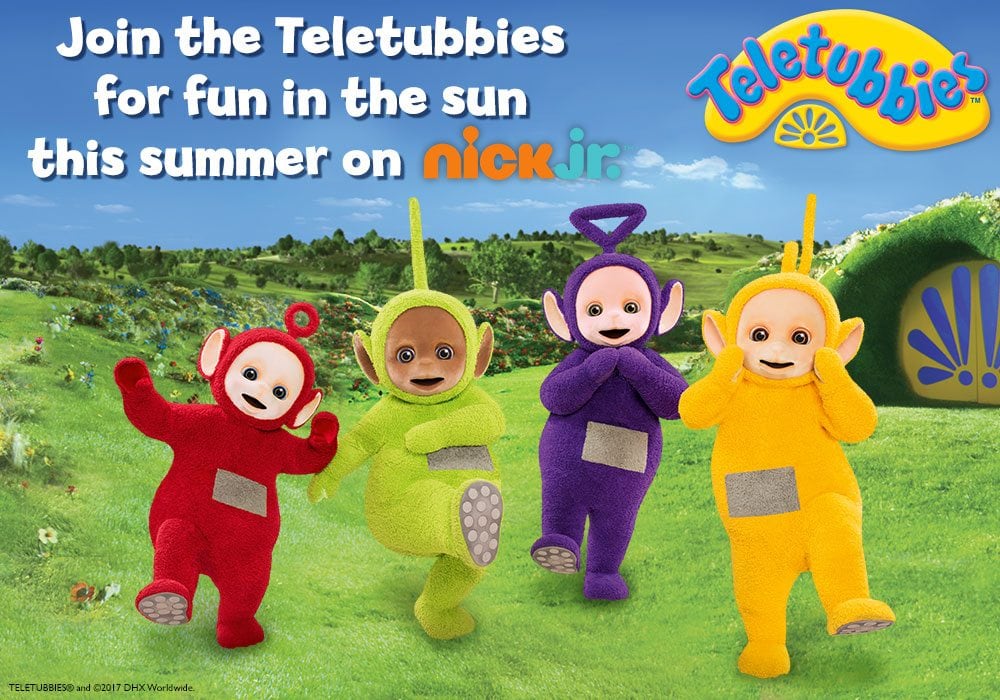 With the revamping of the original Teletubbies, also comes the release of two all new DVDs.  The Teletubbies Big Hugs DVD and the Teletubbies Twinkle Twinkle DVD are now available at most major retailers in the US. My twinnies were lucky enough to get a first look and, I must say, they were not disappointed. These DVDs are PERFECT to keep the kids happy on a summer road trip!
The colors are brighter and more vivid than I remember, but the theme songs are just as catchy – and the Sun Baby is back (Fun Fact – the original Sun Baby is now 19 years old!) The new episodes will surely get your kiddos' imaginations going! My girls absolutely loved singing the theme song after watching this. We also noticed that each character is truly more unique this time around; they each have more of their own characteristics, which made it easy for each child to identify more with one character than the other. Each kiddo had a talking plush Teletubby that they watched the movie with, and they kept talking to those plush dolls throughout the entire DVD. When it was over, they kept acting out the scenes with their plush Po and Tinky Winky dolls.

All in all – the kids laughed, sang, danced, and used their thinking caps, so I call this one a parenting win. The storyline of each episode was directed at an age range well below my five year olds, but they loved it anyway and it was really easy for them to follow along.  I would recommend this for children preschool age and under.
You can catch the reimagined Teletubbies series on Nick Jr. weekdays at 9:47am local time and get ready for an all new season 2 coming this July.
For more Tubby-fun, follow them on social media:
      Facebook: @Teletubbies
      Twitter: @TeletubbiesUSA
      #Teletubbies20
This is a sponsored post, all of the opinions are the writers own.