I come from a family that always believes in giving back. I remember when I was a child I spent many weekends cleaning our local church with my family. My job was to take the Murphy's Oil Soap and polish all the pews. Glamorous, no? Now, I have to be honest, we weren't the most devout family. I think our faith in community was stronger than our faith in religion at the time. But that did not stop us from showing up every time our community needed us to pitch in.
On 9/11, after the Twin Towers fell, my family came together again. We spent weeks and weeks giving back. We volunteered endless hours, gave what we could financially, and always had an ear for anyone who needed to talk, since the towers fell in our own backyard.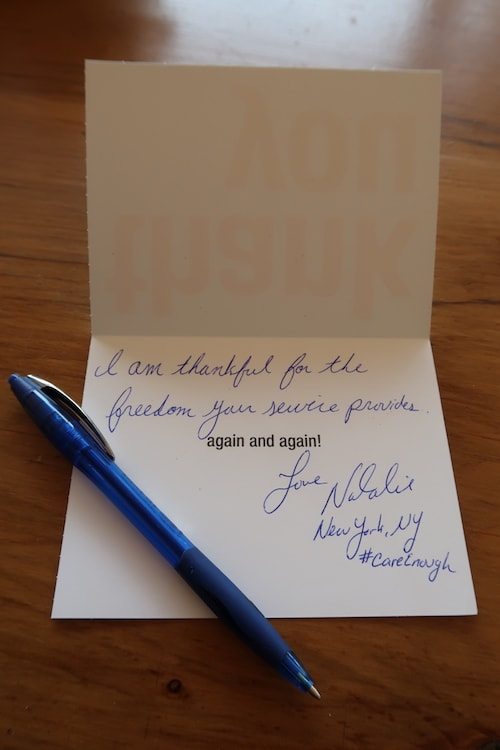 Since my twins have been born, I've always looked for ways that we could give back. Sometimes it's not on such a grand scale; sometimes it's just doing the little things.
Little things add up to big things.
For example, living in downtown New York City, the streets are insanely confusing. Often, we will see a tourist holding a map before their face, or nowadays their phone, with a look of utter confusion. I never hesitate to stop and ask if those people need help. I know that our neighborhood is wildly confusing. I would never want to be in a situation where I didn't know where I was, or how to get where I was going, so I treat others like I treat myself.
Recently I was asked by our friends at Hallmark to participate in their #CareEnough campaign. The anniversary of 9/11 makes this even more special. Participating in this project was something that I could not pass up. Hallmark encouraged me to think how I could get my children involved in doing something to show they care for mankind.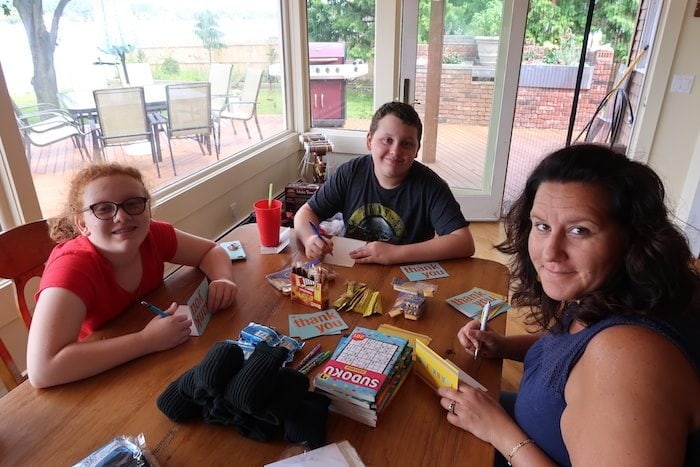 My initial response, and first instinct, was to do something for our military. I thought about all the things that are going on in our world right now, and I thought about how lucky we are to have people who dedicate their lives to keeping us free. I talked to my kids about what they thought we should do and they suggested that we make care packages.
I love that this was something they thought about.
They were equally as excited to do something nice as I was.
I have to say, I take some of the credit for their generosity, LOL. Every Halloween, when the twins return from trick-or-treating and separate their candy, we send the non-perishable candy to Operation Gratitude who ship off the candy in goodie bags to our troops throughout the year.
This was a way to save my kids teeth, and give back at the same time. A true win/win situation. So, when we started thinking about what to put in these goodie bags, I figured that we would go right to the source. I found the phone number of our local USO office online and gave them a buzz. I spoke to a wonderful man named Randy who explained that not everything makes for a good goodie bag.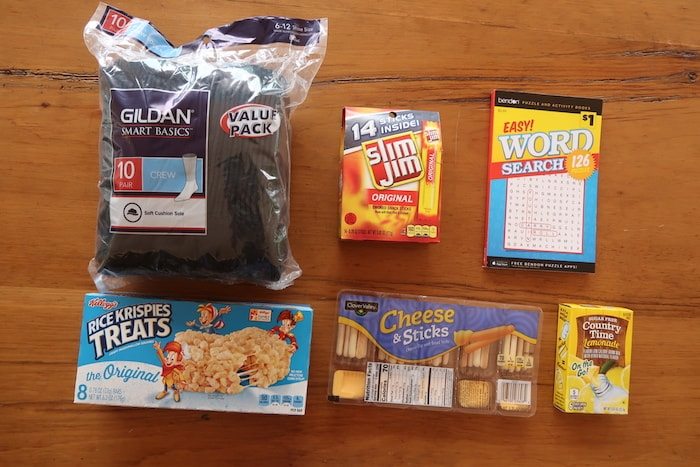 One thing that our servicemen and women really loved was a fresh pair of socks. Think about that for a second. That stopped me in my tracks. I have to say, I genuinely take for granted having dry feet, something that our servicemen and women do not get to always have.
The next thing that Randy suggested was puzzle books and Sudoku books. This helps them pass the time between assignments. He also told me that non-perishable food is also very welcome. He specifically mentioned things like beef jerky and Twizzlers.
So I woke up bright and early on a Sunday morning and headed to our local Dollar General. I knew that the store would help me work within my budget of $100 for 25 bags. Yes, I set a budget with the kids. I was budgeting only $50, but the twins insisted on chipping in their own money so we could put more stuff in the bags. I think they really were getting the hang of this #CareEnough Campaign.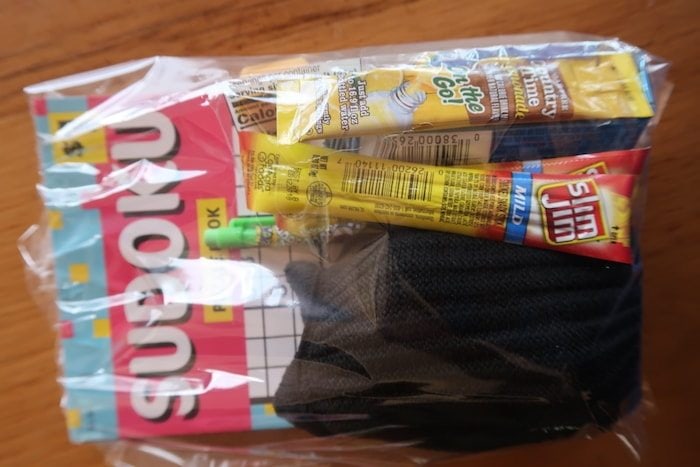 In our Diaz family goodie bags we included…
beef jerky
socks
puzzle books
a mechanical pencil for the puzzle book
snacks
powdered lemonade drink mix
We went the extra mile and included a handwritten thank you note in each as well. We also wrote random notes in the puzzle books. My daughter like to write on the page where you can find the solved puzzles "I hope you aren't reading this before you finished the puzzle. No peeking!" If these goodie bags provided a few minutes of the escape from where our military families were deployed and brought them a piece of home, then we did our job.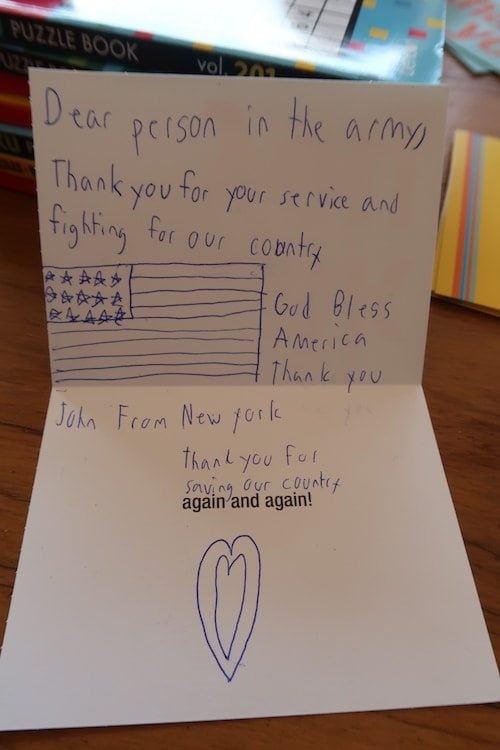 Now note, if you do this, your local USO office may offer you an address to send them directly to a base overseas. If that's the case, your shipping will be minimal. However, if that's not an option, Operation Gratitude will accept care packages and get them to folks who could use a pick me up.
I was all ready to send our package to Operation Gratitude when the woman behind me in line at the post office was talking about how her daughter was dying to see Mrs. Doubtfire. I turned and asked "What school does she go to? Mrs. Doubtfire is one of my all time favorite movies." She said, "My daughter isn't in college, she an officer in Afghanistan." The lightbulb went off and I said, "What an amazing coincidence. I'm here today to ship all of these care packages to Operation Gratitude. We created these packages specifically for servicemen and women overseas." I explained to her what the twins and I were doing with Hallmark and their #careenough challenge.
She could not believe it. It was as if fate brought us there.
She helped me pack the bags up for her daughter and off it went.
She was so grateful and touched.
I was moved speechless, which is rare for me.
I'm thrilled that this was something that the twins and I could do and I'm grateful to Hallmark for allowing us to do this.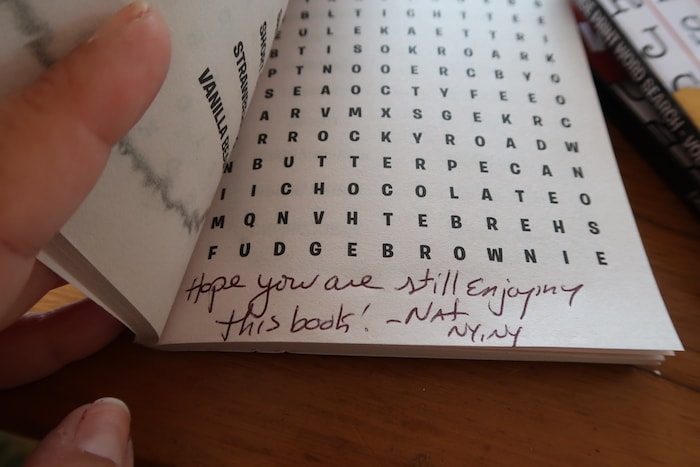 ---
---
Enter the Kids Caring Challenge!
Now, we pass the challenge to you. We will randomly select one follower who accepts and completes Twiniversity's kids caring challenge as a winner of a $100 Visa gift card, PLUS a $50 gift card for the winner to use as a "pay it forward" gift as an act of caring. 
All you have to do is complete an act of caring with your children and post about it with a photo on Instagram or Facebook by Monday, September 19. Be sure to tag @Twiniversity and use the hashtags #Twiniversity #CareEnough. Make your post public so we can see it! US residents only, you must be 18 or older to win.
I was compensated for this post by Hallmark, but as always, the opinions are my own.