This October I took my twin boys to Great Wolf Lodge in Wisconsin Dells for an early fifth birthday celebration. I really didn't want to throw them a big birthday party, with all the planning, the food prep, the cleaning; I just didn't want to deal with that with my busy work schedule. This is their last year before Kindergarten and I will not be able to avoid birthday parties anymore, so I thought, "This is it!" I can tell you that Great Wolf Lodge did not disappoint and the boys had a fantastic time. And I even had a little fun in the mix too!
My boys' birthday is on Halloween and while we are never at a loss for fun activities to do at home, the Great Wolf Lodge really goes all out with the Halloween festivities to make it extra special. Everything from a costume parade, to awesome Halloween decorations all over the resort, to trick-or-treating, they really get into the Halloween spirit at Great Wolf Lodge. They also offer year-round kids activities such as a character meet and greet, early morning kids yoga, and evening story time.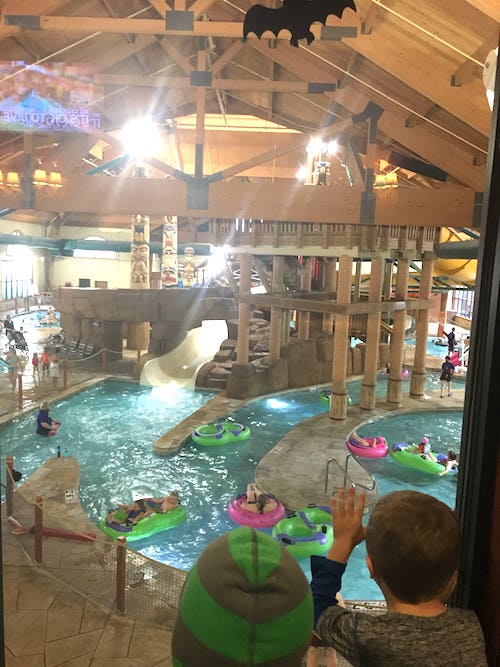 The biggest benefit to Great Wolf Lodge is their awesome indoor waterpark. It's so great to have a place to take them when it's too cold to swim outside. Having temperature controlled water where you can escape all the outdoor elements was a huge draw for us. Also note that there are outdoor pools and slides, but they weren't open when we visited in October.
I loved that Great Wolf Lodge supplied life jackets (infant through child size) and puddle jumpers so we didn't have to bring ours from home. But if you're going on a busy weekend or holiday you'll want to bring your own puddle jumpers just to make sure you have them, because when I gets really busy those go fast. I also suggest you bring kid robes to the pool. It's a long chilly walk back to the room due to the air conditioning. It's also super cute when twins dress up in matching robes; we turned many heads as we exited the waterpark. Oh, make sure to bring flip flops! The whole resort is carpeted so you may not think you'll need them, but I was glad we had them when it was time for a quick run to the waterpark bathroom. If you don't already have goggles for your kids, this is the time to invest. You will thank me when your kids are getting splashed in the face over and over again!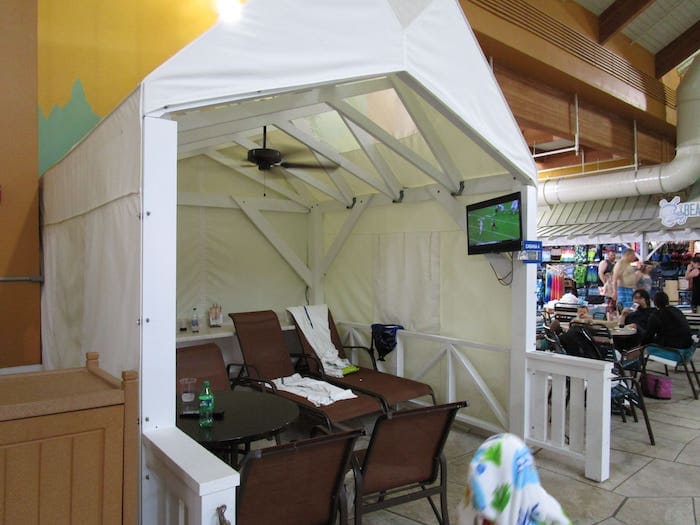 One more tip if you are going when the resort is pretty full. If you have some extra cash in your budget you should consider renting a cabana. We got to the pool a little late, around 11 AM, and every single chair in the place was taken. If we had rented a cabana we would have had an exclusive spot just for us for the whole day, with a refrigerator full of drinks, a table and chairs, lounge chairs, ceiling fan, and a flatscreen TV.
There was plenty for my shorties to do, even though they did not meet the 42 inch height requirement for most of the slides. There was a huge play structure that dumps a giant bucket of water every few minutes, two enclosed play spaces for infants through preschoolers, a pool with lily pads and basketball nets, a large wave pool (this was a huge hit for all of us), a family warming pool, a lazy river, and 4 short slides for age 1-6 years. One disappointment was that the only two REAL waterslides that allowed kids under 42″ height were both closed with no explanation. So call ahead to check and make sure what slides are in use that your kids can actually ride.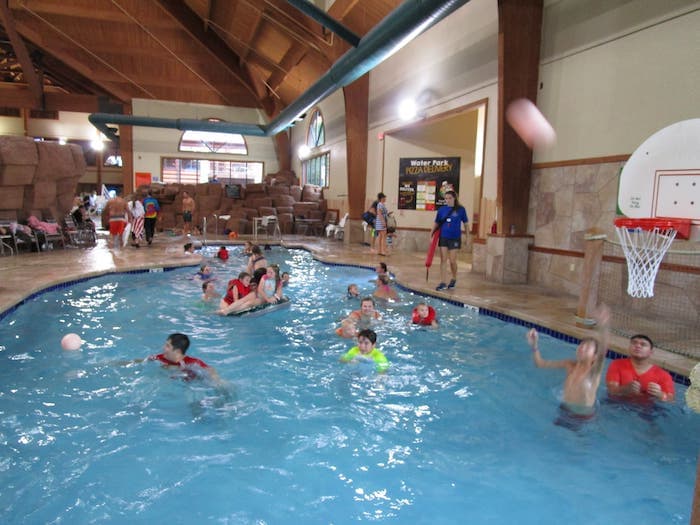 For the older kids there were about a half dozen thrill slides, plus there's an adults only warming pool. I feel like Great Wolf Lodge waterpark is great for infants through about middle school age. It may not be the most thrilling place for your preteens and teens. It's really geared more for the little kids and elementary school age. That said, I still saw older kids having fun with their families, especially on the rides where 2 to 4 people can go together in one inner tube. The really nice part about the waterpark is that it's closed to the public; only resort guests are allowed, which helps to keep the crowds at a reasonable size.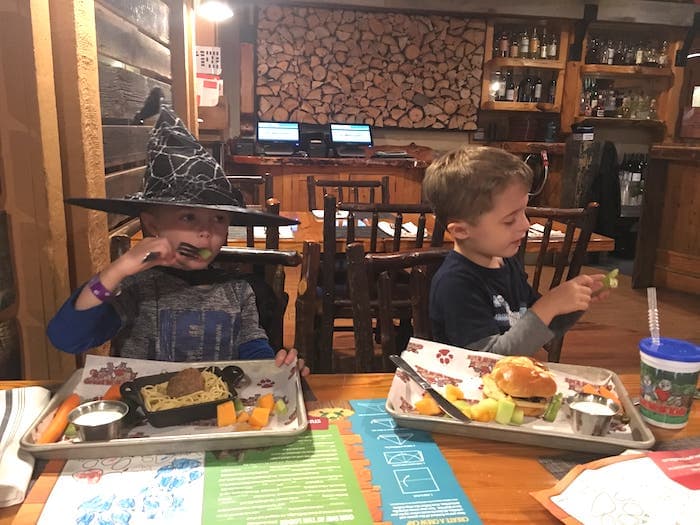 We tried out the on-property dining options and we were pretty satisfied. The Lodge is the main restaurant and the staff are very family-friendly and accommodating to kid tastes. The food leaned more towards BBQ and grill and I suggest you stick with those choices when selecting your meal. My kids' burgers were really good, but my shrimp and lobster pasta was just OK. But my adult drink was fantastic! After dinner we went next-door to the ice cream and candy shop and got a couple scoops to bring back to our room. That shop also doubles as a pizza parlor where you can order pizza to pick up or have delivered to your room or poolside. I loved being able to charge everything to the room and not having to carry cash or credit cards with me. The only thing you cannot charge to your room is arcade games.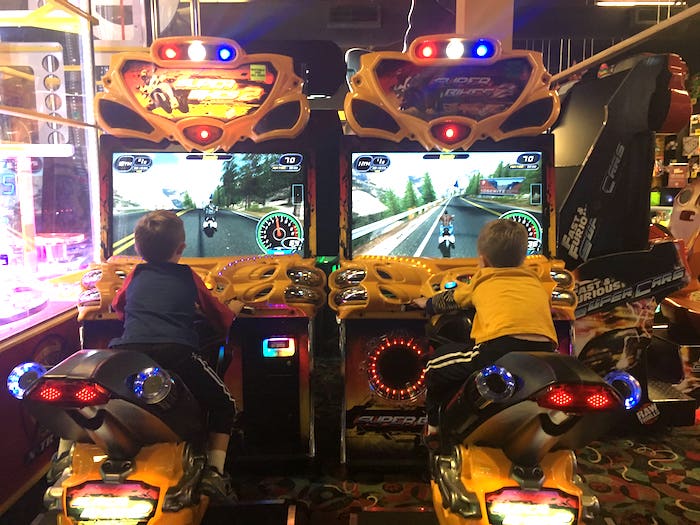 Other amenities at the resort that we enjoyed were the arcade, the resort gift shop, the craft activity area, and the evening programming for kids. They also have a MagicQuest interactive game for older kids that I saw many enjoying, but we didn't really have time to check it out.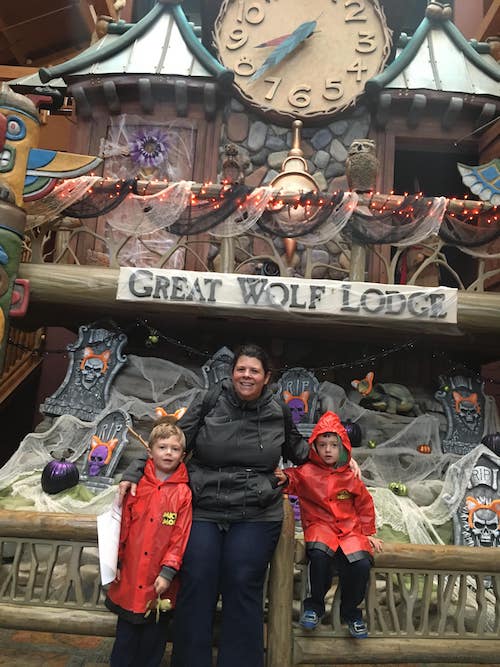 The staff at Great Wolf were really helpful and friendly. My husband could not join us due to his work schedule so I was on my own with the boys. It was nice to talk to some other adults throughout the day and everyone was very nice and accommodating to a solo mom with two crazy little boys. In hindsight, I wish I had utilized the staff more. I probably could've gotten help bringing my bags in and out but I was too wrapped up to think to ask. If you're on your own, don't be afraid to request extra help — they will be more than willing to give you an extra hand when you need it.
Thanks for the great time Great Wolf, we will definitely be back!
To find the closest of the many Great Wolf Lodge resorts near you, click here.
Here's more info on the fall/winter festivities you can find at all Great Wolf Lodge resorts across the US:
Howl-O-Ween: Costumes and family water park fun come together during Great Wolf Lodge's Howl-O-Ween celebration. Lasting the whole month of October, Howl-O-Ween festivities include Costume Parades, Trick or Treat Trails, scary-silly Story Times and Monsters Bash Dance Parties, making for the most spooktacular Halloween.
Snowland: Great Wolf Lodge's month-long winter celebration, Snowland, offers festive activities from visits with Santa and Mrs. Clause to indoor snow showers to a Polar Wolf Walk. For a truly delectable experience, visitors are invited to dine inside the resort's life-size gingerbread house. Other activities are Santa's Letter Depot, North Pole University with holiday themed projects and the Great Clock Tower Holiday Show and Story Time.
I was not compensated for this review. All opinions are my own.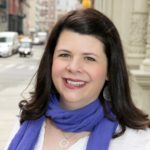 Julie Burt Nichols is Twiniversity's "Wizard Behind the Curtain", serving as Editor-in-Chief of Twiniversity.com, Account Manager, and Instructor for Chicago Twiniversity classes. Julie is a full-time working mother to twin boys, born on Halloween. She loves serving as a resource and support for new parents, soon-to-be parents, and we-want-desperately-to-be parents. Julie is proud to be a certified child passenger safety technician, and the Twiniversity Resident Songstress/Jingle Writer.
Related Articles
How To Get The Most Out Of Vacationing With Your Twins
10 Tips For Visiting Volcano Bay at Universal's Orlando Resort
How We Celebrated Our Twins' Birthday at Camelback Resorts
Why Beaches Resort in Turks and Caicos is Best for Families with Multiples