If you're planning on a trip to New York and you want to see a Broadway show with your kids, it can be difficult to decide on a show that the whole family will enjoy. Many shows are too mature for kids, or too immature for parents. Enter HELLO, DOLLY! Currently running on Broadway starring Bette Midler (with her fantastic alternate Donna Murphy playing Tuesday nights and off nights), it's one of the hottest tickets in town.
The musical comedy HELLO, DOLLY is one of the great Broadway standards that has really stood the test of time. With lyrics and music by Jerry Herman and a book by Michael Stewart, and based on Thornton Wilder's comedy THE MATCHMAKER, the musical follows the story of Dolly Levi (a strong-willed matchmaker; the role originated by the great Carol Channing), as she travels to Yonkers, New York, to find a match for the miserly "well-known unmarried half-a-millionaire" Horace Vandergelder. In doing so she convinces his niece, his niece's intended, and Horace's two clerks to travel to New York City. HELLO, DOLLY! won 10 Tony Awards in 1964 and is one of the most enduring musical theatre hits, with four Broadway revivals and international success. It was also made into the 1969 film with Barbra Streisand that was nominated for seven Academy Awards, and won three.
Set in the 1890s, HELLO, DOLLY! has charm, wholesomeness, and good clean fun about it that is absolutely appropriate (and hilarious!) for children, and which I recommend for ages 8 and up. I truly believe this musical is perfect for both kids, parents, and grandparents alike. With a great mix of high and low comedy, grand full-cast choral numbers and intimate solos, and the dancing — OH, THE DANCING! — well, it will just knock your socks off. Oh, and a huge locomotive comes on stage during one of the numbers. I literally "ooooooh"ed out loud at that set transition!
On the night I attended, Bette Milder's alternate Donna Murphy was magical and superb as Dolly Levi. She's a star (with two Tony Awards under her belt to prove it!) Her transitions from slapstick comedy to touch-in-cheek humor were seamless, while the more serious moments (while addressing her deceased husband Ephraim up in heaven) were very touching. Her comedic timing was perfect and her connection with the audience was spot on. If you are in town on a Tuesday, you'll not only save a buck by not seeing Bette Milder, but you will thank me for introducing you to a phenomenal talent that you will never forget. I'm actually glad that I missed Midler in the role; I think I would have been pulled out of the world of the show and the story too much if I had seen her in it, being that she's such a huge star with a larger than life persona.
The cast also stars David Hyde Pierce (Niles on "Frasier") and Gavin Creel. While I wasn't completely bowled over by their performances, I found that Kate Baldwin as Irene Molloy was a complete delight. She really brought Irene's cheeky personality to life. The actors who played Minnie Faye (understudy Hayley Podschun) and Barnaby (Taylor Trensch) were hilarious, with superior comic timing and nuance.
The ensemble was picture-perfect, with phenomenal singing and dancing, especially during the big title number of the show. There was great comedic acting by the ensemble, especially from the nutty character of Ernestina (Jennifer Simard) who had the whole audience in stitches in a minor role.
HELLO, DOLLY! will leave you smiling and singing all the way home with classic songs such as "Hello, Dolly", "Put On Your Sunday Clothes", and "It Only Takes a Moment" (your kids will recognize the last two from Disney/Pixar's WALL-E.) HELLO, DOLLY! plays at the Shubert Theatre, 225 W. 44th St, a perfect location right off of Times Square, across the street from the famous Sardi's and Carmine's, and down the block from the renowned Birdland jazz nightclub. It's the perfect show if you are visiting from out of town and want to be in a central Midtown location. For tickets, visit hellodollyonbroadway.com.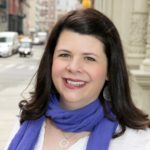 Julie Burt Nichols is Twiniversity's "Wizard Behind the Curtain", serving as Editor-in-Chief of Twiniversity.com, Account Manager, and Instructor for Chicago Twiniversity classes. Julie is a full-time working mother to twin boys, born on Halloween. She loves serving as a resource and support for new parents, soon-to-be parents, and we-want-desperately-to-be parents. Julie is proud to be a certified child passenger safety technician, and the Twiniversity Resident Songstress/Jingle Writer.
Related Articles
Should You Take the Kids to See SCHOOL OF ROCK on Broadway?