Creating a kid friendly home doesn't always just mean pack up everything pretty and breakable until further notice. Kids need a home that is safe, functional, and where they can learn life skills, but it doesn't mean that you cannot continue to enjoy your home too. Here are my tips to create a kid-friendly home that you can still enjoy.
Safety
Safety for your children is of the utmost importance. There are a few helpful items I have found that can make your home safer. I would encourage you to either borrow, search for used options, or invest in one at a time if you think it would help in your home.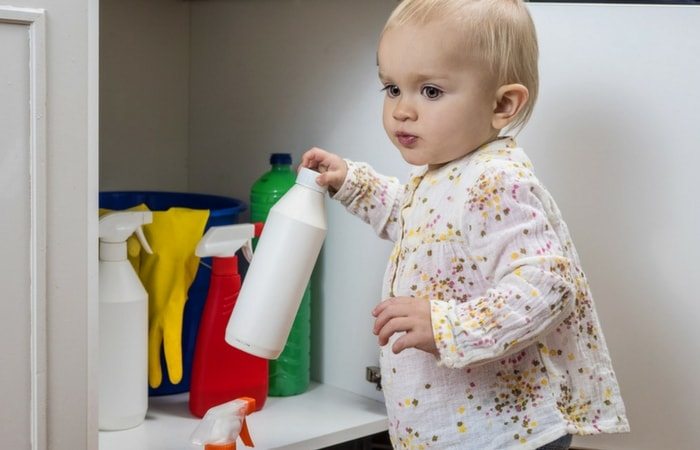 It doesn't really matter how many many children you have, locks for your cupboards are an essential safety item. We found the ones you actually screw into the inside of the cupboard are the easiest to use and don't look unsightly. A few screw holes are a small price to pay to keep your children safe from cleaning products, medications, snacks unsuitable for their age and so much more. It also cuts down on the mess when you turn your back for one minute and your twins decide to explore.
The next item is the classic baby gate. We live in a home that's under 900 square feet, but have 4 baby gates in play all the time. Stair gates are a must for crawling and learning-to-walk babies. I find our gates are still super helpful even during the toddler years. My boys can't sneak downstairs without me and it saves me from wondering where they are and what they are getting into. I also love our tension doorway gate. I use it for all our upstairs rooms during the day depending on what we need to be blocked. I use it on the bathroom doorway so I can get ready and still keep an eye on everyone, but the toddlers can't come grab my products while I have them out. I also use it to keep kids out of my room during the day, and keep the twins in their room with me as I get them ready for bed at night.
Next, I suggest having a soft ottoman instead of a hard coffee table, a key item to make your home kid-friendly. With babies crawling and toddlers constantly falling, a soft ottoman is one of the furniture changes we made when we had kids and are still happy we did. We had less worry about heads banging on corners, and a relaxing place to play as they get older. My boys love driving cars around it, bonus for me that it can't get scratched or dented by cars. Some ottomans even can be used as a storage area!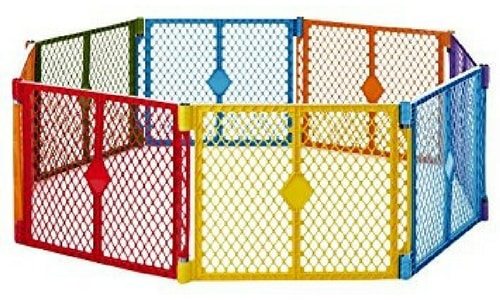 The last item I would recommend to any family that has both older and younger children is a super playard. These are the kind that look like a big fence and can keep both your twins contained at the same time. The interesting thing we found about this item is that it's most helpful for our older child. We use it as a big kid play space too. My older daughter can put her own toys with tiny pieces in it that babies or toddlers shouldn't get to. Legos are protected from little brothers and she can still be in the same room with us. I also find it really helpful for me to fold laundry in, as it keeps my twins from tossing piles of folded clothes.
Create a toy zone
The main area that comes to mind when thinking of making a home functional for kids is toys. Toys are great, and they need some to learn and play. When the toys start to take over your home though, it's no longer functional. If all your family does is trip on or pick up toys, you have too many. To make your home more kid friendly, I'd recommend creating designated toy zones. We have a toy zone upstairs and one downstairs.
There are two rules for making your toy zones stay functional. First, if the toys don't fit into the designated zone, you have too many and it's time to purge. Second, all toys go back into the zone when there is a long break in playing at that zone, or it's the end of the day. Your home becomes functional with this setup, as well as the toys. Everyone wins with this strategy.
Learning life skills
Creating a kid friendly home also has to still include ways for learning life skills. Many parents make the mistake of taking everything out of a room that kids shouldn't touch. But kids need to learn not every single space or item they see is up for grabs. They don't understand it yet, but the world doesn't revolve around them.
Choose a small area that is yours and teach them about it. This helps them understand when told not to touch things other places too, like friends houses or at the store. Keeping this area small is key, especially with twins. It's smart to be able to choose a spot that can be blocked off easily when needed, they are still learning the concept when it's blocked. It's also important to keep the safety piece in mind when deciding what you'll choose to leave out to help teach this skill. An example of this would be setting up a Christmas tree or seasonal decor. I didn't want to sacrifice putting up my tree because I had crawling twins. It would have been so disappointing for my older daughter if we didn't have it up. So I made sure to position the tree in the room where I could keep it blocked off easily by a couch, and our large ottoman, which worked for the stage my boys were in at the time (they couldn't climb up on either item). We also used two kitchen chairs for a short while to block off a part of the living room that has a few house plants and electronics. Now if there are things I have in the house that are not for kids, we can tell our toddlers, "No touching, that's Mama's". It doesn't always work perfectly, but within time they will learn.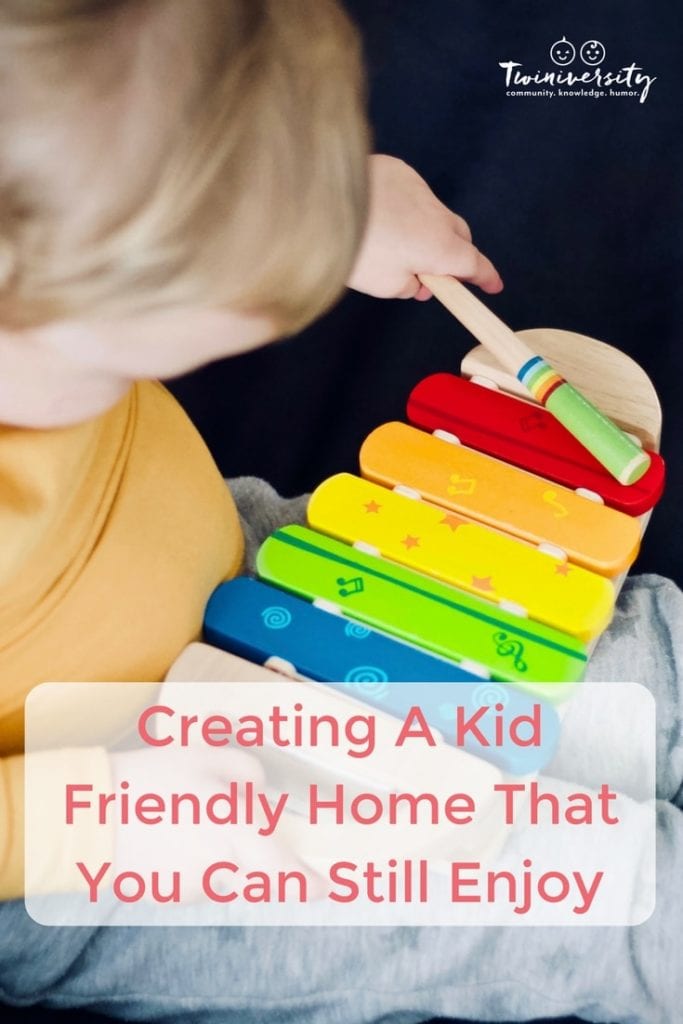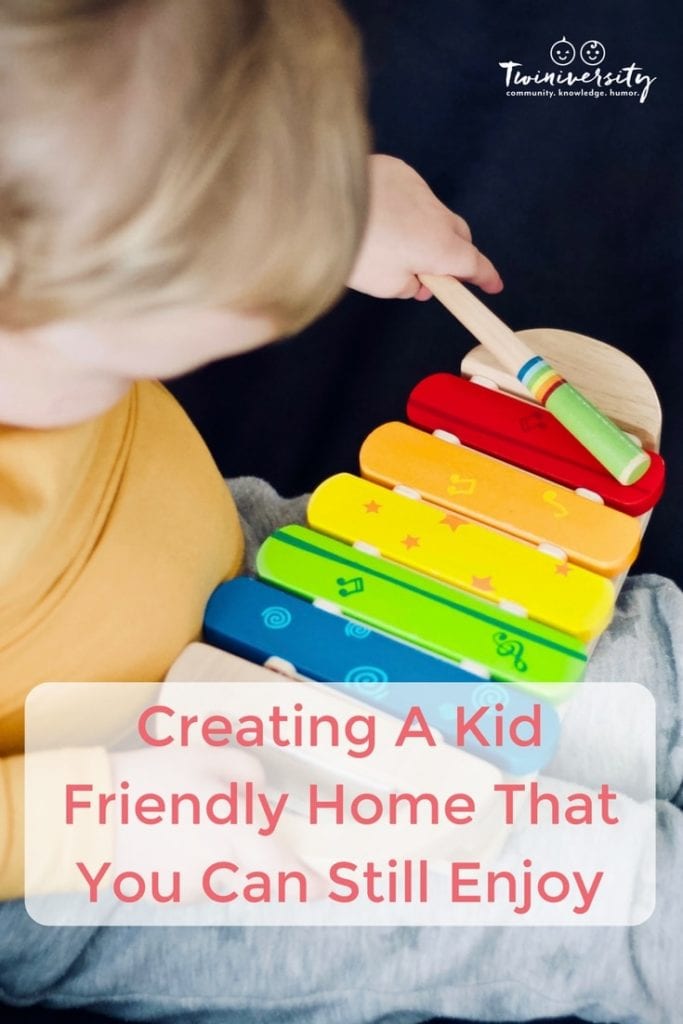 I believe the life skill of understanding this lesson helps build on so many other skills and nurtures the development of good character. My boys are old enough now to be allowed into the area that has my plants, books, and electronics. They love to be there and I think it makes them feel like big guys. Thankfully they have seemed to understand the lesson, and just look at these items. Let's hope they keep it up!
By thinking about safety, keeping things functional, and providing a place to continually learn life skills, you will be able to create a home that you still enjoy and is also kid friendly.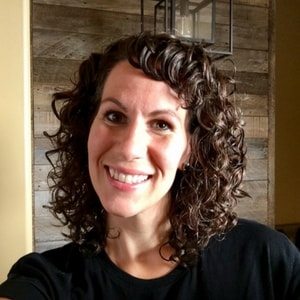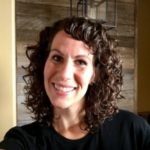 Rhonda Doerksen lives in Manitoba, Canada with her husband Dan and three kids. She is a survivor of HG (hyperemesis gravidarum) with her singleton pregnancy, then had twin boys 4 years later. She is the creator and manager of a non-profit support group for parents of multiples. She finds adventure and joy in her personal art creations. You can follow her on Twitter or Facebook.
---
Related Articles
Baby Proofing Your House With Twins
5 Tips for Bringing Your Newborn Twins Home
How to Take a Shower When Your Baby Twins Are Home and AWAKE!